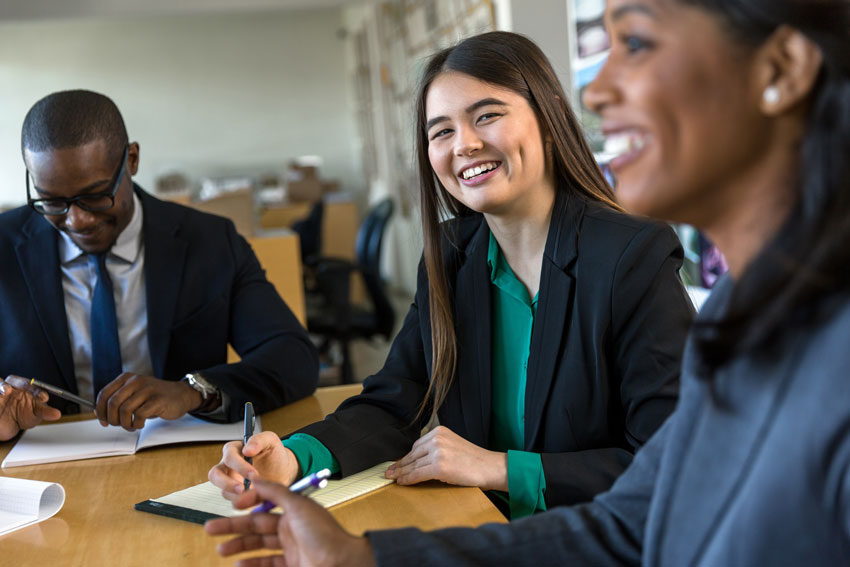 Gain meaningful professional experience and build a valuable network of connections. Learn more about The Washington Center's Funded Federal Diversity Internships.
The Washington Center (TWC) partners with multiple U.S. federal agencies to offer paid internship programs with the goal of increasing diversity in the federal workforce. These federal agencies recognize that diversity brings innovation and creativity to the workplace, encourages fresh perspectives that inspire new ideas and sparks positive change.
Many of these federal agencies transitioned to remote internships during the COVID-19 pandemic, and the transition back to in-person internships varies by agency. You can see status updates on each internship program web page.
These internship programs are all fully funded; they include a generous stipend, paid/reimbursed roundtrip travel, and housing when needed.
You will gain meaningful professional experience and build a valuable network of connections that could open the door to new opportunities in the future.
Each of these internship programs have different eligibility requirements. Most require you to be a U.S. citizen and some require either U.S. citizenship or permanent residency. Here's a brief overview of the Funded Federal Diversity Internships – and you can find more details by clicking on the Learn More buttons.
---
Summer Transportation Internship Program for Diverse Groups (STIPDG)
This unique summer internship opportunity is funded by the Department of Transportation (DOT) and administered by TWC. The paid internship program aims to mentor and cultivate tomorrow's transportation leaders. You'll get hands-on experience and on-the-job training while working on current transportation-related topics and issues.
Your assignment to one of the DOT's Operating Administrations is based on your major, preference for a particular area and geographic preference. Internships are typically located in Washington, D.C. and in regional locations across the U.S.
Questions? Contact DOTSTIPDG@twc.edu
---
Department of Navy (DoN) – Naval Research Laboratory (NRL) HBCU/MI Internship Program
This program provides an opportunity for undergraduate and graduate STEM students to have an enriching summer experience working full time in one of the nation's leading multidisciplinary science and technology programs under the guidance of senior NRL staff. In addition to scientific research, you will have the opportunity to attend scientific and skill-set seminars on topics including laboratory safety, ethics in science and engineering, job-search and interviewing skills and resume writing.
Sponsored by the Department of the Navy (DoN) and supported by TWC, internships are awarded competitively to students who have completed at least one year of undergraduate training in a STEM discipline. As a program focused on promoting diversity, candidates must be enrolled at a Historically Black College or University (HBCU), Minority Institution (MI) or Tribal College or University.
Questions? Contact NRL@twc.edu
---
Library of Congress Internships (LOCI) Initiative
As an intern with the Library of Congress, you will have the opportunity to further the mission of the nation's oldest cultural institution. It is the world's largest library, with more than 160 million items in its physical collections (including books, manuscripts, prints, photos, film, video, and sound recordings) and over 52 million items online.
With unprecedented access to the Library of Congress' collections and staff, you will work with your LOCI mentor to develop your academic and professional skills and knowledge. Intern placements range in discipline focuses including a variety of social sciences, humanities, and business fields. Past interns have worked in a variety of departments including Acquisitions and Bibliographic Access Directorate, Congressional Research Services, and General and International Collections Directorate.
Questions? Contact Federal@twc.edu
---
Centers for Disease Control and Prevention (CDC) Internships Program
If you're thinking about career options in public health, check out this opportunity to work in the nation's health protection agency.
As a CDC intern, you will get a unique opportunity to turn knowledge into real world experience in a public health setting, with a focus on diversity and protecting the health of underrepresented populations. Your internship could focus on areas such as epidemiology, fundamentals of public health, minority health and health disparities, working with disproportionately impacted populations, and biostatistics and statistical software.
Internship locations include any of the CDC Centers, Institutes, and Offices, such as the National Center for Immunization and Respiratory Disease, National Center for Environmental Health, National Center for Health Statistics, and the Agency for Toxic Substances and Disease Registry.
Questions? Contact Federal@twc.edu
---
Substance Abuse and Mental Health Services Administration (SAMHSA) Internship Program
As a public health agency within the U.S. Department of Health and Human Services (HHS), SAMHSA's mission is to reduce the impact of substance abuse and mental illness on America's communities. This internship program is specifically designed for college students and recent graduates from populations typically underrepresented in the public health field.
With the guidance of a SAMSHA mentor, you will gain hands-on experience in a variety of fields ranging from prevention and treatment to policy, health administration to research and data analysis. Working at the headquarters in Rockville, MD, you'll contribute to the SAMSHA mission through projects, special assignments, or research that supports federal, state, and community-based programs, policies, and best practices in the prevention and treatment of substance abuse and mental illness.
Questions? Contact Federal@twc.edu
---
Office of the Comptroller of the Currency (OCC) National Diversity Internship Program
The Office of the Comptroller of the Currency is an independent bureau within the Department of Treasury that has supervised national banks for more than 150 years. The National Diversity Internship Program (NDIP) is a key part of the OCC's efforts to diversify the talent pipeline with the goal of advancing diversity, equity and inclusion in the workforce. This is a great opportunity to get real-world experience and explore career options with a bureau that was named one of the best places to work in the federal government. During your internship, you will work alongside an agency mentor in one of the following areas: Bank Supervision Policy (BSP), Chief Counsel's Office, Large Bank Supervision, Midsize and Community Bank Supervision (MCBS), Office of Management, Office of Minority and Women Inclusion (OMWI), Office of Public Affairs, or Supervision Risk & Analysis. Internships are in various locations around the United States, such as, Washington, D.C., Chicago, New York, Dallas, and Denver.
Questions? Contact Federal@twc.edu
---
Federal Diversity Internship Initiative
TWC's Federal Diversity Internship Initiative includes our partnership with various federal agencies that request interns as needed for their diversity-focused internship programs. Agencies request interns on an ad Hoc basis and students that have signed up via our interest form will receive updates when openings exist. Examples of the agencies we partner with include the Bureau of Engraving and Printing, Census Bureau, Consumer Financial Protection Bureau, Department of Veteran Affairs, and National Credit Union Administration.
Questions? Contact Federal@twc.edu
About the Author

Follow on Twitter Visit Website More Content by The Washington Center