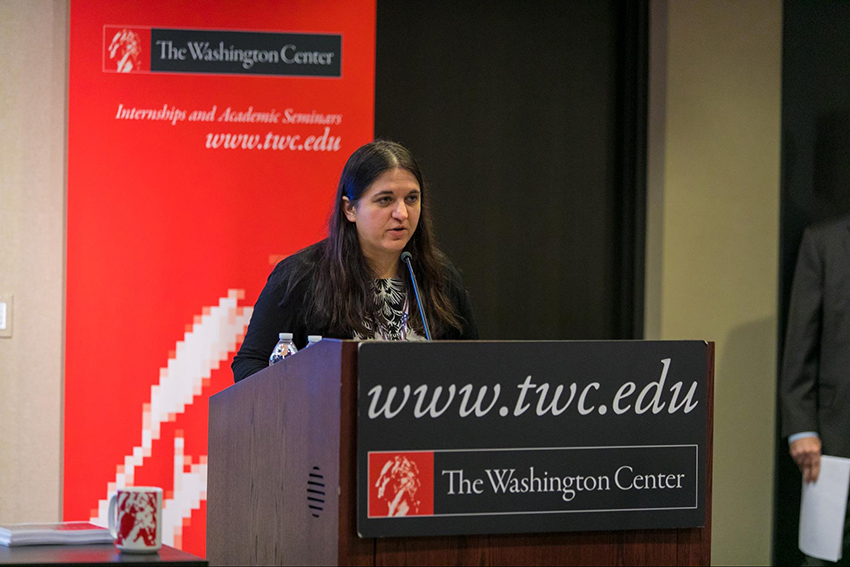 Dr. Julia Azari, professor of political science at Marquette University in Wisconsin, is a TWC alumna of the 2000 Democratic National Convention Seminar in Los Angeles and is excited to be returning to TWC's 2020 Seminar in a very different role.
Julia Azari, professor of political science at Marquette University in Wisconsin, will be Faculty Director for The Washington Center's Democratic National Convention 2020 seminar. The party conventions are the culmination of what is sure to be a momentous presidential primary season. This seminar will take students and accompanying faculty leaders into the host city as history unfolds.
In addition to Dr. Azari's teaching duties, she is also a contributor to the political science blog Mischiefs of Faction at Vox and a contributor at FiveThirtyEight. She writes in her scholarly and journalistic life about the president-party relationship, and about political rhetoric, ideology, and history. Her 2014 book, "Delivering the People's Message: The Changing Politics of the Presidential Mandate," examines how presidents interpret elections as mandates for governance.
TWC spoke with Dr. Azari shortly after she was selected as Faculty Director. Though she eschews partisan politics due to her journalistic activities, she is a TWC alumna of the 2000 Democratic National Convention Seminar in Los Angeles, and she shared her excitement to be returning to a convention with us 20 years later; this time in a very different role.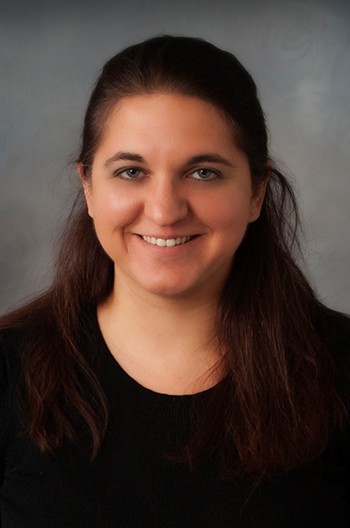 Why the convention portion of TWC's Campaign 2020 seminar?
I've been the faculty director for TWC's January programming twice before this: the Inauguration 2017 seminar and the Inside Washington 2018 seminar. I was speaking with TWC about the possibility of doing the 2020 Convention seminar. This was before the top three potential host sites were even announced, and it just so happens that the DNC will be taking place in Milwaukee. It all developed nicely. I like working with TWC and enjoy working with students from across the country, and I'll get to do it down the street from my office here at Marquette.
What aspects of presidential campaigns or national politics are you most excited to share with participants?
Like many people with my background, I'm looking at 2020 asking whether this will be the year of the contested convention. Some little girls dreamed of their wedding; I dreamed of seeing a contested convention. The potential of being there for one is exciting. We're going to have a very interesting primary battle and I think there'll be some interesting questions about how parties put themselves back together after such a thing, how they'll make collective decisions and how factions in the party form or don't form. Also, the way that the election, when it is over, the winning and losing sides frame the outcome. These are all questions I'm interested in writing about and getting students engaged in.
Given that we're going to be in Milwaukee, people will be surprised by what the city is. A lot of what is going on in America is observable in this city and surrounding area, including deep and profound racial segregation. I want students to realize that if they're enthusiasts of campaigns or enthusiasts of presidential politics, all of it is bound up in the story of race and to be aware of that and be educated about the country's history and contemporary problems in that regard. I want them to go out and have experiences, meet people, make contacts, but I also want them to think about the bigger picture. That's how I approach this job and that's something that people at TWC have appreciated.
How do you connect your passion for politics to students who are just beginning to participate in the electoral process, in general, or the national party convention, specifically?
I often find students who come to programming like TWC want to get involved in electoral politics. They're excited to cast their ballot. Maybe sometimes they don't know what to make of the level of political conflict in our society, which is why putting things into an academic or historical context can be helpful. The things we'll see happening during the convention have all happened before in one version or another. We are connected to that history through stories that many students may remember from elementary school or maybe a later American history class, though these things have always been really complicated. I tell the students what I think are interesting stories and let them make up their own minds what they think.
I find that drawing students into the larger historical context is the way to connect and resonate with students just starting their political participation. Perhaps my approach benefits from trying to connect with a wider-ranging audience, as opposed to a strictly academic audience, through the outlets I contribute to and their broader scale. It definitely helps students understand how the political process works and how you can bring together academic knowledge and popular, in-the-moment knowledge and merge those things to figure out what's going on in real time. It's definitely a big piece of the way I teach, talk about things and make connections.
Drawing students into the larger historical context is the way to connect and resonate with students just starting their political participation.

Dr. Julia Azari
What can students and faculty leaders expect to take away from the Campaign 2020 convention seminar experience? Is there a specific event or activity connected to the convention or Milwaukee you look forward to sharing?
Milwaukee is a beautiful and exciting city. There's a lot here and I hope people get a sense of that. It's also an interesting place of both Democratic and Republican 'Progressivism' mixed with a sort of anti-party activity or frustration with the way parties used to be. I'm speaking in terms of party bosses and things like that from the rich history of parties and conventions. I want those who join us in Milwaukee to look at who has power in the convention, too. Who's not there or represented that should be? What kind of issues are or aren't being talked about? And, in what ways is the national party connecting or not connecting with this place, which is a blue city in a purple state in the middle of the country that has a very Midwestern feel but also includes people from all over the world living and working?
I was talking politics and considering experts and speakers that may be valuable for the participants to hear from today with a colleague at this coffee shop. Obviously, the convention is pretty far out from today, but I am hoping to get for our programming folks who are involved in local politics who represent a younger generation. I really want to connect TWC students with people who I've taught that are now in their late 20s or early 30s, and allow them to connect in their own minds that people from their generation can be actively involved in politics. I also hope they see what local politics can mean and how it can link with national politics.
When I went to the Los Angeles convention through TWC in 2000, and got to experience people like Joe Lieberman, the Vice Presidential candidate, and Jesse Jackson speaking on the convention floor, it was an extraordinary moment in my young life. I have no sense of what the speaker lineup in Milwaukee will be, but I would encourage everyone to get inside whenever they can and listen to the variety of people there, to think about the differences and diversity within the party and how all those different voices can come together in a convention event.
About the Author

Follow on Twitter Visit Website More Content by The Washington Center