D.C. is a connection point for countless cities in the northeast, which are easy to visit without breaking the bank. This is good news for college students or recent grads, for whom money is often a major hindrance from traveling.
Traveling shapes one's thoughts and perception of the world for the better. I'm a firm believer of that so for the past two weekends, I explored two wonderful cities on the east coast: Boston and New York City. Following the Freedom Trail in Boston and walking across the Brooklyn Bridge at 5am in New York City made me realize I will never grow content with a sedentary lifestyle. The world is honestly so big and there's so much left to explore.
There are plenty of options traveling from Washington D.C., trains and buses are good options for a fraction of the price of flights, most of the time. I took buses for both trips, since that was the cheapest options. To get to Boston I took Peter Pan; to get to NYC I took Megabus. My ticket to Boston was $23, to get to New York City it was only $5! Luckily, I have friends in most major cities, so finding couches to crash on has been my go-to method of traveling on a budget. If not, getting an Airbnb or Hostel is another good way to save money.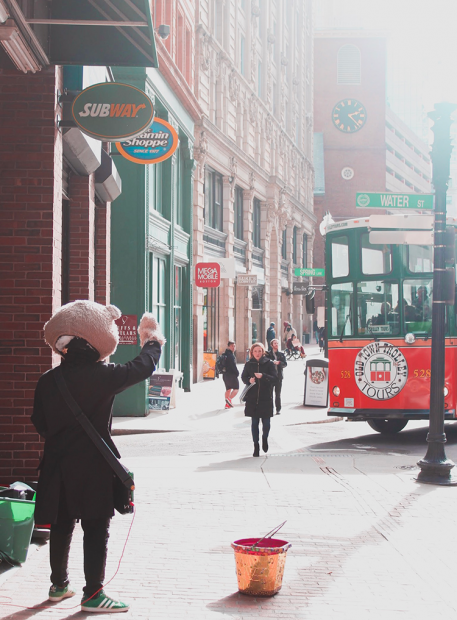 It wasn't my first time visiting either of these two cities, so I opted out of the main tourist attractions for hidden food spots and parks, establishing new memories with old friends. Tourist traps are usually pricer, so avoiding them is a good way to travel on a budget, in my experience.
For Boston, exploring our country's colonial history was both educational and entertaining. I was with a few friends from Florida, and being able to share our knowledge of U.S. History through its original traces made the learning experiences more fun. I would describe Boston as a quaint city, and the New England style of beauty never fails to be remarkable. I also explored the Massachusetts Institute of Technology, Harvard University, Chinatown, Haymarket Historic Outdoor Market, among other places.
In New York City, I adventured through the Brooklyn Bridge, Long Island City, a Filipino district in Queens, Chelsea Market, Bryant Park, and Gentry Plaza State Park, just to name a few. I was also able to participate in a documentary project on the "Bamboo Ceiling" -- which is about being an Asian American woman in America. It was such a magical experience speaking about how my marginalized identities transformed into sources of inspiration.
I'm a huge fan of authentic ethnic food, and NYC is the place to be for that. Coincidentally, food carts and small family-owned restaurants outside of Manhattan are typically cheaper in comparison to restaurants in Manhattan. After meals, I enjoy walking around the city to get my steps in for the day while enjoying the scenery. Not only is it free, it is rejuvenating to walk through parks and waterfronts, and NYC has an incredible selection of that. The Roosevelt Island lift and ferries between Manhattan and Queens are two scenic options rather than taking the subway, and it cost the same amount as a normal subway ride! Another tip for budget traveling is checking out free days at museums! For example, The Museum of Modern Art (featuring the iconic Starry Night) is free on Fridays!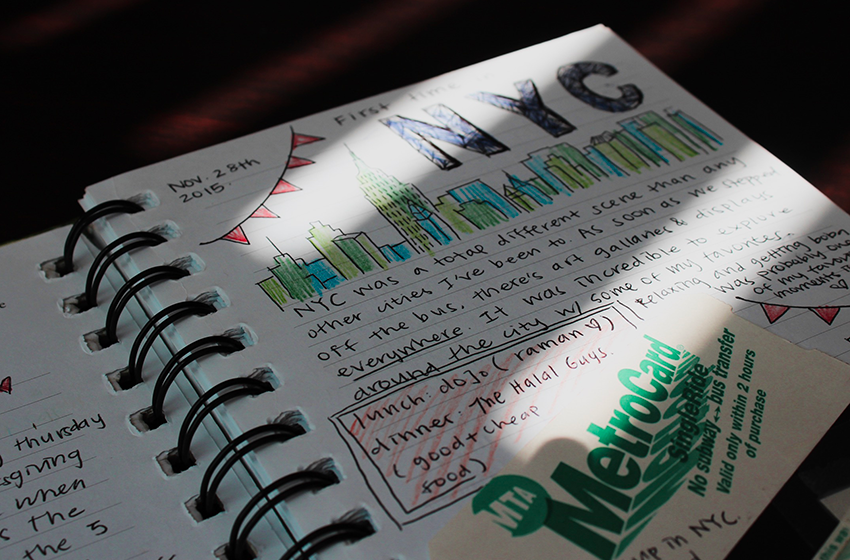 A few years ago, I started a travel diary, where I keep receipts, museum tickets, transportation passes, or other items that serves as reminders of the trip. I typically decorate the page with illustrations and a short entry on the trip and what I have learned.
Thank you, Boston and New York City for the past two very unforgettable weekends; I'm thrilled to add my new adventures in my traveling diary.
About the Author

More Content by Lin-hsiu Huang