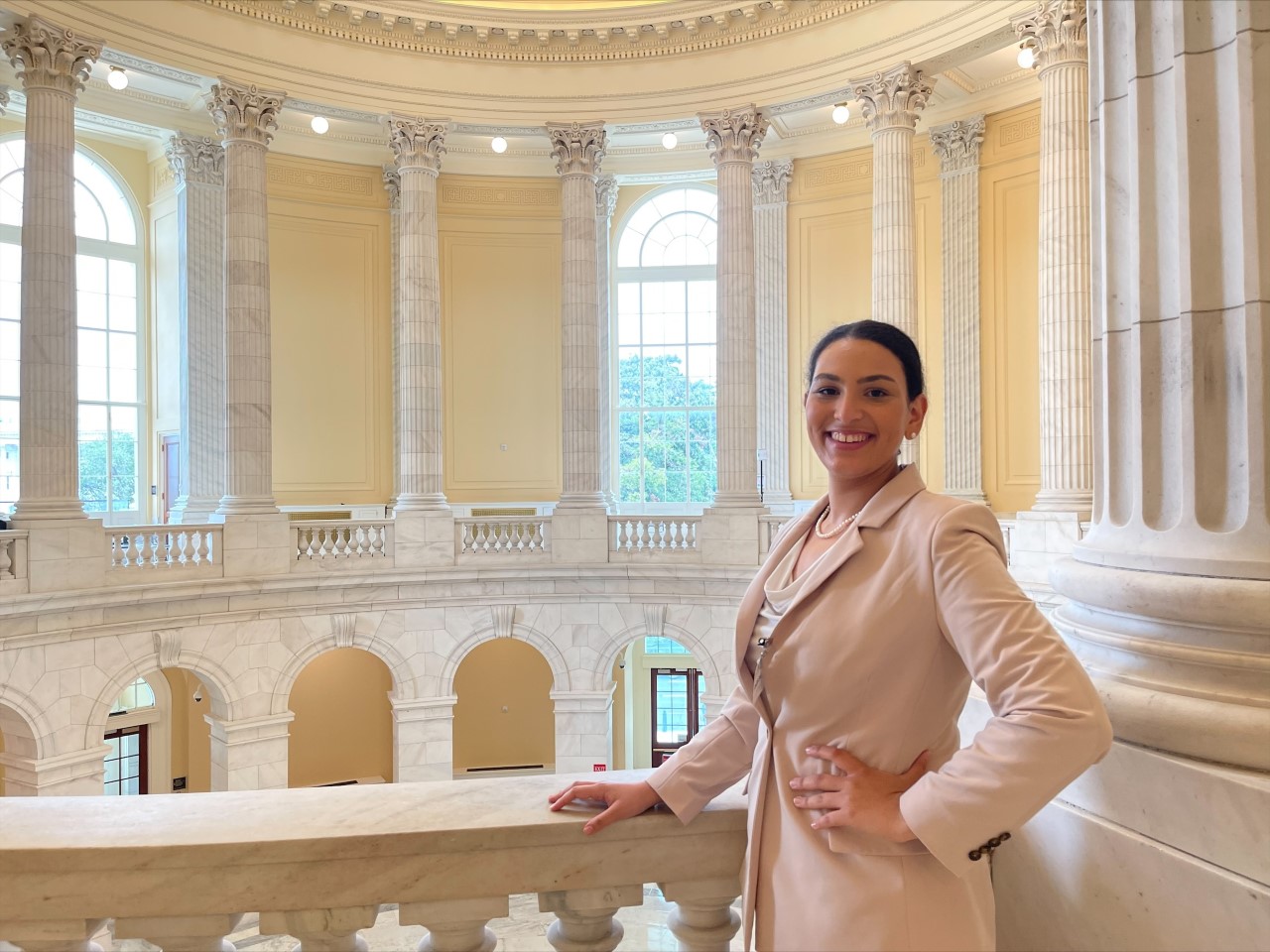 Quinnipiac University student Ambar Pagan came to D.C. thinking she wanted to be a lawyer. But an internship in Congress, a few transformative informational interviews, and the fast pace of D.C. set her on a new path.
Where are you interning and what are some of your responsibilities there?
I'm interning in the U.S. House of Representatives with Congresswoman Nydia Velázquez, who actually represents my hometown in Brooklyn (NY-7). It has definitely been an honor and an eye-opening experience to be interning with such an important government institution.
When I was growing up, I would see her (Velázquez) talking to small businesses in the neighborhood. I'm the daughter of small business owners, so it has been really amazing to see another Latina in that position. As someone who aspires to run for Congress, just being in this internship has showed me what it's like to work for a government institution.
I write a lot of reports and policy memos, and I also get to go to congressional hearings and briefings. Being in that circle, you really get to understand how politicians form their arguments, what the major issues are and what's on the table.
Tell us about a project you worked on during your internship that was your favorite, the most challenging, or the most exciting.
Each week, I would do a ten-page report on an issue, pending bill or something that is going to get introduced to Congress. These would then be presented in a constituent meeting.
One week, I got to write a memo on the Afghan refugee crisis. I just thought I was just going to be doing the research and creating the memo. An hour before the constituent meeting, my supervisor called and asked me to be the one to present on the topic. I was nervous, but I did it.
I knew, and he knew, that I really did my research, so he trusted me to lead the presentation. I led the meeting with two different Afghan refugee organizations. What they wanted was to fight for an Afghan adjustment act and it was my role to provide the congresswoman's perspective and detail what's going on behind the scenes for refugees.
Have you been able to apply some of the learning from school to your work thus far? On the flip side, how can you connect your work experience to your studies back on campus?
During my time at TWC, I realized how much I can help others. I met a congressman at an event and he said that when you're a politician, you sometimes forget to lift people up and you really have to make sure you're doing that. You don't want to become that political monster that everyone thinks politicians are. I really took that advice to heart.
I have so many interests, and TWC helped me gain confidence in what I want to do, which is diplomacy. When I arrived in the nation's capital, I thought I had to go to law school, but that all went out the door when I realized I wasn't motivated to take that path.
Informational interviews also had a big impact on me. I interviewed a TWC alumni, Shona Carter, and she really changed everything with an informational interview. She's a foreign service officer, and after talking to her, I decided to apply to grad school for foreign affairs.
It sounds like that informational interview was really impactful for you. Tell us more about it.
For our career prep course, we had to do ten networking events—and I did more than ten. I used it as an excuse to meet people. I'd go and say: "I'm doing an informational interview, can I interview you?" It was an open door to connect with more professionals.
Shona Carter ended up being my last informational interview in D.C. She's a foreign service officer at the Department of State. When we talked, she told me about the adventures and amazing experiences that she goes through in her work. As I was expressing my story and passion, she said she saw herself in me. I felt so comfortable talking with her and at the same time, it was a realization moment: this is what I want to do.
As I was expressing my story and passion, she said she saw herself in me. I felt so comfortable talking with her and at the same time, it was a realization moment: this is what I want to do.

Ambar Pagan
What is the most interesting or unexpected thing you have experienced since you arrived in Washington, D.C.?
Especially living at TWC, everything was so close. I would go for morning walks to connect with new people; we would go grab a coffee, go for a walk in the city and have that self-care time before starting our day.
We'd see the Supreme Court and go behind the Capitol (which was definitely one of my favorite places). We were so close to such sacred and important institutions.
What advice do you have for other students considering an internship with TWC?
Be open to new opportunities—even if you think you're coming in with a set goal, you shouldn't be afraid to try new things. Sometimes what you think you want to do isn't really what you want to do. I'm not saying you should change your whole plan, but maybe just half of your plan.
When you're at TWC, you're going to get so much advice. People are going to say different things, but it's up to you to gather all the information and know what's the best step for you. You should take the advice wisely and not as something set in stone. Everyone has their own journey and their own path, but yours is your own.
Let The Washington Center Help
Internships are one of the best ways to learn more about your industry, get hands-on experience under your belt and build a well-rounded skill set. Many of our offerings now have remote work options, meaning you can take advantage of even more opportunities and you'll add a whole new set of "working from home" skills to your resume.
As part of our Academic Internship Program, we partner with hundreds of internship sites around the country, and will work closely with you to find the internship that best aligns with your career goals and interests.
Learn more about the Academic Internship Program.
About the Author

Follow on Twitter Visit Website More Content by The Washington Center