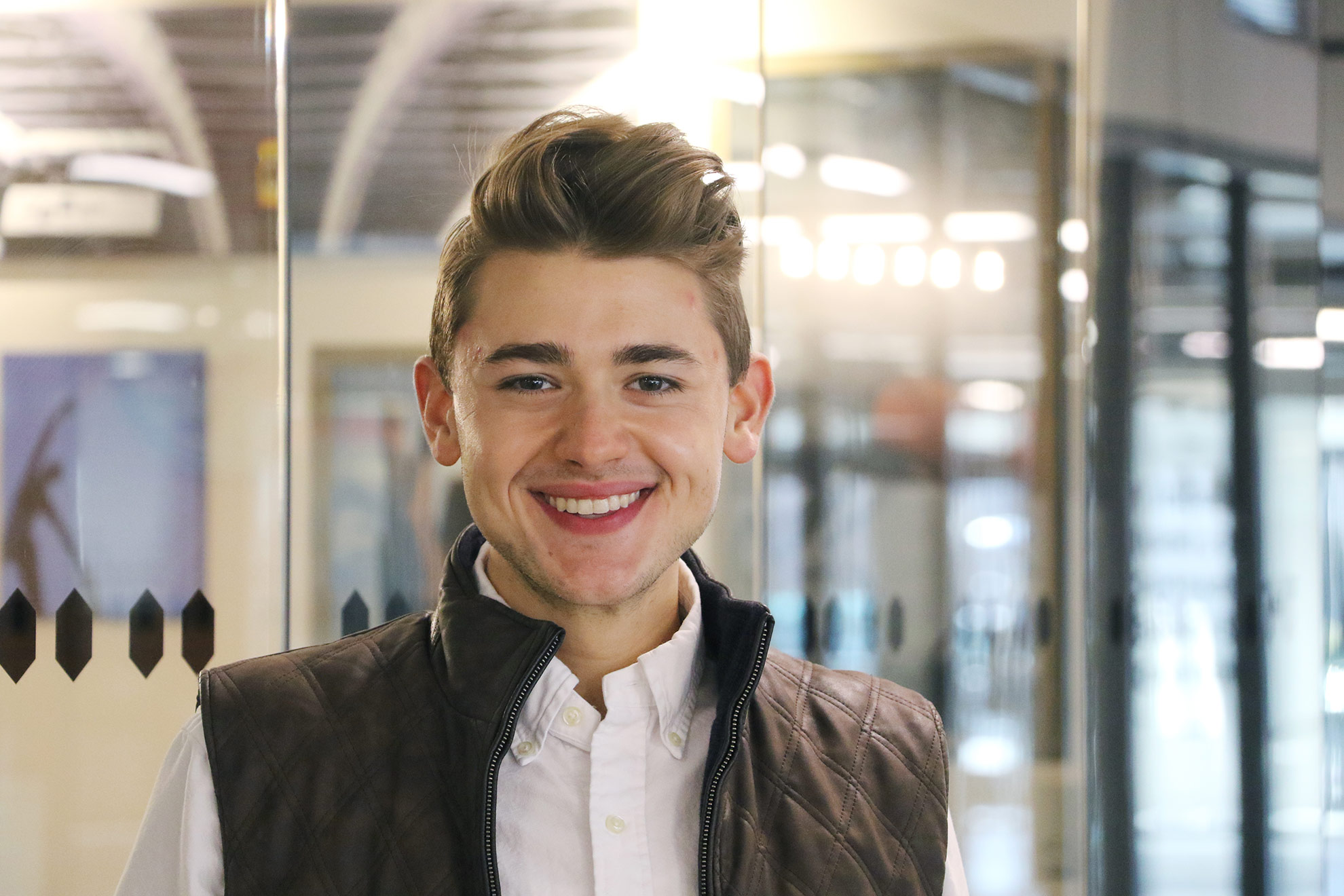 Bentley University student Bobby Olejarczyk knew he'd be learning about justice and equity in his U.S. Department of Education internship. But his experience exceeded expectations when he fell in love with Washington, D.C. and found an opportunity to advocate for underserved people in the local community.
Where did you intern and what were some of your responsibilities there?
During my TWC experience, I interned at the U.S. Department of Education as one of their Budget Service & Diversity and Inclusion Interns. Working within the Office of Budget Service, I reviewed budget policy, edited notices inviting applications for discretionary grant programs, and conducted research on topics like Title IV, significant disproportionality, and cultural competency training Programs.
In tandem with these assignments, I supported several affinity groups across the department, including LGBTQ and Allied Employees at ED and Asian American and Pacific Islander Connections. I assisted with administrative duties, program planning, and meeting facilitation.
Tell us about a project you worked on during your internship that was your favorite, the most challenging, or the most exciting.
One of my most challenging, yet meaningful internship projects was a research assignment on significant disproportionality in special education. Significant disproportionality is described by the National Center for Learning Disabilities as "the widespread trend of students of certain racial and ethnic groups being identified for special education, placed in more restrictive educational settings, and disciplined at markedly higher rates than their peers."
To support the department's working group on this topic, I synthesized information for each state to see how mitigation efforts set forth in 2015 were working across the United States. While this vast and complex topic took tremendous focus and detail to understand and research, I was fulfilled in submitting my report. Significant disproportionality was a topic I was unaware of prior to my research, but one that I now understand must be effectively mitigated in order to advance us towards a more equitable education system.
How did you expand your professional network during your time with TWC?
To expand my professional network during my time with TWC, I was always intentionally looking for connections with genuine interest and curiosity. I saw each day as an opportunity to connect with someone new, whether they were from my internship site, TWC or another organization.
Some of these connections amounted to fruitful conversations, a few to informational emails, and others to still "pending" LinkedIn invitations. Though despite the current outcomes of these networking efforts, each one has challenged me to exercise my ambition and hone my relationship-building skills.
TWC betters you! You're great. You're talented. And if you're ambitious enough to be considering an internship with TWC you're already poised for success. But I'm confident that a TWC experience will leave you better, more talented, and steadier on your path to tremendous success.
How did this experience impact your career goals?
My TWC experience solidified my desire to hold a career in public service as it contextualized government and humanized politics for me like never before.
In meetings at the Department of Education, I was able to further understand the important role political appointees and seasoned staffers play in supporting students, teachers, and families across the United States. And during my post-work runs I would say "Hi" to politicians as they walked down the steps of the Capitol after session had just ended. Continual experiences like these allowed me to relate to those who represent me at the highest level of government and developed an even greater love for American democracy.
What advice do you have for students considering an internship with TWC?
TWC betters you! You're great. You're talented. And if you're ambitious enough to be considering an internship with TWC you're already poised for success. But I'm confident that a TWC experience will leave you better, more talented, and steadier on your path to tremendous success.
Whether it's at your internship site, in your evening class, during a professional development workshop, or while you're exploring around Washington, D.C., you will learn and grow. The experience exposes you to new ideas and perspectives while helping you develop personal and professional skills that will serve you well now, and in the future.
What was your proudest accomplishment during your TWC experience?
My proudest accomplishment during my experience stems from what may be considered the most ordinary component of the TWC experience: living in the U.S. capital.
After just a short time there, I saw the prevalence of poverty and homelessness in this city that was providing me with a time of a lifetime. I was originally registered for the Virtual 125th Boston Marathon, but chose to stay in Washington to run the marathon across all four quadrants. In less than a week I raised over $1,000 for Thrive D.C., a community organization combating the city's homeless crisis by supporting the most vulnerable populations. This experience showed me the power of my personal and professional networks while allowing me to give back to a community that was teaching me so much.
Are you ready for an experience like Bobby's?
Let The Washington Center lead the way to a transformative internship that will open up new possibilities for your future. Internships give you a chance to learn more about your industry, get hands-on experience under your belt, and build a well-rounded skill set.
As part of our Academic Internship Program, we partner with more than hundreds of internship sites around the country, and will work closely with you to find the internship that best aligns with your career goals and interests.
Learn more about the Academic Internship Program.
About the Author

Follow on Twitter Visit Website More Content by The Washington Center