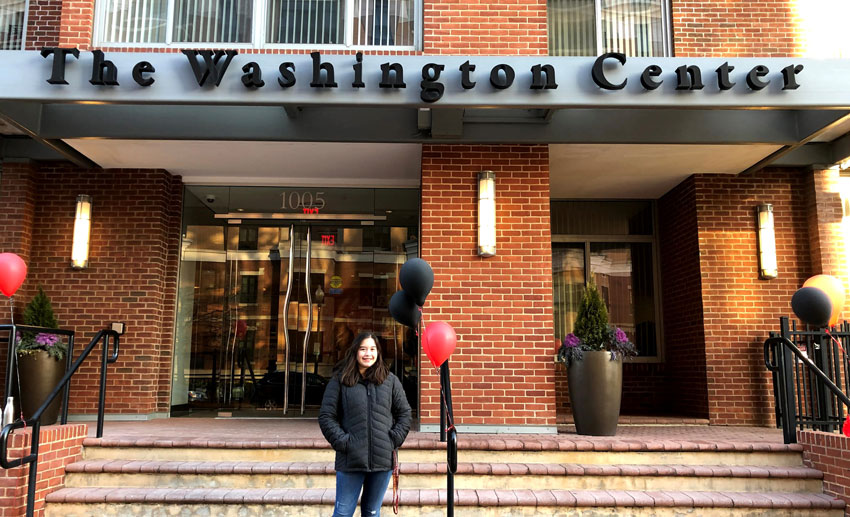 Kelia, a Public Policy major from Arizona State University, shares what a week is like as an intern at a Washington, D.C. nonprofit.
I'm Kelia, and I study Public Policy at Arizona State University. I'm originally from Los Angeles, California, so I've only ever lived in places with warm weather, but I am excited to witness the hustle and bustle of Washington, D.C.! This spring, I am interning at Leadership Global, a nonprofit that tackles such issues as food insecurity, malnutrition, and underfunded education. Here's what a week in my life is like:
Monday
My 7:15 alarm goes off, and I begrudgingly trade in my favorite blanket for a blouse and slacks. Before coming to D.C., I was pretty nervous about what "business casual" meant, so I watched what my coworkers wore just to make sure. One of my biggest concerns was finding clothes that were professional and warm, but here I am, closet full of button down shirts and winter coats.
I tie my hair back, grab a bagel, and begin the 10 minute walk to the Metro Red Line station. It's January in D.C., so the air is chilly with just enough wind to make me glad my hair is up. My internship site is only 20 minutes away by Metro, though there's a large enough crowd in the mornings to warrant getting to the station a few minutes early.
By 8:30 I'm in my seat at work, printing some of my most recent work for my internship supervisor. We meet every morning so she can give me feedback and we can discuss the timelines for new projects. She proofreads the bio I wrote about myself and I post it to Leadership Global's official social media pages.
I'm out the door at 4 o'clock, and I pass by Farragut Square with its multitude of food trucks on the way back to the station. I am normally the first home of all of my housemates, so I head to the gym and shower in time for them to get home and start talking about dinner plans. We cook, paint nails, and watch a movie together before it's too late. I know full well that I'll regret staying up so late the next day.
Tuesday
It was hard getting up this morning (I know, I know), so I hurry into a pair of slacks and a blazer and skip packing my lunch. I dress in business professional attire because today I'm going to an event at a renowned think tank, the Brookings Institution. At work, I spend a few hours researching food insecurity in Africa before walking the few blocks to the Brookings Institution.
The discussion is interesting and covers topics relating to transparency in foreign policy, although I'm a little bitter that I have yet to enjoy a full meal like the ones I've heard most think tank events have. Ask anyone in D.C. and they'll tell you that think tank events, while informative, are also a great opportunity to snag a free meal — unless you're me, who's attended six events in three weeks and had only one offer more than coffee and cinnamon raisin bread (to be fair, the bread was pretty amazing, but still).
After work, I go grocery shopping with my roommate and we make the trek up the hill to go to Walmart. There are closer grocery stores, but here I can find a whole tub of chocolate-covered pretzels for less than $4.
Like every other Tuesday, I participate in a Social Justice Intergroup Dialogue in the evening. The Washington Center holds group meetings where interns can discuss issues within a broad topic like gender equality, racial discrimination, and prison reform. This week's topic is gender equality, and we touch on specific issues like the wage gap, workplace sexual harassment, and catcalling. As the oldest of three girls, I have a LOT to talk about. The best part of being there is discovering how I view these issues and listening to people who don't agree with me so I can understand where our perspectives differ.
By 8:30 I'm in my seat at work, printing some of my most recent work for my internship supervisor. We meet every morning so she can give me feedback and we can discuss the timelines for new projects.

Kelia Lomeli
Wednesday
Wednesdays are always long, so I wear one of my softest blouses to get me through a tough day of sitting. I write a page-long memo about yesterday's event (harder than it seems when there's so much information to compress). For lunch, I decide to try a noodle bar around the corner, and am pleasantly surprised by their spicy pad thai. I spend most of the afternoon compiling contact information for House and Senate subcommittees. As a nongovernmental organization, it's important that we maintain relationships with the representatives who sit on committees related to our interest areas.
There's a good two hours between when I get out of my internship and when I have to be in a meeting a few blocks away, so I walk to my new favorite boba shop. Being from California, I LOVE boba, and I was let down by several highly-rated shops in D.C. before I found the Gong Cha on 14th & H Street.
One brown sugar milk tea later, I'm in a lecture for the other Tomodachi Program Ambassadors. The Tomodachi Program is a special opportunity that only those interning during the spring semester can apply for. We're learning about civil society in the U.S. and Japan in preparation for a capstone project where we team up with Japanese students to resolve a social issue in Japan. I would highly recommend it, if not just for the free food at meetings!
By the time I get home, I'm exhausted. I put on some music and study for my evening class before calling it a night.
Thursday
It's nearly the end of the week! The temperature hovers below 40 degrees Fahrenheit so I grab a pair of fleece-lined leggings to wear under my slacks. In the office, I call congressional offices to continue amassing contact information for my spreadsheet. The other intern and I discuss upcoming think tank events and congressional hearings we might be interested in attending, and I continue researching hunger and malnutrition in countries that Leadership Global would like to launch programs in.
In the evening, I attend my International Organizations & Humanitarian Law class. My professor is very engaging and I like learning the limitations placed on powerful countries within the United Nations. I think I'll fall asleep easily by the time I get home, but I stay up making sundaes with my housemates instead.
Friday
On Fridays, everyone attends their LEAD course instead of their internship, where we learn about career skills and how to navigate the workplace. In today's session, my instructor splits the class into small groups to discuss our strengths and fears going into our internship. Speaking with others about what I have to offer and what might hold me back puts some of my concerns into perspective. We give each other bits of advice and I walk away feeling a little more confident in my abilities.
After LEAD, my housemates and I head to Union Market for lunch. If you like to eat, you have to check it out, because I'm insistent on eating at every food counter there before I leave D.C. From arepas to cannoli to barbecue, Union Market has everything. Of course, that also makes it harder to decide what you want, and I don't blame my roommate when she buys half a dozen donuts just to sample the flavors.
In the afternoon, a friend and I take the Red Line to visit the Renwick Gallery, a little-known Smithsonian museum renowned for its fantastic art pieces. It was recommended to me by a coworker and I couldn't be more impressed by the exhibits. There is a gorgeous silhouette of a glass gown reclining without a person sculpted inside. And you can't miss viewing a 3D printed replica of the famous "Greek Slave" sculpture. Unfortunately, some of the exhibits were closed as new ones are being set up to open in spring, but I'll be back.
Right across the street from the Renwick is GCDC, a grilled cheese bar with some of the best mac and cheese I've ever tried. Bring a close friend or two when you visit so you can try multiple items on the menu!
I call my family when I get home and catch them up on all I've been doing in D.C. Reaching them can be difficult given the difference in time zones that comes with moving across the country, but I'm very close with my sisters and want to know everything going on with them while I'm gone. Before I know it, it's late, and I go to bed grateful I don't have to wake up early the next morning.
D.C. has already meant a lot to me in terms of gaining professional experience and building my resume, but even more so, it's given me a chance to meet people, explore what I find interesting, and ultimately decide who I'm going to be.

Kelia Lomeli
Saturday
Obviously, I sleep in. My roommate and I do some cleaning around the apartment before starting the homework for our evening classes, but once noon rolls around, we leave to go to a farmer's market at Dupont Circle. It's my first time at a farmer's market since moving to D.C., and while it's colder outside than I'm used to, I feel right at home among the stands of fresh fruit and vegetables. One of my housemates is thrilled to find a stand with gluten-free bread and pastries, and even I can't resist buying a loaf.
Since we arrived near closing time, my housemates and I look elsewhere to get lunch afterwards. We try some of the vegan burgers at Bareburger and no one can believe their delicious milkshakes are vegan, too. On our way back to the Dupont Circle Red Line station, we stop at the park within the circle to pet dogs and go people watching. It's days like this where I feel lucky that my housemates have also become my friends.
In the evening, we hang out in a friend's room for dinner and cards, and it turns into a '00s song marathon. I met a lot of people who go to the same school as one of my housemates, and we all make plans to go to a karaoke bar sometime next week. My voice is tired, so at the end of the night I go back to my place and crash.
Sunday
It's the last day of the week, and I'm grateful to have one more day to sleep in. From my terrace, everything looks sunny and beautiful, and I dress to go outside. The weather in D.C. can be deceiving, so I grab a long coat and scarf on my way out.
I meet up with a friend for lunch first. Our plan is to tour some of the monuments, so we get off the Red Line at Metro Center, stop at Astro Doughnuts & Fried Chicken, and begin our trek to the National Mall. I was super hyped to try Astro Doughnuts after telling my coworkers that I'd tasted District Doughnut at Union Market. Although the businesses themselves haven't said there's a rivalry, anyone who has lived in D.C. long enough can tell you whether they prefer Astro Doughnuts or District Doughnut.
After a lunch of chicken and doughnuts, we cut through downtown D.C. to reach the White House. It's chilly outside but walking in the sunshine makes me feel grateful for where I'm at and the kinds of opportunities I have here in D.C. My friend and I stroll past countless picnickers, joggers, and frisbee players as we head towards the Washington Monument, and it seems as though everyone is trying to be outside on this unexpectedly sunny day. Along the way, I buy postcards and a touristy T-shirt at a gift shop, because how could I leave D.C. without getting a T-shirt?
On my way home, I pick up a few things at Trader Joe's and run into a friend I met at a TWC networking event. We walk back to the internship housing building together, and later when I'm curled up in bed eating chocolate-covered pretzels, I think about how I didn't need to be scared about not making friends or not getting along with my roommates. D.C. has already meant a lot to me in terms of gaining professional experience and building my resume, but even more so, it's given me a chance to meet people, explore what I find interesting, and ultimately decide who I'm going to be.
I've loved the time I've already spent in D.C. and look forward to making more friends and professional connections while I'm here. In addition to my internship, living with other interns and attending evening classes together has made me reflect on my own college experience and feel grateful to be where I'm at now. I can only hope that the rest of my semester here will be as great as it's been so far.
About the Author

More Content by Kelia Lomeli