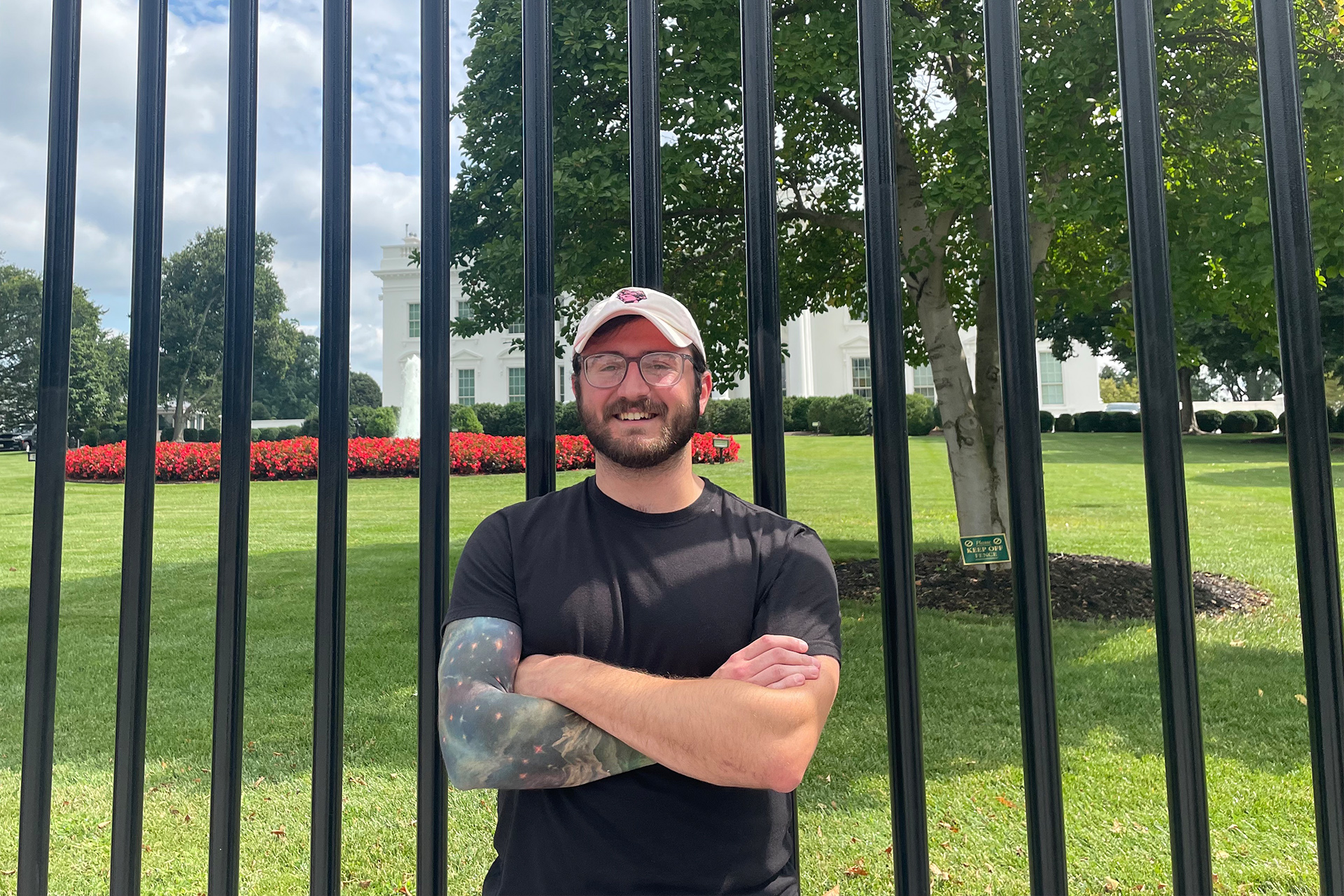 Interning in the summer of 2023, Dante DeMarzo, an undergraduate at University of North Carolina, Charlotte who previously served in the U.S. military, combined his organizational and creative skills to help deliver a high-profile event in D.C. supporting refugee families. The exposure to this new career possibility, made possible thanks to the support of North Carolina state financial aid, has opened a new world of possibilities for Dante's career journey.
Where did you intern and what are some of your responsibilities there?
I interned at One Journey, an all-volunteer nonprofit organization which works to support and advocate on behalf of refugees and immigrants in the US. Their goal is to shift public perception of refugees in a more positive direction through the celebration of their humanity, their achievements and all that they have to offer our world.
As one of three interns, I had the opportunity to conduct interviews, write pieces for the website and put together our annual impact report. I was also fortunate to take part in the planning and implementation of our annual One Journey Festival, which is the centerpiece of One Journey's efforts.
Tell us about a project you worked on during your internship that was your favorite, the most challenging, or the most exciting.
The culminating event of One Journey is the One Journey Festival, an annual celebration of refugees and their stories, talents, creativity and accomplishments. This festival requires coordination between countless corporate sponsors, partner organizations, food trucks, marketplace vendors, production companies and volunteers. The month leading up to the festival was very chaotic, with myself and my fellow interns working full throttle trying to bring all of these different set pieces together to make the magic happen on the day of the festival.
Although we were plenty stressed, the day of the festival was absolutely incredible, and seeing all of our hard work and dedication pay off on the smiling faces of those in attendance – refugees, immigrants and D.C. locals alike – was more than worth the struggle.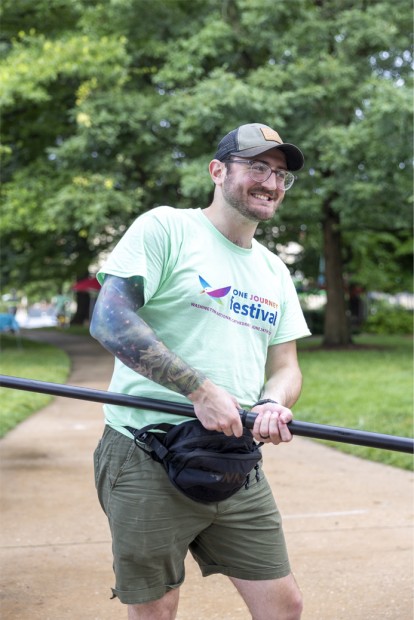 How have you expanded your professional network during your time with TWC?
One of the interesting things about all-volunteer nonprofits is that most of your coworkers have full time jobs with established professional lives outside of the organization. I've built strong bonds with my supervisor (who seems to know just about everyone in D.C.), my coworkers with years if not decades of experience in communications, advertising and writing, and my fellow interns, both of whom are fantastic people that I look forward to one day seeing represent the people of this country.
How has this experience impacted your career goals?
Prior to this, I was not particularly interested in a career related to nonprofits or the advocacy field. But after seeing the impact that the work of One Journey has in the lives of other human beings and knowing that I had a hand in making some of that work come to fruition, I have decided to explore the nonprofit sector more thoroughly in my job search. I'm also considering staying with One Journey as a permanent team member, since the refugee crisis is an issue I have a personal interest in after spending time in Afghanistan.
TWC will open the door for a treasure trove of potential internship sites that you may not have had access to otherwise, so be sure to investigate every internship that you can apply for, even if it might seem outside your immediate field of interest.

Dante DeMarzo, University of North Carolina undergraduate student interning at One Journey Foundation.
What advice do you have for students considering an internship with TWC, particularly first-generation college students like yourself?
Explore every potential avenue of funding this adventure since D.C. is not a cheap city to live in (especially if you're used to living somewhere with a much lower cost of living like me)!
TWC will open the door for a treasure trove of potential internship sites that you may not have had access to otherwise, so be sure to investigate every internship that you can apply for, even if it might seem outside your immediate field of interest.
Talk to everyone, remember their names and build relationships. Not every conversation has to be an elevator pitch, but whether it's a personal or professional relationship, the more perspectives you are exposed to, the broader your own worldview will become.
How did the support of the North Carolina State Scholarship expand your opportunity via TWC and career exploration
Without the NC state scholarship this internship experience would not have been possible for me, full stop. I don't have financial support from my parents, and I'm also currently paying on a mortgage, a wedding and my last year of school, so this scholarship was a much-needed boon in the midst of a somewhat chaotic period of my life. Had I not received this scholarship, my internship opportunities would have been limited to what was available to me in the Charlotte, NC area, most of which did not fit the scope of what I was looking for.
Let The Washington Center Help
Internships are one of the best ways to learn more about your industry, get hands-on experience under your belt and build a well-rounded skill set. As part of our Academic Internship Program, we partner with hundreds of internship sites, and will work closely with you to find the internship that best aligns with your career goals and interests. Learn more about the Academic Internship Program.
Learn more about the Academic Internship Program.
About the Author

Follow on Twitter Visit Website More Content by The Washington Center