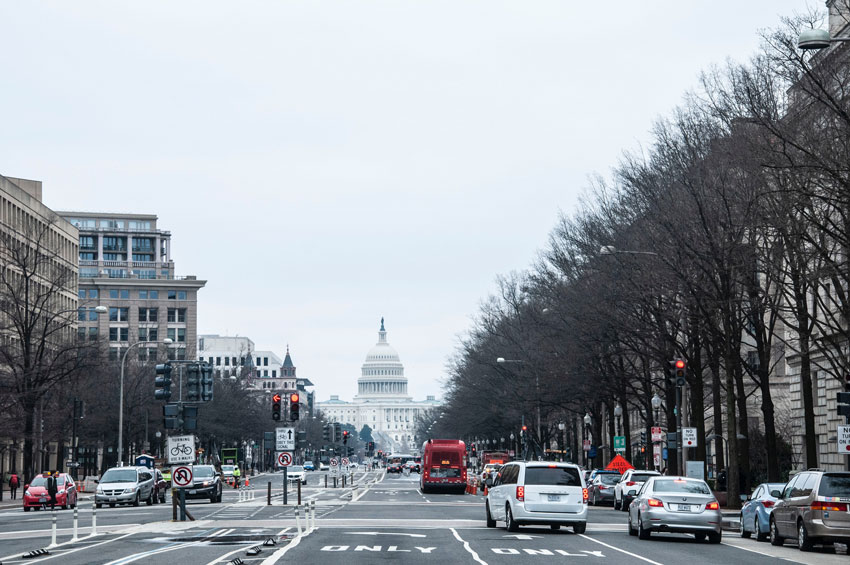 Elizabeth Lupinacci, a Political Science major from Quinnipiac University, shares what a typical day is like as an intern in Washington, D.C.
This content was originally published on The Washington Center's Instagram account and has been edited for length and clarity.
Hello everyone and welcome to my day! My name is Elizabeth Lupinacci, and I am a Political Science major at Quinnipiac University in Hamden, Connecticut. This semester, I am doing an internship with the U.S. Department of Justice, Environmental and Natural Resources Division.
My day usually starts at around 7:30 a.m., which is when I get up and make myself something for breakfast. Today, I made what I like to call a breakfast wrap with cheese, egg and pepperoni.
By 8:45 a.m., I'm getting ready to leave for my walking commute to work. Thankfully, my internship site is a short walk from The Washington Center Residential and Academic Facility. I arrived at work at 8:57, right on time!
Since I'm interning at the DOJ, it's not possible for me to share specific details of what I'm currently working on; however, more generally, here are some questions that I hope to answer, plus what I'm hoping to gain during my time here in Washington, D.C.:
Can I see myself living in Washington, D.C. in the future?
Do I want to go to grad school?
Do I need to (want to) go to law school?
Lay a strong foundation for my professional career after graduation
Become more knowledgeable in environmental law and understand what it's like to work for the federal government
Establishing professional connections in D.C.
Gain skills in legal research and writing
Get a better understanding of the 9-5 working lifestyle
Whew, that's a lot! It's not all work though, I'm also looking forward to exploring the "fun" side of D.C., such as paddling the Potomac River, going to the National Zoo, trying all the soft-serve ice cream, seeing the monuments and the cherry blossoms, visiting all the Smithsonian museums and much, much more.
With everything that I want to do this semester, it's really important to stay organized, which is why I keep a journal — I write everything down, from grocery lists to to-do lists for my internship!
After a long day, I'm looking forward to some well-earned downtime. I cook myself some dinner — mac and cheese with some broccoli mixed in (that makes it healthy-ish, right?).
It's time I say goodbye to this day, on to the next...oh and don't forget to register to vote!
---
As a college student, you have questions — What should I do with my major? Should I go to grad school? How do I get ahead and get a job after graduation? Thankfully, we've got answers. Sign up to learn more about how a professional semester experience in Washington, D.C. can help you figure out the right career path for you.
---
About the Author

Follow on Twitter Visit Website More Content by The Washington Center