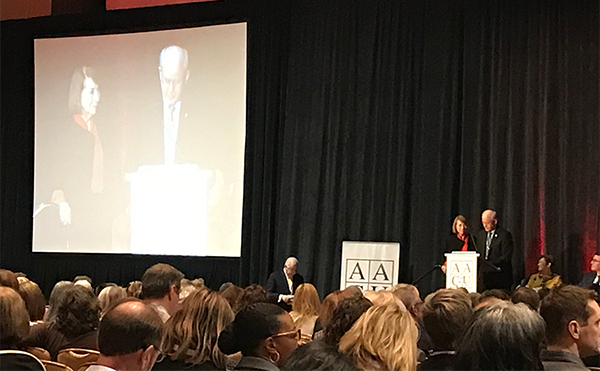 The AAC&U Annual Meeting opened in earnest this morning with a panel discussion on the importance of the liberal arts and how to express that importance to an often skeptical American public.
The session titled "Code Switching: Making the Case for Liberal Education Amidst Critics, Skeptics, and Trolls" was attended by TWC representatives Marianne Menius, Cara Gluck and Erin Seavoy. Here are five thought-provoking takeaways from the panel:
1. The panel began with remarks from Brandon Busteed, President of University Partners at Kaplan Higher Education Corp. President Busteed asserted the need for liberal arts to change the public perspective of a liberal arts education. He also proposed the idea of moving away from the term "liberal arts," stating that many do not realize that liberal arts does not refer to either politics or the ability to paint a mural. The term Busteed suggests using to resonate with more of the American public is "universal education."
2. The President and Founder of the Interfaith Youth Core (IFYC), Eboo Patel, continued the theme of defining a liberal arts education by stating, "Liberal education is preparing students to face unscripted problems."
3. President Gail O. Mellow of LaGuardia Community College - The City University of New York (CUNY) provided a moving example for why the liberal arts are important, even for individuals focused on a specific career. President Mellow considered the notion that a nurse must know more than where to put the catheter to execute their profession. In order to truly succeed as a nurse, it is important for an individual to possess problem solving skills, cross cultural skills, communication skills…in short, all of the skills taught in a liberal education.
4. The panel discussed the importance of diversity in a liberal arts education. IFYC's President Patel defined diversity as having three different components. He stated that addressing diversity means addressing marginalization, polarization/tribalism and disagreement. He pointed out that, to truly embrace diversity, a higher education institution needs to address all three issues.
5. President Mary Schmidt Campbell of Spelman College took President Patel's diversity discussion further pointing out that, "Diversity is hard, collaboration is harder."
In short, the liberal arts open students into a new world of thinking, processing and exploring. The panel concluded by emphasizing the need for academia to reclaim the narrative!
About the Author

Follow on Twitter Visit Website More Content by The Washington Center