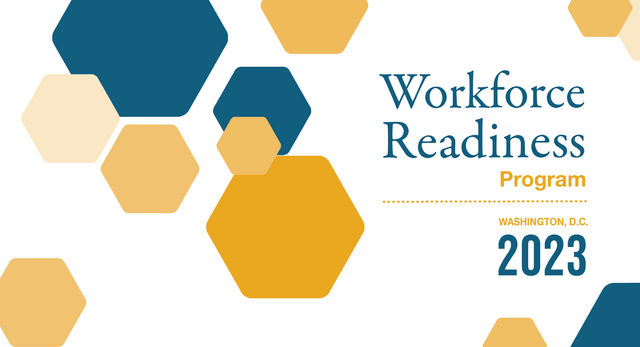 The Washington Center is launching an innovative 4-day in-person Workforce Readiness Program, November 2-5, 2023, to provide an opportunity for learners to immerse themselves in the realities and expectations of today's workforce.
Engaging directly with leaders in high-growth industries such as technology, AI, communications and more, it is designed to provide a bridge between academic theory in the classroom and the tangible professional skills that employers seek and reward.
The program is part of our commitment to help bridge the skills gap that many college graduates face in securing jobs and growing their careers. Eligible students from North Carolina and Maryland may also be eligible scholarships to fund 100% of the program, along with a travel stipend.
The reality is, employers and recent graduates who have entered the workforce acknowledge there is a gap in the skills and experiences offered in the classroom alone.
Gallup and Strada Education Network found that only 11% of business leaders strongly agreed that college graduates have the skills and competencies their businesses need.
A 2019 study by the National Association of Colleges and Employers (NACE) found that only 43.1% of college seniors felt very well prepared to apply their knowledge in real-world settings.
The Workforce Readiness Program will focus on professional skills which are universal in providing an opportunity to effectively navigate today's fast-paced, high demand professional setting, yet are often not addressed in college settings. Skills addressed include those often cited by hiring managers and business leaders including:
Strategic Thinking
Communications
Working in a Virtual or Hybrid Environment
Time Management
Leadership and Managing Up
Adaptability and Decision Making
Innovation and Creativity
Enhancing the classroom experience and focusing on skills sought and expected by employers is critical in gaining an advantage in finding a rewarding job and forging a career, no matter the industry or role. Doing so can make you more marketable to employers and potentially increase your early career growth.
TWC's Workforce Readiness Program runs November 2-5, 2023, in Washington, D.C. Applications are open now through October 4 so apply today and don't miss out on this opportunity.
About the Author

Follow on Twitter Visit Website More Content by The Washington Center