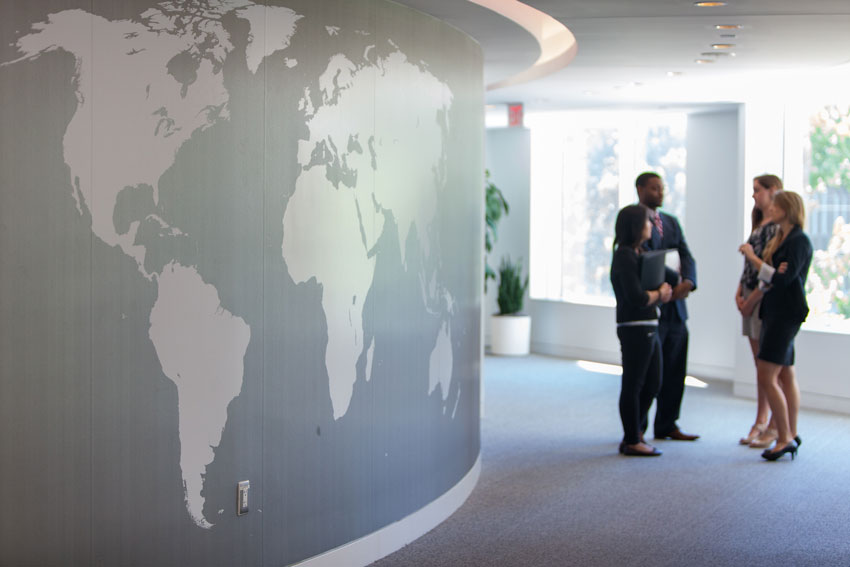 As a D.C. intern, you will hear one piece of advice constantly: network as much as possible.
Networking is an important part of your experience as a D.C. intern, especially if you are seeking future internship opportunities or a full-time job after you graduate. What many interns often forget is that the most important place to get started is right in your own office. Everyone in your office has valuable insights and expertise. Even if you feel like they are in a role that you do not see yourself in, they can give you insight on being a professional in D.C. and possibly connect you with others in your field of interest. It took me a long time to find my confidence in the workplace as an intern, so I am going to share my story of going from a shy intern to a confident professional.
My first internship was with a Disability Rights advocacy non-profit in my hometown. I interned with the advocacy team and performed research and some administrative tasks for the department. I primarily kept to myself and only spoke with the other members of my team. I was incredibly intimidated by my supervisor and lacked the self-confidence to ask to take on more projects, much less reach out to other people in the organization to learn more about what they do and possibly see if it's something I would like to pursue. If I had reached out more, I could have learned more about the organization and how they help people with disabilities, it would have made me a more knowledgeable individual and helped me better understand my role in the advocacy department, but it also could have opened new career pathways.
I have had some more internship and work opportunities since my first internship. Here is what I have learned so far during my current internship at the National Community Reinvestment Coalition:
Don't be afraid to reach out
In my current role, I work with the Development and Communications departments. On a daily basis, I conduct funding research for several departments and I am writing articles on affordable housing for NCRC's website. In this role, I get to interact with people from several different departments, which gives me a great opportunity to make connections. When I am interested in the work someone is doing for the organization (even if their in a field that I don't see myself in), I will usually ask them to eat lunch with me or get coffee after work. People love to talk about the work that they do and give advice, so most people will be willing to take the time to speak with you.
Respect everyone's time
When I am interested in speaking with someone, I usually mention a specific amount of time to meet: between 20 and 30 minutes. My colleagues are busy, working professionals and it is important that I acknowledge and respect their time. I have found that when I mention a specific amount to meet with them, people are more likely to respond. However, if someone doesn't respond after two emails - let it go. Don't take it personally, people tend to get busy!
If someone doesn't respond after two emails - let it go. Don't take it personally, people tend to get busy!

Mythea Mazzola
Ask for a follow-up or another connection
After your informational meeting, don't be afraid to connect with the individual on Linkedin and ask to meet again at some point in the future if you make a connection and feel that this person could be a mentor. If they are not working in your field of interest, you can always ask if they know of anyone that you should talk to. The worst response will be "no"!
Don't forget about other interns
You may not realize this, but your other interns are also a great source of information. If there are interns in other departments that you don't have the opportunity to interact with on a daily basis, you can also ask to eat lunch with them or go to a happy hour with them after work. This is a great way to make new friends, plus you never know where other interns will careers will take them, and you could always end up working with them in the future!
As an intern, it can be very nerve-wracking to approach other people in your office. But, in my experience, most people are very excited and willing to learn from their experiences and give advice. Don't be afraid to put yourself out there and be open: you never know what opportunities are coming your way.
About the Author

More Content by Mythea Mazzola