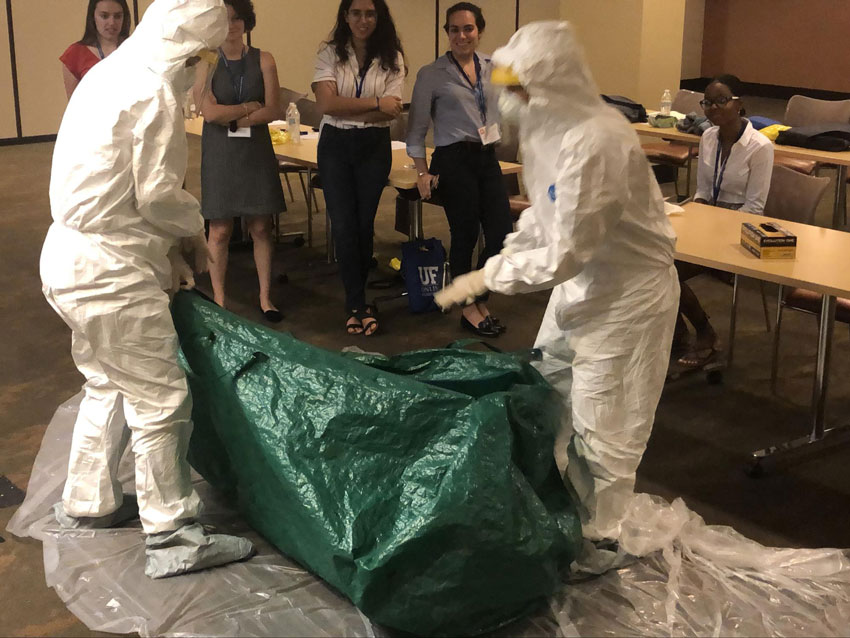 Bob was wrapped in a green plastic tarp when the students filed into the room. The story goes he was sent to the Centers for Disease Control by his family, dead from an unknown virus. By the end of the hour, we'd have answers for his family and what brought this zombified corpse to the Washington Center's Residential Academic Facility.
Deneen Hernandez is an FBI forensics examiner, Ph.D. student, digital forensics instructor and a TWC alumna. She has given engaging, pop culture-riffing presentations across the country and around the world. 'Zombie Apocalypse Autopsies and Emergency Preparedness' (adapted from Dr. Steven Schlozman's 'Zombie Autopsies: Secret Notebooks from the Apocalypse' book) would be the third such presentation she's given for TWC.
We have an unknown virus on our hands here. If you know anything about virology — Deneen has the expertise — you know you've got to study your opponent and quickly figure out some things: How did it start? How does it spread? Who is immune? This all leads to: How did we get Bob here?
---
Why do you choose to use zombies or other popular material to relate everyday STEM topics of a forensic examiner or forensic anthropologist?
Deneen Hernandez: STEM topics — chemistry, physics and neurobiology — can be frightening to some. Integrating pop culture into these types of topics can make a person feel more at ease to address these complicated topics. Some do not realize that these topics are all around us. As an instructor, I need to point this out and attempt to introduce these ideas to the inquiring mind. I use zombies, for example, to teach neurobiology and emergency preparedness. As an AMC 'Walking Dead' fan, we see these themes every week in the series. The Centers for Disease Control (CDC) even embraced the idea through a campaign for emergency preparedness. These types of topics make learning fun and captures student interest.
---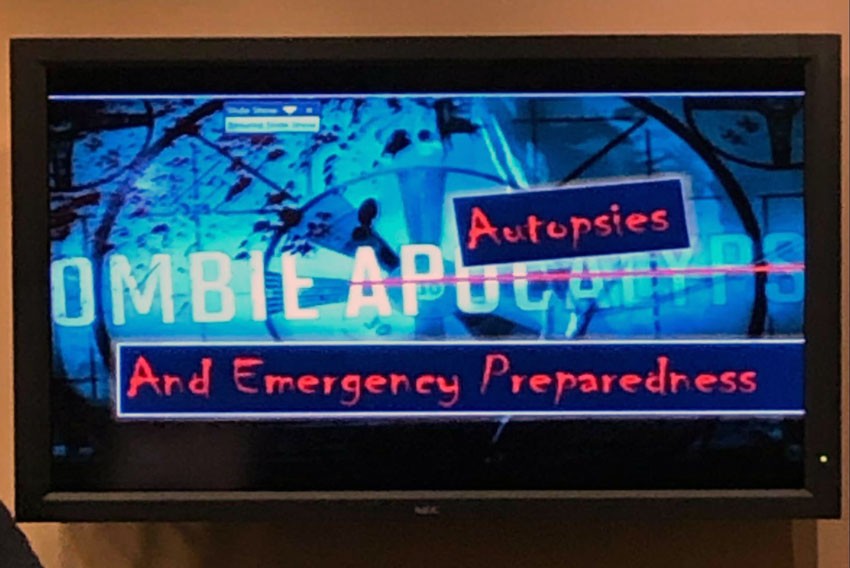 How this zombie virus started and spreads are likely interconnected. It could be in the air, or the water, or in the food source. It could be spread by touch (yikes!), including bites (double yikes!). Bob has possible answers, but he wasn't spilling his guts just yet. We had to learn how the contagion had been spreading through the population exponentially.
---
How was your career influenced by interning in Washington, D.C. with The Washington Center?
Deneen Hernandez: TWC opened my eyes to endless possibilities. I completed my internship while at SUNY at Fredonia. I was assigned to the Bureau of Indian Affairs Judicial Service Branch. My supervisor, a member of the Turtle Mountain Chippewa tribe, taught me so much. I met so many other professional Native Americans in Washington, D.C., doing all types of things in politics and law. When it was time to leave, I hated it. I didn't want to go back to school but I knew I had to finish my degree.
---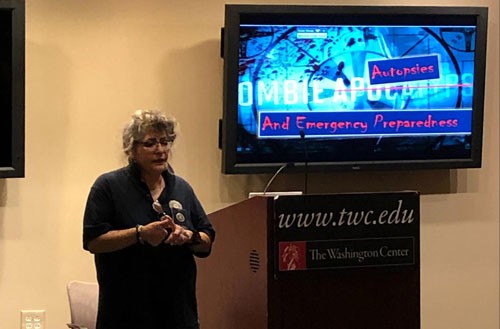 Another vital key to understanding your virology is knowing what the virus affects. Zombie behavior, it seems, is dictated by the areas of the brain the particular zombie pathogen has corrupted. Zombies typically share or have in common an appetite for brains, some may say it is a singular focus on said brains, and are a bit angry or awkward when it comes to interpersonal communication.
---
What led to you becoming one of two Native American forensic examiners at the FBI? Do you consider yourself a groundbreaker or trailblazer?
Deneen Hernandez: I was 10 years old. My mother was attending the Erie County Sheriff's Academy and needed help studying. I was her study partner. My father was injured at Bethlehem Steel plant in western NY and had had to change professions. He went to school for nursing. I was his study partner. Lack of a babysitter had me attending college classes with both of my parents. I studied constitutional law with my mom and anatomy and physiology with my dad. Fast forward to today, here I am. I hope that I am an example to others. I come from humble beginnings on the reservation and as a tribal police officer. I'd like to see more Native Americans in forensics. Perhaps I can be their example.
---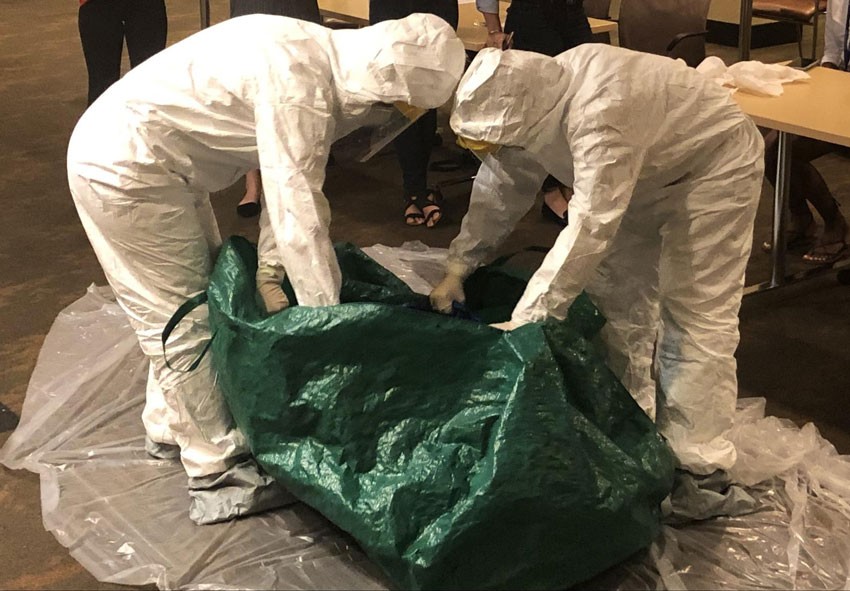 Turns out, these zombie behaviors are dictated by the frontal lobe, hypothalamus, cerebellum and amygdala portions of the brain. If we're lucky, the virus gets them all. No, it won't stop it, but it is better than if the cerebellum goes unaffected (better balanced zombies) or neither the cerebellum nor the frontal lobe were affected (fast moving, problem-solving zombies). So, best case scenario, the zombie virus ravages the brain. It isn't likely to prevent the spread, but it will make them easier targets. Which brings us to our boy, Bob, and his post-mortem, post-zombie infection examination.
---
One of the lessons you shared with the group was that you never know who you may meet and how they may help your career (or you help theirs). What is the basis of that statement?
Deneen Hernandez: Our traditional teachings tell us to be kind to everyone because it could be the Creator who you are in contact with. So respect and kindness are part of our belief system. I volunteer with a lot of organizations because I think children and adults like to learn about something they see on television or the movies. While I'm doing this, I am meeting some amazing people. People I may work with in the future, or who I can help right now by listening or introducing them to people I know. For example, I took the opportunity to speak with a university colleague for advice to complete my Ph.D. after all these years. That discussion led to a solution of how to finally finishing my studies. It was an unexpected gift and gesture, and all thanks to treating others respectfully.
---
Deneen asked for and received a pair of brave volunteers. They would be the de-facto forensic examiners that would try to get answers for Bob's family. They were outfitted with personal protective equipment to prevent any part of their body from being exposed to the potentially lethal virus. A tyvek suit covered them head to toe, and paired with booties, latex gloves, a full-face visor, and a medical mask respirator.
The tarp came off. Bob's emaciated body, spilling guts and barely-there skull were on full display. The volunteer examiners pulled, poked and prodded the lifeless body. Everyone was up out of their seats to take in the autopsy. If there had been an operating theatre, that would have been helpful, but we made due with what we had. Pulling the bloody intestines up to get a closer look also helped. There were shouted questions and statements. Bob was a willing subject.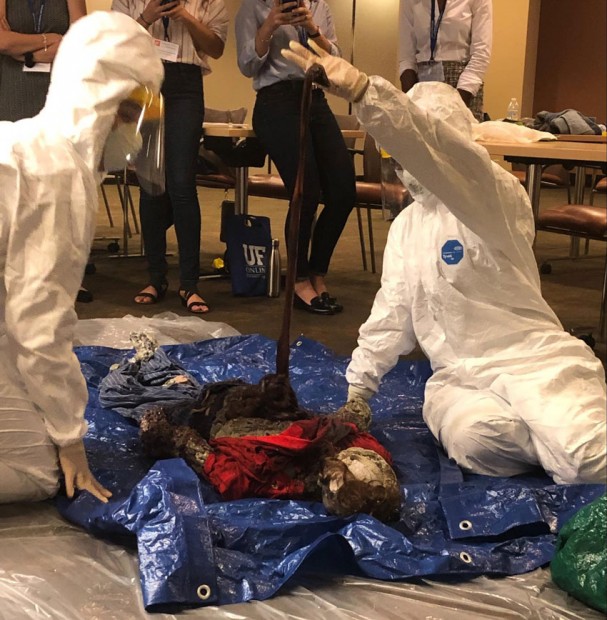 So what happened with Bob?
Bob was a zombie. He ate some people and was eventually killed.
The virus didn't stop there, though. It was still going and everyone could be at risk of being bitten by another, non-Bob zombie. Deneen's advice? Make sure you have a well-stocked go-bag, avoid the central grid and be ready. If you aren't sure what to have in your go-bag, talk to Deneen. She has a list that will get you what you need.
About the Author

Follow on Twitter Visit Website More Content by The Washington Center