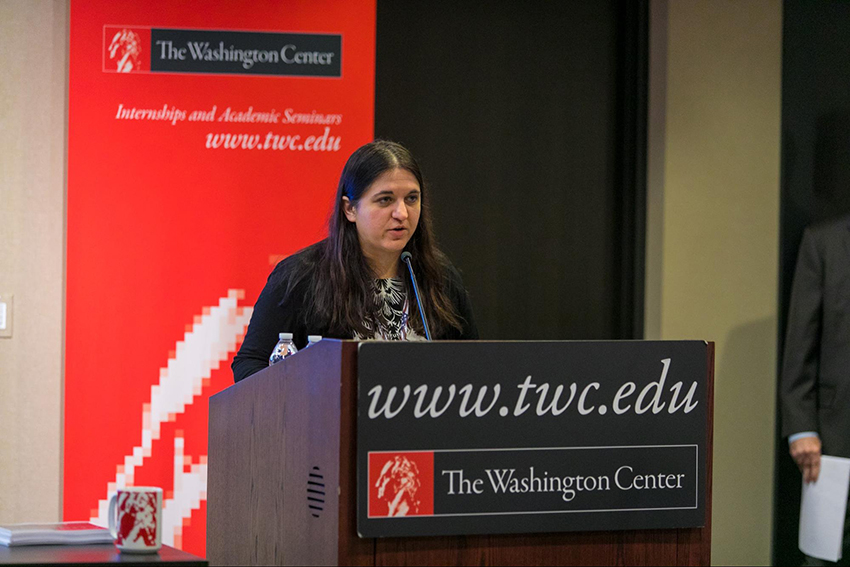 Dr. Julia Azari will shape the seminar agenda and work with The Washington Center to select expert speakers and panelists for the January 2021 Seminar.
The pointed and direct theme "Calling for Political Accountability" for the Inauguration 2021 Academic Seminar was not selected lightly by Faculty Director Julia Azari. "We selected this theme to reflect what people in the U.S. and maybe around the world are feeling about the government right now," Azari said. "There's this feeling across the ideological spectrum that government hasn't been responsive to people and that politics needs to change."
As Faculty Director, Azari will shape the agenda and work with TWC to select expert speakers and panelists, including political leaders, seasoned journalists and thought leaders, for the January 2021 event. Azari is an associate professor and assistant chair in the department of political science at Marquette University. She is a regular contributor to the political science blog, Mischiefs of Faction, a contributor at FiveThirtyEight.com, and a co-host of the political science podcast Politics in Question. Azari is author of Delivering the People's Message: The Changing Politics of the Presidential Mandate (Cornell University Press, 2014). She is the inaugural winner of the American Political Science Association's award for best public-facing scholar.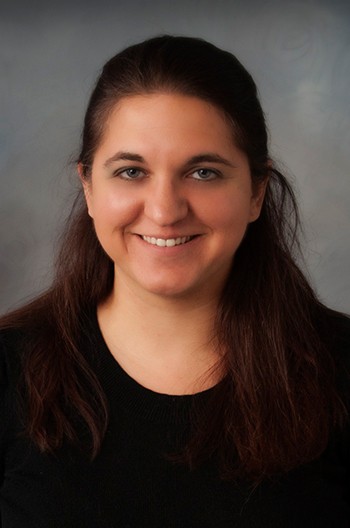 The Washington Center (TWC) has hosted the Inauguration Academic Seminar since 1985 – and it remains the only national academic program of its kind and size. Given the political climate, the global pandemic, economic recession, and major issues in the spotlight, the Inauguration 2021 Academic Seminar (January 11-15) is shaping up to be one of the most important learning opportunities that students will experience in their college career.
"We're in a political moment that's anything but normal," thought leader Azari writes in FiveThirtyEight.com. "The usual expectations for how politics, and life in general, operate are pretty much all on hold, and America is dealing with a lot of anxiety about politics."
For the first time in TWC's history, the Inauguration Academic Seminar will be held virtually – opening participation to students and faculty from around the world. The international audience will add a whole new dynamic to the program, says Azari. "The U.S. system is difficult to understand," she adds. "This program is a unique way of understanding why we are the way we are, how the scope of our size shapes our politics, and how we got to this point in our democracy."
The idea of 'calling for political accountability' is a critical and pro-democracy perspective, no matter who wins" the presidential election in November.

Julia Azari
Program content will also reflect current events, she notes. "We are planning for panel discussions to take on issues like race and the politics of [COVID-19] as well as more evergreen issues like elections," Azari says.
"This seminar lets you see the pieces of the puzzle" to learn how government really operates, beyond the traditional Civics 101 classroom instruction, Azari says. "We'll talk a lot about recent political developments, and go deeper in American political history. We'll bring in speakers from different aspects of government, campaigns, academia, and media and you'll start to see how it all fits together."
---
Faculty Leader Julia Azari joined us for a thought-provoking webinar discussion about the issues that will be tackled at the Inauguration 2021 Academic Seminar.
---
Faculty Leaders are selected to lead their student groups of six to 15, serving as advisors and mentors during the program, leading small group discussions each day, helping students learn and grow, read students' written work, and provide written evaluations and a grade at the end of the program. Many students receive academic credit from their universities.
Azari says it's a "testament" to the program that so many faculty leaders return every four years to the academic seminar. "They get to transcend the immediate politics of the moment and think and talk about enduring questions and values outside their traditional campus," Azari says. The program also brings together academic leaders from disparate disciplines, notes Azari. For example, in programs past she's met faculty in music and business, in addition to sociology and history.
The virtual seminar will feature networking groups for participants to have topic-focused discussions and Zoom rooms for Faculty Leaders to hold small group discussions.
Azari stresses the non-partisan nature of the seminar. "Regardless of the [election] outcome, this seminar is an intellectual enterprise, it's not a partisan enterprise – it's to talk about how we hold all leaders accountable," says Azari. "That is a process that you have to invest in, regardless of whether your candidate is in the White House. And in some ways, if they're not, this seminar is even more enticing and more interesting and important."
"The idea of 'calling for political accountability' is a critical and pro-democracy perspective, no matter who wins" the presidential election in November, says Azari.
About the Author

Follow on Twitter Visit Website More Content by The Washington Center