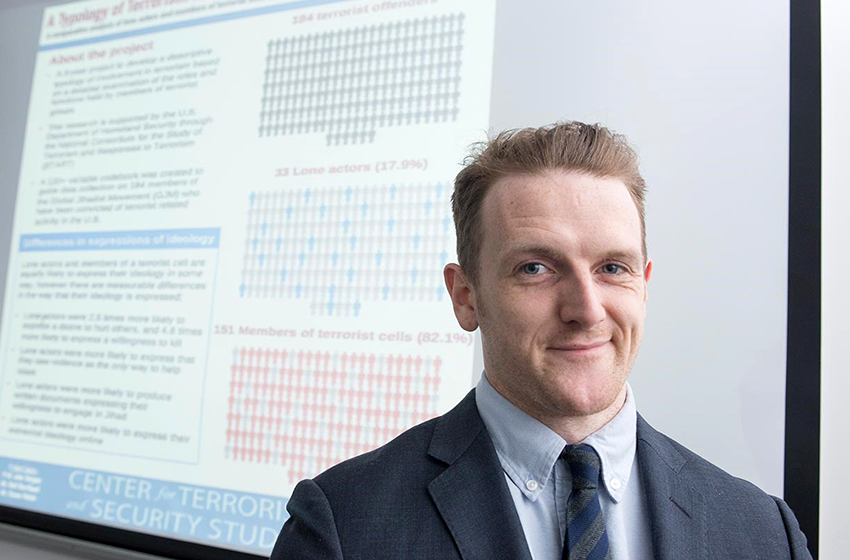 Faculty director Neil Shortland shares what students and faculty will experience during the two-week seminar in Washington, D.C.
Neil Shortland is an Assistant Professor of Criminal Justice at the University of Massachusetts Lowell. He teaches courses in Forensic Psychology, as well as a data-driven internship course as part of the Center for Terrorism and Security Studies.
What is the role of the faculty director of this seminar?
To me the role is to construct an academic program that encompasses the diversity of approaches (and domains), yet still has a singular underlying message, or thread, that allows a student to walk away and see the "big picture". Which can be quite hard when we are covering domestic extremism, international efforts to counter terrorism, cyber, legal issues and humanitarian perspectives.
What are you hoping students will learn and takeaway from this experience?
Ideally I would like them to see that whatever their experiences, area of interest or major, there is a role within security for them. Almost all disciplines, in some way, affect security writ large, and my goal is for students to see this diversity and be exposed to as much of it as possible. I would also like them to learn that security is hard. I think it is easy to get a picture of what "should" happen in security when observing from the outside, but during this course I would like students to learn about the ground truths and the many challenges that are faced by those who work in the area.
What are you hoping the faculty leaders will gain from this experience?
I hope they also learn something new, or see a new dimension that helps them think in innovative ways about their area of interest. Speaking from my experience as a faculty leader, I always enjoyed hearing from the speakers and most of the time I was learning just as much as the students
Almost all disciplines, in some way, affect security writ large, and my goal is for students to see this diversity.
What are the advantages of having a seminar on National Security take place in Washington, D.C. versus any other city?
Immediacy and proximity. Given the speakers are so predominantly from D.C., and security is so fast-moving, it is often the case that they are talking about things that have happened in the last month, week, day. It is the only place where you so connected to "the action", almost in real-time.
What do you think is the biggest national security threat facing the United States? Why? Is this going to be explored during the seminar?
I think understanding repercussions of different actions and also understanding the thread that ties everything together. This is not something that can be taught in a single seminar, or morning, but for me, what I really want to see is students understand the inter-connectivity within different aspects of security studies and how it operates as a holistic whole than individual stove-pipes.
What are you looking forward to the most as faculty director for the seminar?
The questions the students pose the speakers. I am always so impressed with the questions students ask the speakers, they are really not afraid to dig into issues that are really pressing to them. I really enjoy seeing that.
Can you give us any insights into speakers, panels or plans for the seminar? Any previews?
Where to begin. I am really excited about some of our days focused on "grey areas" such as torture and the use of drones. We have also put a lot of effort into getting speakers who have really served in these roles at critical times over the past five years. Also, as we start to look forward into the future, we have some really exciting speakers who can talk about issues of ethics, and the futures of security and where will fact meet fiction.
We invite you to learn more, or apply, to The Washington Center's National Security Seminar. Applications are due April 4, 2018.
About the Author

Follow on Twitter Visit Website More Content by The Washington Center