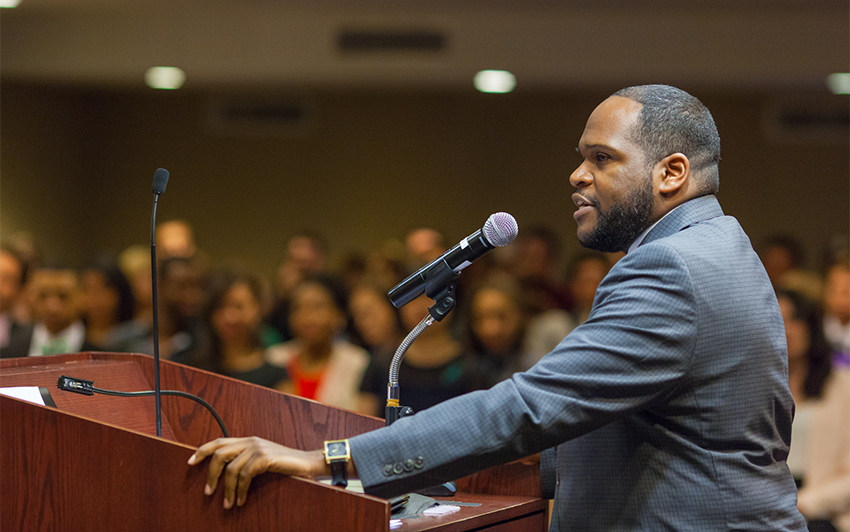 What's life like when you're a top aide to the speaker of the house? Elon grad & TWC '04 alum Michael Long knows.
He's worked for U.S. Rep. Nancy Pelosi since 2007, just after the California Democrat ascended to the position. Since last year, he's served as a senior advisor to Pelosi, now the house democratic leader. His diverse role has included supporting Pelosi and all Democratic members of Congress, overseeing the leader's internship program and serving as a liaison to the Congressional Progressive and Black caucuses.
One of TWC's highest-ranking alumni on Capitol Hill, Long delivered Commencement remarks to TWC's spring 2015 interns on May 1. Before that, though, he sat down with TWC to discuss why Congress really isn't as dysfunctional as you think it is - and how working in D.C. is not a "West Wing" episode.
Why politics? Why Washington?
I grew up around politics. My family was active locally and statewide in North Carolina, and I enjoyed joining my parents at events and going to the polls each Election Day. It was something I felt I could do to make a contribution. Washington was a little different. Originally, I didn't want to come here. I wanted to stay in North Carolina, but one of my professors at Elon [University], Pam Brumbaugh, suggested The Washington Center. She said it was a good way for me to be introduced to the city. If I liked it, I could stay. I liked it, so I stayed.
What do you remember about first meeting Rep. Pelosi?
It was my first day of work. I was overwhelmed with answering phones and running errands. I was sitting at my desk with my head down. I had about four or five calls backed up. I could feel someone standing in front of me, so I looked up - and it was her. I didn't really know what to say - because I had the phone on my shoulder, one person talking in my ear and another one on hold. She extended her hand to shake mine and said, "Welcome to the office." I don't even remember being able to say anything to her.
What is one of your favorite memories from your time working for Congress?
The first time I held in my hand an actual bill that was going to the president's desk. I opened it to see what it was - it was a bill that authorized President [George W.] Bush to go into Afghanistan. It hit me that I was, at the time, carrying something that affected so many people's lives, and that by carrying it from one place to another, I was part of the process.
Be honest: Is the gridlock in Congress really as bad as it looks to the public?
In many ways, this is how the system was designed. It could absolutely work better, and there are individuals in positions of leadership who could use their responsibility better. I think we're in a place where the Legislative Branch is going through a process change, and that happens every couple of decades. What's different now is social media. Our government has operated this way for a couple of hundred years without constant media as a factor. It's just that, over the past decade or so, people have paid much more attention because they have easy access to information.
What two pieces of advice would you give to an aspiring Hill staffer?
First, don't network - build relationships. Make sure they're meaningful relationships. Throughout your career, you'll meet many people. You may know their name and title, but what benefit is that other than an introduction? Build a relationship with someone, give them a reason to have a connection with you, and they'll follow you through your career.
Second, D.C. is not a "West Wing" episode! Don't treat it that way! It pays to be nice, smart and strategic. You don't have to be cutthroat, someone who simply chases their way to the top without the experience of service and, in general, doing a good job.
About the Author

Follow on Twitter Visit Website More Content by The Washington Center