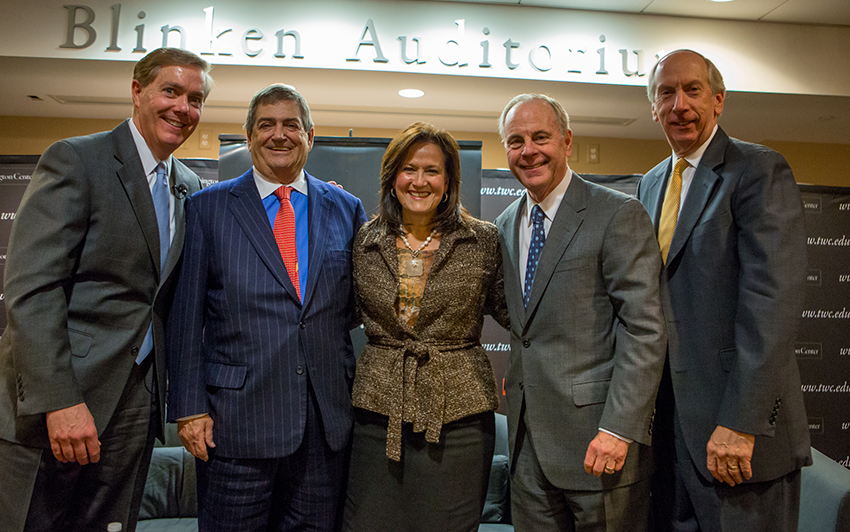 TWC hosted three former White House chiefs of staff for a discussion about what it takes to be gatekeepers for the most powerful men in the world.
The second spring installment of TWC's Simpson-Mineta Leaders Series featured Kenneth Duberstein, a chief of staff for President Ronald Reagan; Thomas "Mack" McLarty, a chief of staff for President Bill Clinton; and Anita McBride, a chief of staff during the Reagan, George H.W. and George W. Bush presidencies. Each panelist gave the audience insights about the challenges of presidential transitions, their favorite memories from the White House and their paths to becoming such powerful political advisers.
"My role as chief of staff was to be an honest broker of the president's time and give him the information he needed to do his job," McLarty said as the panelists discussed the chief of staff's responsibilities in managing the cabinet's access to the president. Duberstein recalled working with President Reagan's defense secretary and national security adviser prior to Reagan's 1987 visit to Berlin. The advisers had strong feelings about Reagan's planned exhortation to Soviet Leader Mikhail Gorbachev – and Duberstein had to decide how to balance those concerns with Reagan's intentions. In the end, Duberstein says, Reagan went ahead and told Gorbachev to "tear down this wall" anyway.
Following the panel's opening discussion, C-SPAN Senior Executive Producer Steve Scully moderated a question-and-answer session with the TWC student audience.
Jessica Boone: (Institution: University of South Florida; Internship: Institute of World Politics) What made you first want to get involved in politics?
McBride: I was in school in Italy when the Iran hostage crisis was going on. I remember seeing so much anti-American sentiment, and that's what made me feel like I had to do something about it. As soon as I returned home, I went to work on my first campaign.
Sam Brady: (Institution: Drury University, Mo.; Internship: Potomac Advocates) If you were advising President Obama, what would you want him to do over the last 18 months of his presidency?
McLarty: I would tell him to stay engaged and find common ground with Republicans. He has to pursue cooperation on the monumental issues that people really care about and approach everything on bipartisan basis.
To close the discussion, Scully asked each panelist to share their favorite memories of their White House days. Duberstein shared an emotional moment that changed his life – and the world's: Reagan's Berlin speech.
"I remember watching that speech coming together and having that feeling that we were about to make history," he said.
About the Author

Follow on Twitter Visit Website More Content by The Washington Center