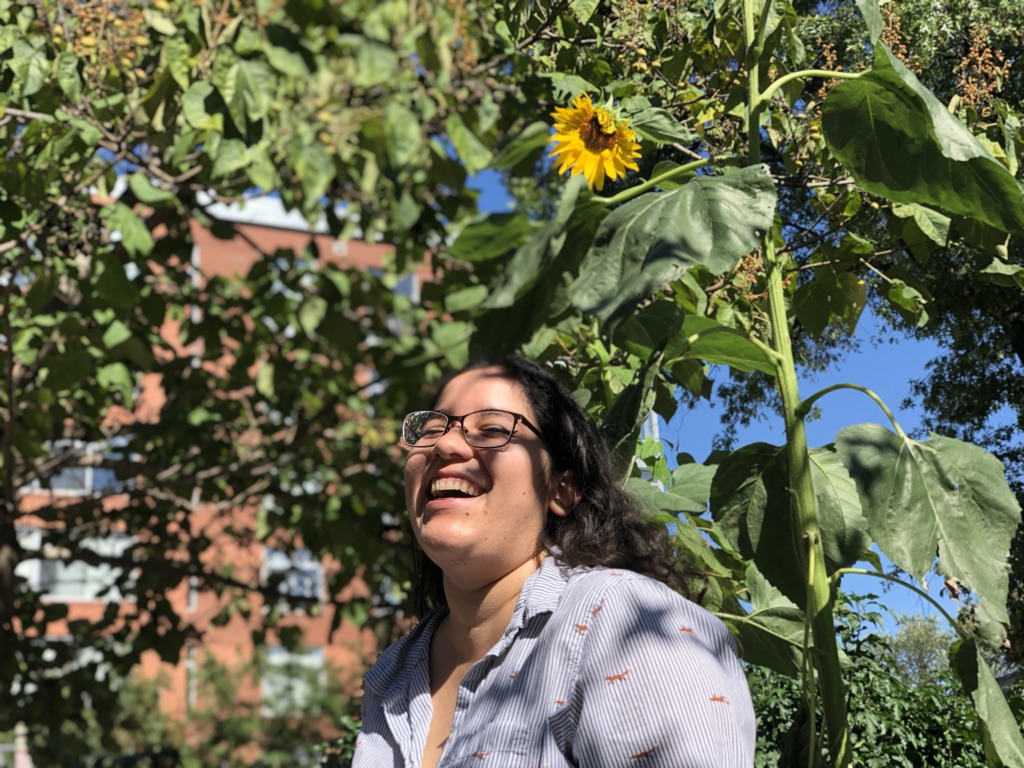 There are so many incredible people you meet in your time at TWC, but sometimes the most interesting folks you meet sleep five feet away from you.
Such was the case with me and my incomparable roommate, Suhey Ortega. There is far more to her than meets the eye. Sitting down with Suhey and hearing about some of the awesome opportunities she has in store for her fall semester in D.C. further solidified my deep appreciation of her work in ecological and ethnic advocacy.
Suhey is a senior at Arizona State University studying Transborder Chican@/Latinx Studies and Sustainability. She is no stranger to the nation's capital: having been here for conferences in the past, she chose TWC for the sole reason of having a chance to intern and learn in this politically-charged mecca. In our apartment at TWC's Residential and Academic Facility (RAF), I got a moment to sit down with her and chat about what's been keeping her busy these days.
Where are you interning?
I'm working as an Educational Intern with the Ecological Society of America (ESA), a professional organization of ecological scientists. It is a non-profit, membership-based organization so they have chapters throughout the country and several different departments in D.C. What's really cool is that they also have an education department where they offer research and resources to help K-12 educators incorporate ecological information in their classrooms.
What exactly do you do in your role?
I'm working on a project for Ecology Plus, an educational program facilitated by ESA. We are focused on providing mentorships and curriculum to support students' career aspirations. We ensure that students in the Washington metropolitan area are able to have a mentor, professional development opportunities and other ways to track their academic and professional goals. We have 12 undergrad students, 3 grad students and 3 recent graduates in the program.
What part of your internship are you most excited for?
I'll be attending an Ecology Plus field trip in Texas. It's a four-day trip during which a group of about 15 students get to do hands-on research and attend career panels. The students have to conduct their research on-site, which is cool because this year there is going to be a focus on water conservation. We will also be kayaking while we're there which I'm excited about, but I can't swim so that's kind of scary.
What do you do when you're not at your internship?
I actually got to go to the Congressional Hispanic Caucus Institute's conference, which was dope. This year's theme was the architecture of change. So, there was a lot of dialogue and workshops on Latinos and different issues that intersect within the Latinx community. Next week, I'll be going to a conference for the Hispanic Association of Colleges and Universities in Atlanta. It's another annual conference that focuses on Latinx issues and honoring people who are doing change.
With Suhey's mission-driven personality and deep commitment to the interdisciplinary work she does on and off campus, it comes as no wonder how so many amazing opportunities seem to drop into her lap. This ladies and gentlemen, is what networking looks like in action!
Through the countless conferences and think-tank events Suhey has attended in her academic career, she has created a vast network of young professionals in the ecological activism sphere as well as the social justice world. All it takes is a strong desire to connect with a community of people working toward a similar career or academic goals, and voila! You'll have a bonafide Rolodex of resources that can land you the dream job you've always wanted.
About the Author

More Content by Joy Ivy