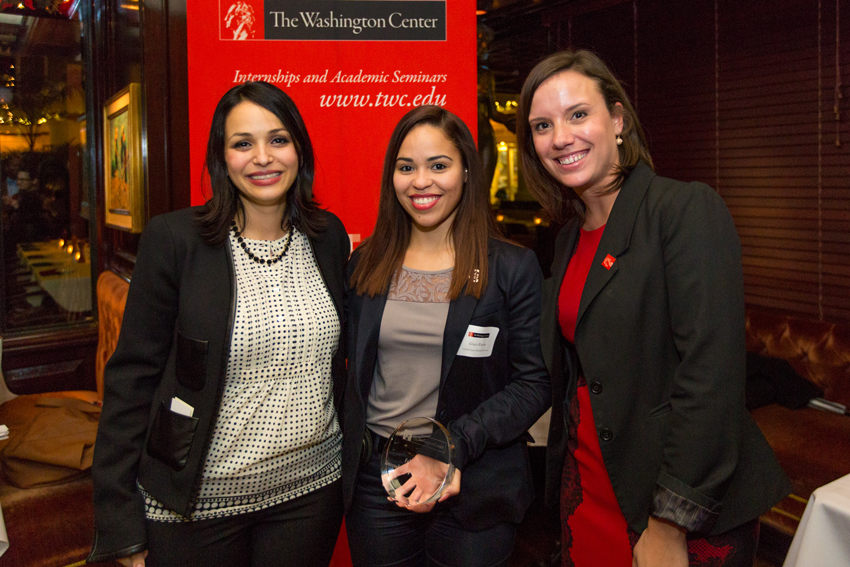 The Washington Center hosted several internship site supervisors nominated for outstanding service to its Fall 2015 interns at the Internship Supervisor Award Reception on Wednesday, December 2.
The Washington Center hosted several internship site supervisors nominated for outstanding service to its Fall 2015 interns at the Internship Supervisor Award Reception on Wednesday, December 2.
The event recognized internship sites and supervisors who went the extra mile to cultivate students' personal and professional development – embodying TWC's core values and enriching the heart of an academic internship program: the internship itself.
Grace Rivera '09 of the U.S Marshals Service received this semester's Most Outstanding Internship Supervisor Award. Rivera, who frequently gives her time to TWC's law and criminal justice students, credits her own experiences as a TWC intern for an empathetic perspective that helps her guide interns toward successful internships.
"I think being an alum myself really helps me supervise my interns because I know what they went through. I want my interns to see the big picture at the end of their internships, which is what helped me when I started as an intern. It's what will help them follow through with their goals."
Rivera is one of more than 500 internship supervisors who pledge to uphold TWC's Internship Bill of Rights. TWC established the guidelines in 2014 to empower interns and ensure they get the most from their internships. The Internship Bill of Rights encourages interns to think about the impact of the internship on their professional plans before their work even begins. It stresses the value of academic collaboration and gives employers a tool to measure the effectiveness of their own internship programs.
TWC thanks all of its internship sites and supervisors for a successful semester, particularly these individuals whom students nominated for the Most Outstanding Supervisor Award:
Lilianna Allen, Offender Aid & Restoration
Wanda Almanzar, U.S. House of Representatives
Kattis Astrom, Youth for Understanding International Secretariat
Judy Baroody, Association for Diplomatic Studies and Training
Rokas Beresniovas, State Bank of India
Jocelyn Bissonnette '08, National Association of Federally Impacted Schools
Randy Brown, National Coalition for Homeless Veterans
Christopher Bulbulia, Congressional Chorus
Teresa Chapa, National Hispanic Medical Association
Kelsey Cohen, Edelman Berland
Lynne Colbert, Federal Trade Commission
Mike Colonnese, WorkAmerica
Courtney Cook, American Legislative Exchange Council
Jennifer Crane, U.S Marshals Service - Asset Forfeiture Division, Strategic Planning & Communications Team
Bethany Demmin, Family Research Council
Lylie Fisher, Iona Senior Services
Beth Fitzpatrick, Arlington Catholic Charities Migration and Refugee Services
Charlotte Gendron, Public Religion Research Institute
Andre Luiz Grenteski, Inter-American Defense College
Tyrone Harris, D.C Metropolitan Police - Crime Scene Investigations Division
Janis Hazel, Serve DC – The Mayor's Office on Volunteerism
Saranah Holmes, Daily Do Good, LLC
Traci Jenkins, Ventana Production
John Madigan, American Foundation for Suicide Prevention
Barry Margeson, Eastern Market
Connor Martin, The Charles Group, LLC
Mike Miron, U.S. Department of Homeland Security
Genevieve Morton, Office of Rep. Grace Meng
Javier Munoz, Pan American Health Organization
Jason Ortega, Lobbyit.com
Elisa Ortiz '02, Justice at Stake
James Partlow '12, D.C Department of General Services
Ana María Peláz, Mil Mujeres
Meja Petchel, Special Olympics
Thomas Pollak, The Urban Institute
William Ramos, U.S. Department of Commerce
Andrew Ransome, U.S Department of Labor, Office of Federal Contract Compliance Programs
Talmesha Richards, STEMconnector
Grace Rivera '09, U.S Marshals Service
Donna Vincent Roa, Securing Water for Food Technical Assistance Facility
Tracy Rollins, Department of Commerce, International Trade Administration
Karla Pineda-Santos, Labor Council for Latin American Advancement
Elizabeth Shaffer, Curley Company
Katie Shaver, Shared Hope International
Bryan Snell '08, U.S Marshals Service
Liam Starr, Office of Sen. Mark Kirk
Marta Tewolde, International Rescue Committee
Nandi Turner, Public Allies D.C
Rhina Villatoro, National Hispanic Caucus of State Legislators
Silvia Villarreal, Embassy of Mexico
Héctor A. Castro Vizcarra, Embassy of Mexico
Terese Winegan, Near East South Asia Center for Strategic Studies
Anderson Wells, Studio Theatre
Michelle Williams, The Polaris Project
To view photos from the award ceremony, click here.
About the Author

Follow on Twitter Visit Website More Content by The Washington Center