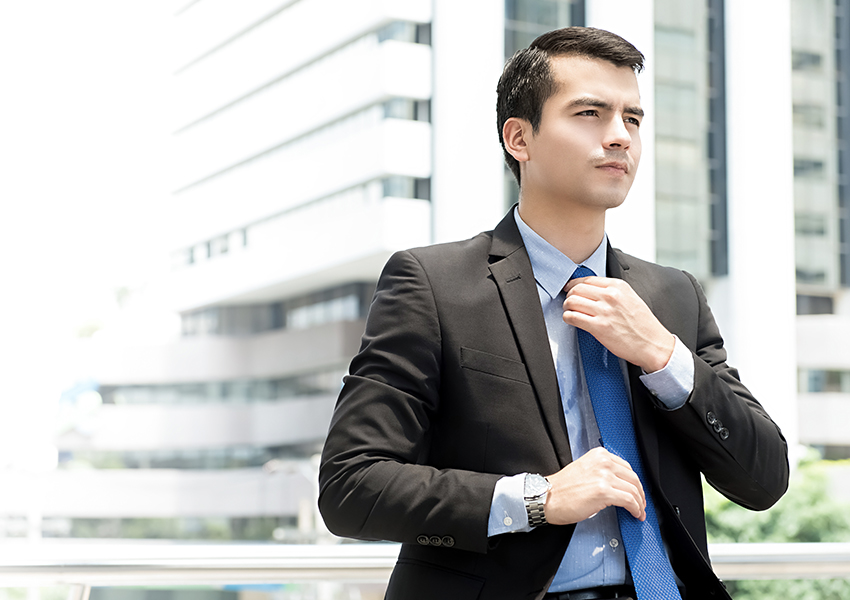 Let's face it guys… clothing can be expensive, and professional clothing can be really expensive. Developing a Capitol Hill-worthy closet can be daunting, but fear not, my fellow FAFSA recipient! Here's how you can look the part and still afford groceries: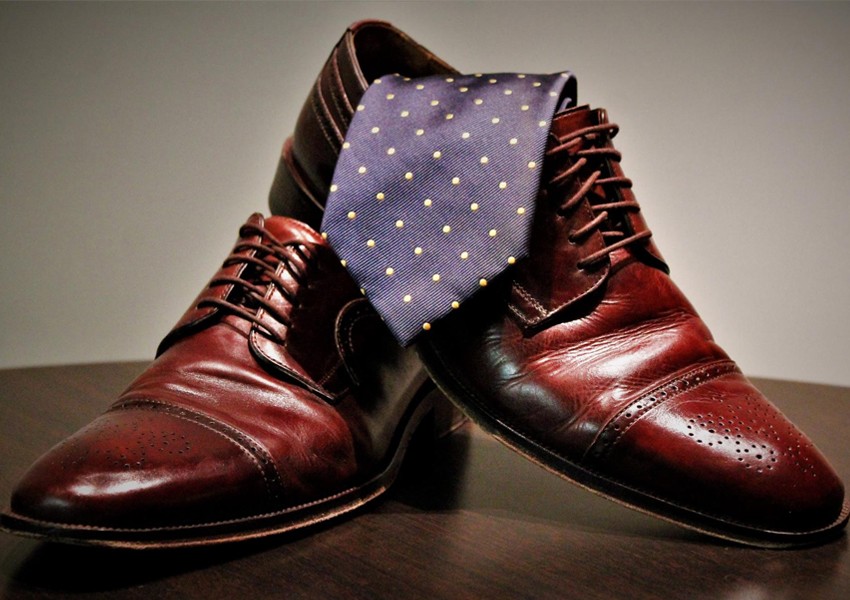 Shoes: If there's one area to consider paying full price, it's here. Take care of your feet by getting good quality shoes, but still look for sales and discounts. Real, smooth leather is a must, as is shoe polish and leather conditioner to make them last longer. Try to look for derby-style shoes; they're slightly less formal than oxfords, but can work with everything from a coffee date to a courtroom and are usually cheaper.
Aim for two pairs of shoes: one in oxblood or burgundy and one in plain black (like this pair I've worn for 5 years now). Both colors will work well with your basic suit colors, giving you more outfits for less money.
To save money, check outlet stores around you and regularly check company websites for heavy discounts.
Belts: Your belt color should match your shoes, plain and simple. Try to find a reversible belt at a department store (one brown/burgundy side, one black side) instead of buying two separate belts.
Shirts: Different color dress shirts are what allow you to wear the same two suits each week without raising suspicions. Of the four to six dress shirts you should buy, two should be plain white and one should be light blue (the two most common and versatile colors available).
For the rest, feel free to venture out and show your personality, both in color and pattern. Talk with a local men's clothing store and try on different fits to see what you like best. If you have a wider neck, find collars that have more room for your ties; if you're thinner, a button down or classic width collar is best.

One of the best deals I've found is from Charles Tyrwhitt: they have high-quality shirts on sale for less than $50 and have recurring discounts, selling shirts for as low as $29.50. Other places you can look include Men's Wearhouse, JoS. A. Bank, Macy's, Dillard's, and other clothing stores, which often have decent shirts at affordable prices.
Suits: This is the real kicker, and often the money-sucker (but it doesn't have to be). A good-quality suit will be a mostly wool blend, or 100% wool if you're lucky. Avoid anything polyester, synthetic or that shines under light; that shows it's cheap fabric that can get ruined easily by bad weather and constant wear. Most department store suits are like this and won't last, so focus on the pricier options at places like Men's Wearhouse and wait for the sales/clearances. I was able to find two $700 suits on sale for less than $300 each, saving me money while giving me something that will look good and last for years. Other quality options for affordable suits include JoS. A. Bank, Macy's and Dillard's (just surf the web for deals and look through the clearance sections for your size).
Ensure that whatever you buy fits you well off the hanger, and then get it tailored to look better - the closer it is to your size, the cheaper the tailoring and the better the end result. Every man should own a plain navy blue and a plain charcoal grey suit: these work with everything and are staples of business attire. If you need a third, I suggest a medium grey or blue color, or one of the above colors in a pinstripe or windowpane pattern to create variety.
"Tie"ing it all together: Now you have the basics, but if everyone else is wearing a navy suit with brown shoes, how can you stand out? The first way is through ties. Check out Goodwill, thrift stores, your dad's closet or any other place with second-hand men's clothing: chances are they have a decent amount of ties in different colors, patterns and textures for pennies on the dollar. If the tie isn't fraying, stained or super wide at the bottom, it's a good deal. Try to buy different shades of blue, red and yellow to start, and then branch out into different colors and patterns. If you can, buy a tie bar for $15 to add a little flair.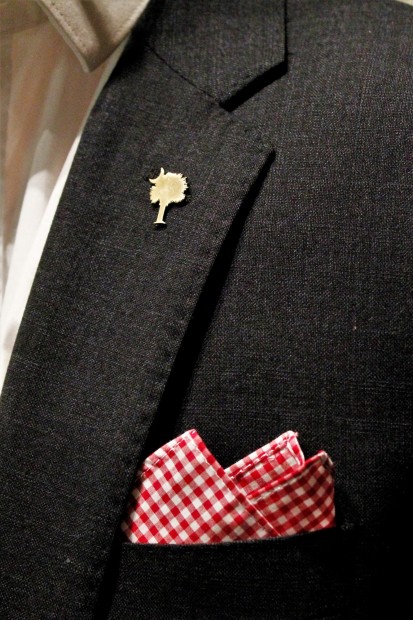 Lapel pins and pocket squares can also help you show your personality. Countless websites sell lapel pins for $5-10, so find ones that demonstrate your passions, hobbies and background to demonstrate who you are while at work. Pocket squares can be bought at most men's clothing stores and will add a pop of color to an otherwise plain look. If you've never worn one before, look online for different folds to help add a dash of class to your outfit.
Final Thoughts: If there are only two things that you gather from this article, let it be these:
Dressing well doesn't require experience working in fashion, top-of-the-line clothing brands or a six-figure salary. There are countless websites, articles and YouTube videos providing tips on how to understand men's clothing and cut costs from people much more knowledgeable than myself. The important thing is to find which ways work best for you, saving you money while finding quality clothes that show you off as a young professional in the nation's capital.
Lastly, if you feel good in the clothing you wear, you will look even better. The vast majority of your impression isn't formed by the clothes you wear, but how you wear them. If you think you look good, you will walk taller, smile wider and appear like a confident man who belongs in your office. Save money where you can and invest in clothing that lasts and makes you feel ready to take on the world, and then do just that.
About the Author

More Content by Tyler Hoover