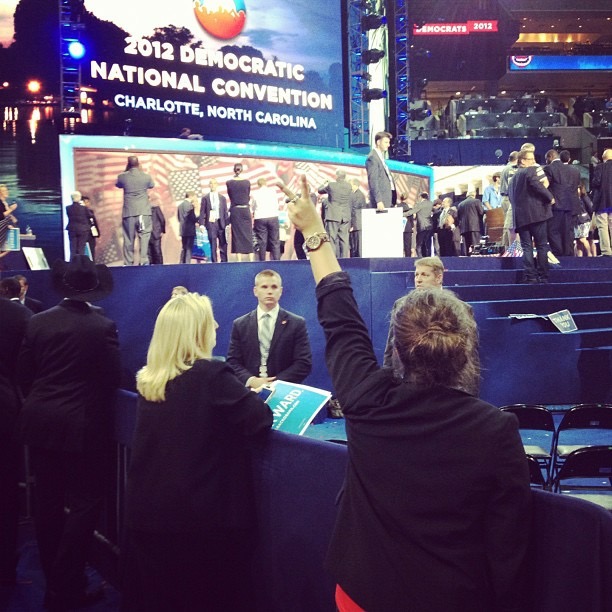 Alumna Gabrielle McCarthy '12 shares how she discovered her passion for political campaigns when she attended the DNC Convention Seminar 2012.
This year TWC is partnering with Temple University at the Democratic convention in Philadelphia, while Baldwin Wallace will be assisting with the Republican convention in Cleveland.
The seminar is a jam-packed two-week experience, combining the academic component of the seminar with a full-time fieldwork assignment. Week one focuses on the state of the presidential race, the nomination process and the strategies of the candidates going forward, while students spend the second week at a fieldwork assignment at one of the many organizations operating at the convention. These sites include media outlets such as CNN and Fox News, convention planning committees, state delegations and much more.
Gabrielle McCarthy '12 is an alum of the Democratic convention seminar, completing a fieldwork assignment at the Fox News production team. McCarthy now works as a production specialist for one of Washington D.C.'s most prominent political consulting firms. She cited her seminar experience as a true door-opener, making for a swift transition into the campaign world following her graduation from Elon University the following year.
"Not only did I have the experience of a lifetime, I discovered a passion for campaigns that I didn't even know existed. I left the DNC with a burning desire to get into the campaign world ASAP and I made it happen when I graduated. It's hard to even think about what I would be doing now if I didn't have such a life-changing experience."
When asked what her favorite part of the experience was, McCarthy couldn't point to just one single experience. For her, every day was something new, be it a new challenge or something completely unexpected.
"The experience was so surreal in a lot of ways. I remember hanging around the media compound in between my field assignments and there would be Shepard Smith, Karl Rove, and some other big influencers. I must have met at least a dozen other household political names while I was there. I was just a few feet away from the stage on the final night of the convention when President Obama gave his keynote address. I would just think to myself, am I really here right now?"
About the Author

Follow on Twitter Visit Website More Content by The Washington Center