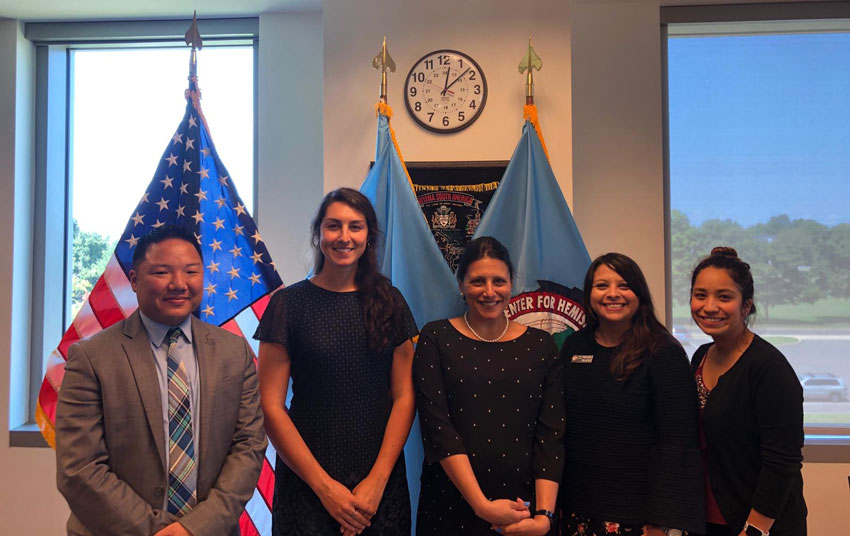 Networking, professional development and the opportunity to apply her military background on Latin America made the VET Initiative life changing for Navy Veteran Francheska Salazar. The experience will help in completing her academic studies and starting her immigration and human rights advocacy career.
In observation of Veterans Day 2019, The Washington Center will honor our interns who have served in the military in addition to their academic pursuits, and celebrate our internship partners who host them. The Veterans Employment Trajectory (VET) Initiative helps student veterans — like Francheska Salazar — translate their unique blend of military and college skills into successful careers.
---
What is your name, military branch and years served, school, and major?
My name is Francheska Salazar. I served thirteen years on active duty in the United States Navy. I graduated recently with my paralegal studies - litigation associate degree. Currently, I attend George Washington University double majoring in international affairs, and Latin American and Hemispheric studies. My plan is to attend law school and eventually work in immigration and human rights advocacy.
What challenges did you face as a veteran transitioning to civilian student life?
As a student veteran who transferred to a four-year university, my most notable challenge has stemmed from managing GI Bill logistics and registering for classes. No one prepared me for the time it would take to receive my financial aid housing allowance here in comparison to a community college. I did not receive my benefits until November 1st. Since schools, in general, will not release financial aid until the Veterans Administration pays tuition fees, I was out-of-pocket for the majority of the semester. I lost four hours every day to commuting since I could not afford to move closer to campus. This complicated my degree plans. Through the kindness and hard work, however, of GWU's Veterans' Center, along with my professors and classmates, I have overcome these obstacles.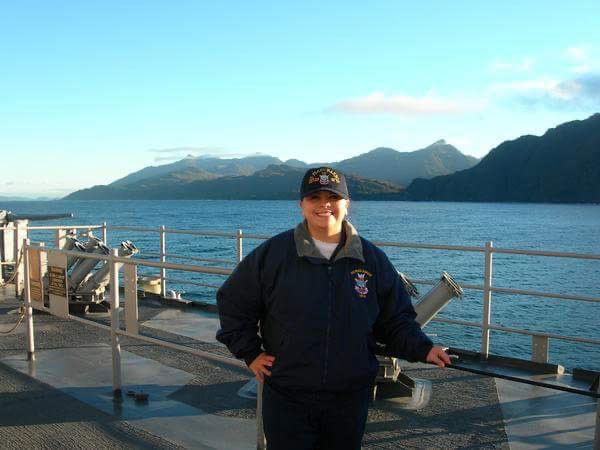 What most attracted you to the VET Initiative program?
I first heard about the VET Initiative program at Student Veterans of America's National Convention. I researched the program and found it would provide opportunities beyond my first passion of military and Veteran advocacy. Having interned and worked in Veteran service for four years, I wanted to expand into immigration and human rights issues.
Where did you intern and what did you enjoy most about your internship?
I interned with the William J. Perry Center for Hemispheric Defense Studies (WJPC) at the National Defense University in Washington, D.C. Our intern cohort, with the help of our internship supervisor, Emily Smith, staff and faculty, planned and hosted the first research conference for interns at the WPJC. Doing so, we saw firsthand the level of work and planning it takes to hold a conference. I found this to be one of the highlights of the internship since we worked together as a team to achieve such an impressive task.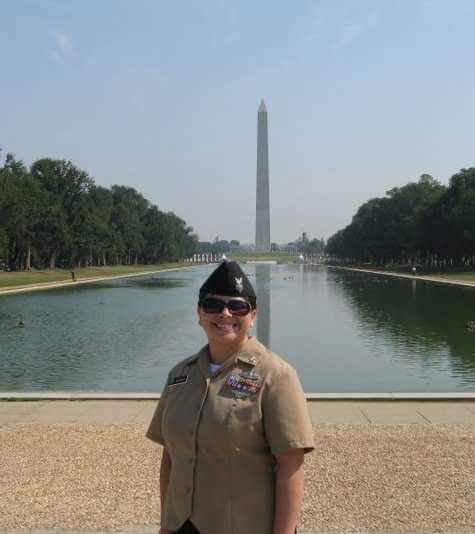 In what ways did your internship contribute to your professional development?
Not all internships are created equal, and the WPJC far exceeded my expectations. As a WJPC research assistant, I had the great fortune to work under the direction of Professor Patrick Paterson. My research focused on categorizing global contemporary conflicts, in accordance with the Geneva Conventions, impacting the use of military and police tactics in Latin America. The internship afforded me mentorship and the freedom to utilize my previous military experience earned while deployed in Latin America. With Professor Paterson's guidance, my work will be published.
What was the most impactful outcome from participating in the VET Initiative?
Beyond the internships, The Washington Center provided professional development by helping improve our resumes, interview skills, and LinkedIn profiles. TWC also brought in speakers for us. Each Friday, my Veteran cohort would gather to learn from professionals and pioneers in their fields. The list of names of those who took time out of their busy schedules to share best practices with us was impressive. We heard from a wide variety of professionals, including communication experts, the Veterans Administration, chief executives, and think tank leaders and experts.
The internship afforded me mentorship and the freedom to utilize my previous military experience earned while deployed in Latin America. With Professor Paterson's guidance, my work will be published.

TWC VET Initiative Alumna Francheska Salazar
Which skills were you able to translate from the military to your internship? How did this experience help you develop or discover new skills or competencies?
I was the only Veteran interning at WJPC. My military background of three years deployed in Latin America as a translator added to my role as a research assistant. Professor Paterson, a Navy veteran himself, and I researched the use of force military and police force tactics in Latin America. Our combined experience brought a perspective that may have been missed without our military background.
Were you able to build or expand your professional network? If so, how?
Without a doubt, the VET Initiative helped me expand beyond my comfort zone. The mantra seemed to be "networking" and it provided us with the tools to do so. I connected not only with WPJC staff, faculty and research assistants, but also with organizational leadership. When you have a site whose director is a former three-star general who takes time to not only meet with you, but also to set aside time to train and attend your conference, this is an internship invested in your professional development. Prior to my internship, I avoided networking events unless I knew at least one person. Now, I feel more in my element and at ease. This may seem like a small feat, but it has made a world of difference. I am forever indebted to this program for many reasons, particularly the professional development.
I am forever indebted to this program for many reasons, particularly the professional development.

TWC VET Initiative Alumna Francheska Salazar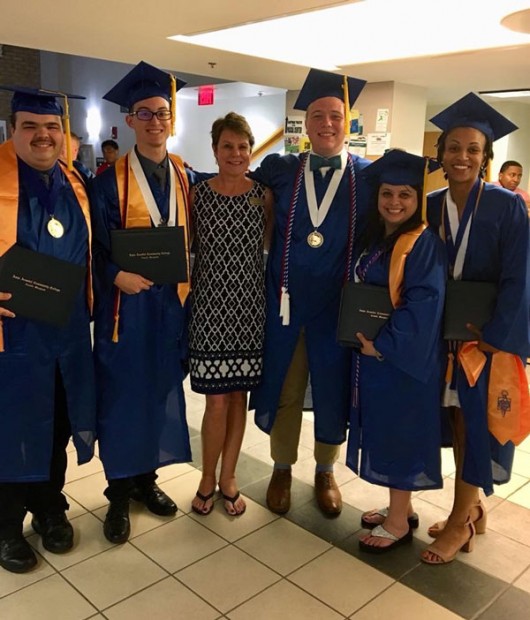 How has the VET Initiative helped shape or impact your career goals?
When I applied for the VET Initiative I wanted an internship in a field similar to my long term goals of law school and human rights advocacy. At WPJC, I learned how to write academic papers intended for the Department of Defense. This skill set will be beneficial because my immigration and human rights advocacy will be needed in both the private sector and government agencies. I have also carried that writing experience over to my academic studies at GWU, thus allowing me to build a foundation for my future goals. Without the VET Initiative, I would not have been as well-rounded in my academic or career pursuits.
What advice would you give other student veterans who are considering applying to the VET Initiative?
One of the biggest misconceptions many of us have when we meet other Veterans falls under imposter syndrome. My biggest advice would be to understand that you are unique and we all have strengths and weaknesses. Be willing to trust yourself and that you belong. This program can and will change your life if you are willing to do the hard work, both professionally and personally. If you invest in yourself by taking chances and asking questions, then this experience will be worthwhile. By challenging yourself in some small way, each day, with patience and kindness, you will wonder why you did not apply to this program sooner.
The Washington Center's Veterans Employment Trajectory (VET) Initiative offers student veterans a path to demonstrate the skills and experience acquired from their service and make significant contributions in the civilian world. If you're a student veteran looking to apply your skills in the civilian professional world, learn more about the VET Initiative here.
About the Author

Follow on Twitter Visit Website More Content by The Washington Center