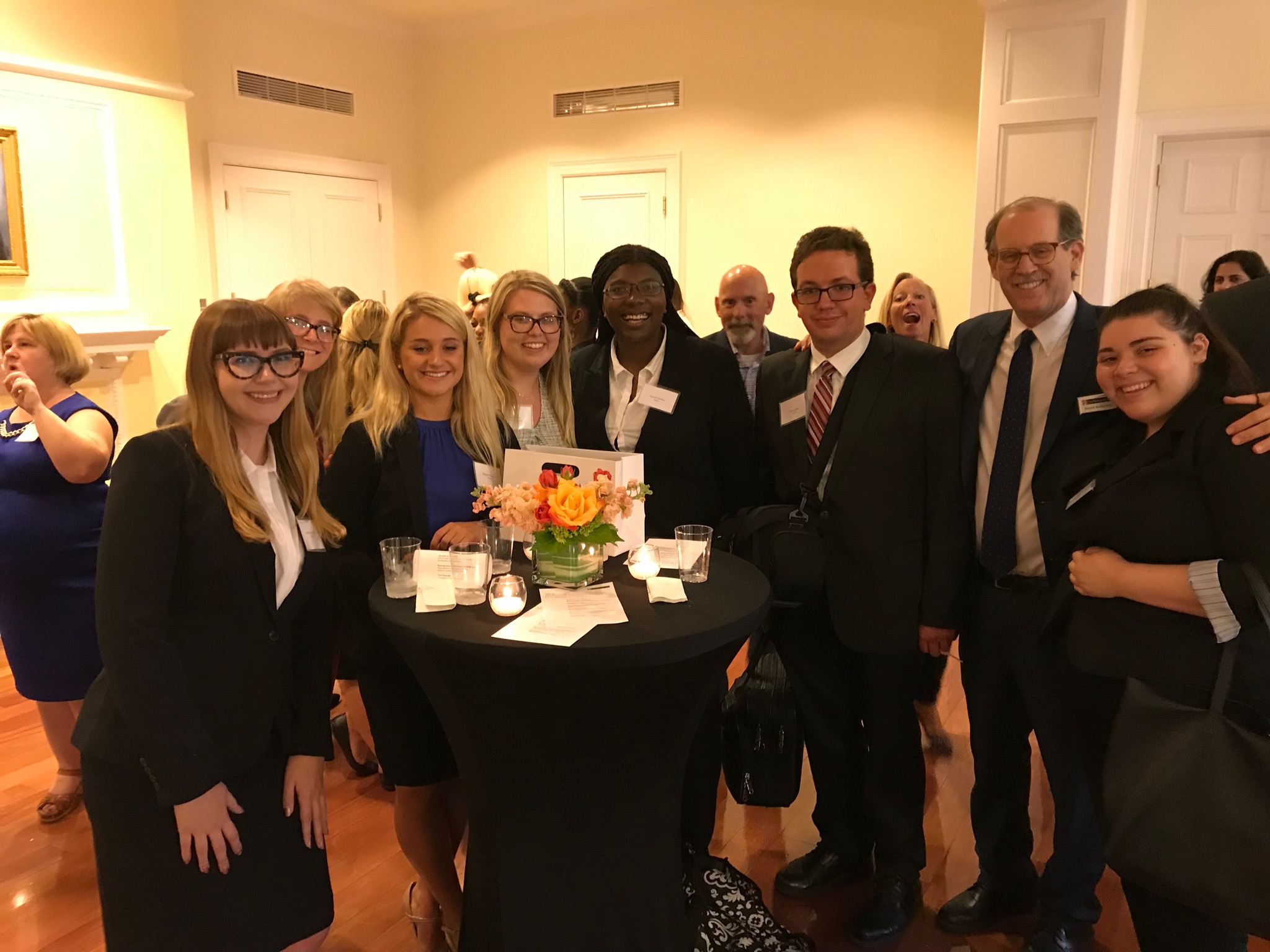 Celebration of Pennsylvania organizations and the students they support organized by TWC as Summer 2018 term nears conclusion.
The Washington Center hosted a delegation from the Pennsylvania State System of Higher Education (PASSHE) Foundation and its major donor, the Pennsylvania State Employees Credit Union (PSECU), on Tuesday, July 24th. The PASSHE Foundation and TWC have been partnering on affordable access to internships for Pennsylvania-based students since 2010. A full day of events celebrated the ongoing partnership and generous support PASSHE and PSECU provide students from PASSHE universities participating in TWC internship programs.
The day kicked off with a 'behind-the-scenes' tour of TWC's Residential and Academic Facility (RAF) in the NoMa neighborhood of Washington, D.C. An on-site question and answer session with TWC leadership followed the tour. The Q&A led into a deeper discussion of Pennsylvania students' experiences and potential with TWC. The day's events concluded with a reception at TWC headquarters for the PASSHE Foundation, PSECU and 24 current PASSHE Summer 2018 student scholarship recipients, representing five separate Pennsylvania college campuses.
David Anderson, Senior Vice President, State Relations at TWC, provided the welcoming remarks, followed by Christopher Norton, President, TWC. "The Washington Center works with the Commonwealth of Pennsylvania to generate scholarship funding for students from its colleges and universities who intern through TWC, with additional, crucial financial support provided thanks to the PASSHE Foundation and PSECU," said Norton. "As a result, more students are able to participate and advance their future career paths."
Following Norton's remarks, Anderson returned to formally present certificates of appreciation to representatives Jennifer Hartman, President and CEO, PASSHE Foundation; Matt Steck, Managing Partner, Greenlee Partners and PASSHE Foundation member of the board; Dave Dentler, Senior Director of Membership Development and Sales, PSECU; and Mike Verotsky, Director, University Development, PSECU.
Summer 2018 intern, Briana Shriver from Indiana University of Pennsylvania (IUP) and a PASSHE scholarship recipient, spoke next. "My IUP professors introduced me to The Washington Center program and they led me to my internship with Double R Productions," said Shriver. "None of the phenomenal opportunities I have here would have been possible without the scholarship I received from the Pennsylvania State System of Higher Education Foundation and the Pennsylvania State Employees Credit Union. I do not take this wonderful opportunity provided me for granted."
Norton then returned to the lectern. With some inspirational remarks for the students in attendance, he concluded the formal portion of the event.
The partnership between TWC and the PASSHE Foundation and PSECU has helped hundreds of Pennsylvania students come to Washington, D.C. for a variety of internship opportunities throughout the past decade.
About the Author

Follow on Twitter Visit Website More Content by The Washington Center