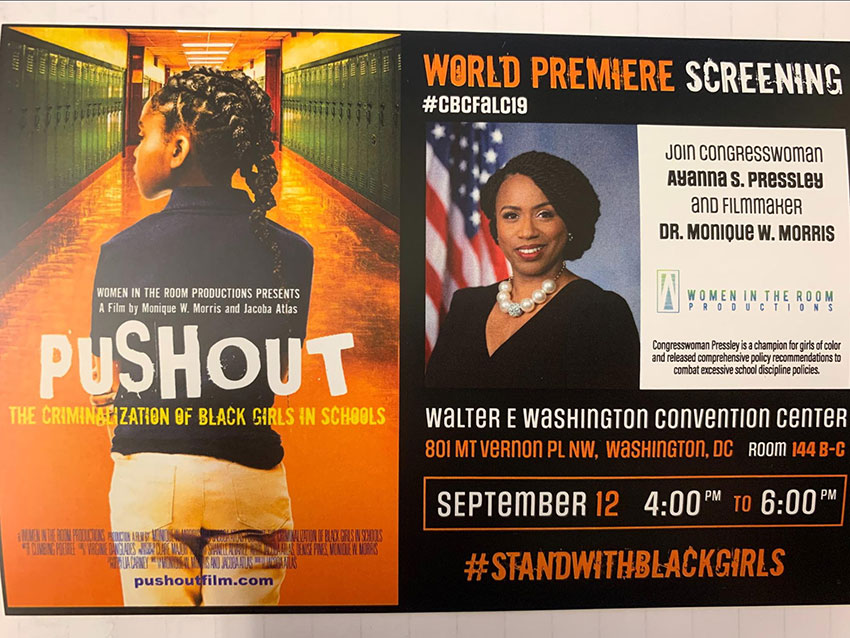 In Washington, D.C., any event can be an opportunity to expand your network.
While passing out flyers for work may seem trivial, it created a great networking opportunity for me. Any event can be an opportunity to expand your network!
My day started at the Walter E. Washington Convention Center in D.C. I Google Map'd my way there, hopped on a bus and shuffled over. My major concern, as a northerner, was sweating through my suit getting from the RAF to the convention center, but it was a surprisingly short ride with plenty of air conditioning.
Normally, our office hours are from 10 a.m. to 4 p.m. Today was going to be an exception as we were to be working from 9 a.m. to 6 p.m. Had I known this day was coming a week in advance? Yes. Had I adequately prepared for it? No. I had gone to sleep late to Facetime friends from home.
Once my office's other intern arrived, we took out our flyers for the documentary screening we were advertising that day, a documentary on the criminalization of black girls in school titled "Push Out." There would be convention panels, art shows, screenings, brunches and talkback sessions scheduled throughout the week and put together by the Congressional Black Caucus members and their staffs. We had to make sure our screening was full.
Immediately, I notice my office partner took a swooping initiative. She went from floor to floor and side to side hitting people with a pithy pitch about our event. With that ease of speech, many people responded very well to her. Having read the book the documentary was based off, she had something to converse to convention-goers. Some folk fired off inquiries, praises for our Congress member and others sought out some early morning debate. All were directed at my partner.
I stood there alongside her. If there was a group, I would offer flyers to the others who weren't as engaged, but hardly any were accepted. The most common response was, "I'll look at theirs, thanks." It wasn't encouraging.
After my partner got her third business card from someone in her field (anthropology), we stopped to get coffee. Knowing I needed to make the best of the situation, I told my partner we would split up until we had to get back to the office. It was the best way to get me to put myself out there and make a name for myself.
By the end of the day, people knew who I was; they knew who I represented; they knew what I was about.

Matt Enriquez
"Hi! My name is Matt. I'm from Congresswoman Pressley's Office. Please come to our screening today at 4 p.m for the documentary 'Push Out.' It's about the criminalization of black girls in school."
After half an hour, I had my pitch down. I gave out stacks of flyers to groups who were all fans of my Congress member. I ran into many congressional interns who introduced me to their Congress members, like Representatives Karen Bass, Lauren Underwood, and Frederica Wilson. I spent most of the early afternoon starstruck.
By the end of the day, people knew who I was; they knew who I represented; they knew what I was about. That's what mattered to me. I didn't leave with coffee meetings scheduled with a lawyer or a veteran Hill staffer. But I left knowing the next time I'm on an assignment from my member's legislative team, people are going to start to recognize me.
While we've all secured internships here at The Washington Center, it's important for us to think about what's next. We need to think that we have to perform well at our internships not only because we should, but because we need to be looking for our next step in our career.
That person you meet at a convention center while you were handing out flyers could be your next office buddy or your next boss. You never know, so always be prepared.
About the Author

More Content by Matt Enriquez