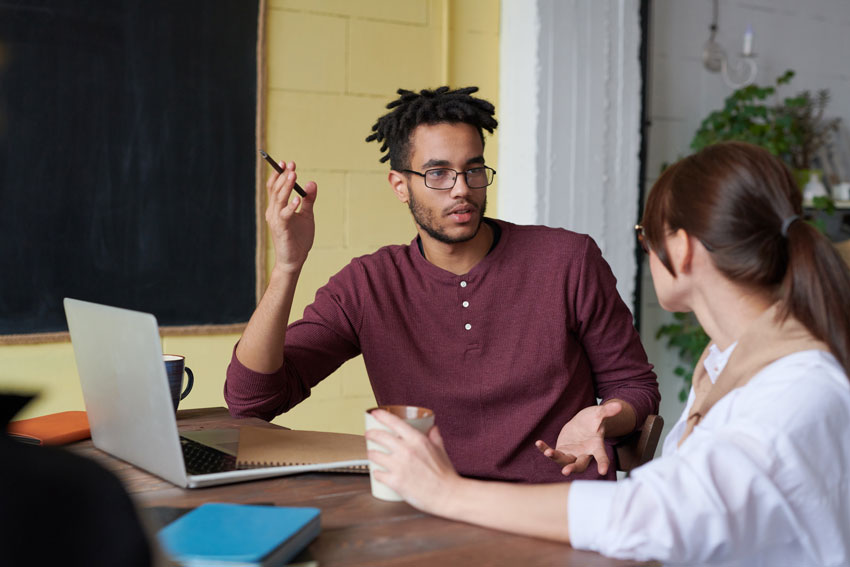 Informational interviews are conversations with a professional to get more information about their career field. Use these tips to successfully set up and conduct one.
As an intern, one thing I hear over and over again is to network, network, network. It makes sense. Networking, especially in this town, is extremely important in taking your next step towards your dream career. But there are other ways to make connections besides the traditional networking events -- one of them is the informational interview.
Informational interviews are conversations with a professional to get more information about their career field. They not only build a connection to add to your network, but they also give you a better idea of what to expect as you pursue a certain career. They can even provide advice on steps to take to get there.
Here are some of my best tips for setting up and conducting a successful informational interview.
1. Use your connections to connect with someone new.
You probably already have some connections, even if they aren't in your field. Your professors, your friends, even your family may have connections. Talk to them to see if they know anyone in your field who might be able to answer some of your questions. That's how I landed my first informational interview with Andrew Seaman, news director for LinkedIn. He was a student of my professor once, so she introduced us.
2. Don't be afraid to explore something different.
It doesn't hurt to learn about other jobs you might not normally consider. Who knows—maybe you'll have an epiphany and discover your long-lost dream job; or you might decide it's not for you. Either way, it is helpful to get an idea of what you do and don't want to do, and you can do this through talking with professionals in diverse careers.
3. An in-person interview is way better than a virtual one.
If you can, do your interview in-person. It allows for a much easier flow to the conversation, not to mention a more natural, organic discussion. Communication is 55% body language, 38% tone of voice and only 7% words. If you attempt a conversation over email or the phone, you miss out on 93% of the information whether you realize it or not. Skype is often considered the best alternative, but even then you can't show off your perfected professional handshake!
4. Be mindful of their time.
As a busy student, you know what it's like to find time to squeeze in one more thing. Remember that these professionals are just as busy as you are (if not busier), so don't wait until the last minute to set up your interview. Establish y how long the conversation will likely be (aim for a little under an hour), and don't go over your allotted time unless your interviewee is okay with it.
5. Prep questions ahead of time, but also throw in some follow-ups.
It's important to not go into the interview empty-handed. Have some questions prepared that you really want to know the answer to, but also don't be afraid to ask some questions you come up with during your conversation. Remember to keep it professional. You can ask about balancing work life with social life, but maybe don't get so personal as to asking how much money they make or what they do after work hours.
Need help getting started with questions? Here are a few good ones:

How did you get to where you are now in your career?
What do you love most about your job?
What is the hardest part about your job?
What advice to you have for someone looking to pursue a career in this field?
How would you describe what you do in your career?
How do you balance your work life with your social/personal life?
6. Treat the interview like a conversation.
You don't have to be an investigative reporter to find great information. Ask your questions and let the conversation flow where it may. You might learn some things you hadn't thought about asking. Remember that the elite politician or high-up executive is a human like you who has most likely been in your shoes at some point in their lives too. Just relax and have a friendly conversation.
That's it! Now you are ready to ace that informational interview. Good luck!
About the Author

More Content by Olivia Wieseler