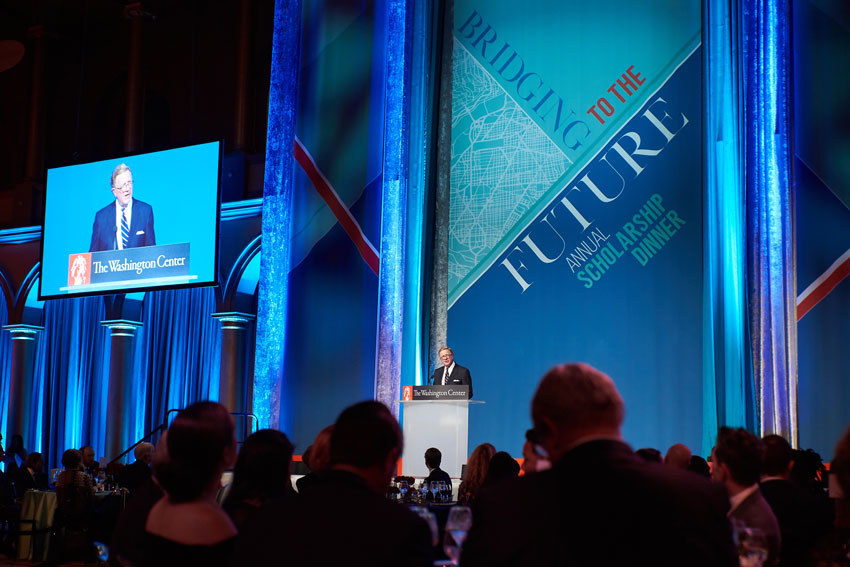 The Washington Center hosted its Annual Scholarship Dinner, Bridging to the Future, at the National Building Museum.
This year's theme commemorates the foundational paths we help build with our partners to connect students' college to professional careers. It also applies to the organization itself as TWC rapidly closes in on a pair of momentous anniversaries: 45th in 2020 and 50th in 2025.
The Annual Scholarship Dinner is equal parts crucial and celebratory. Nearly 85% of TWC participants receive some form of financial assistance to participate in TWC programs. The dinner is an opportunity, therefore, to not only gather in jubilation on a year of achievement, but also to raise precious funding for students from across the United States and around the world. Here are this year's highlights.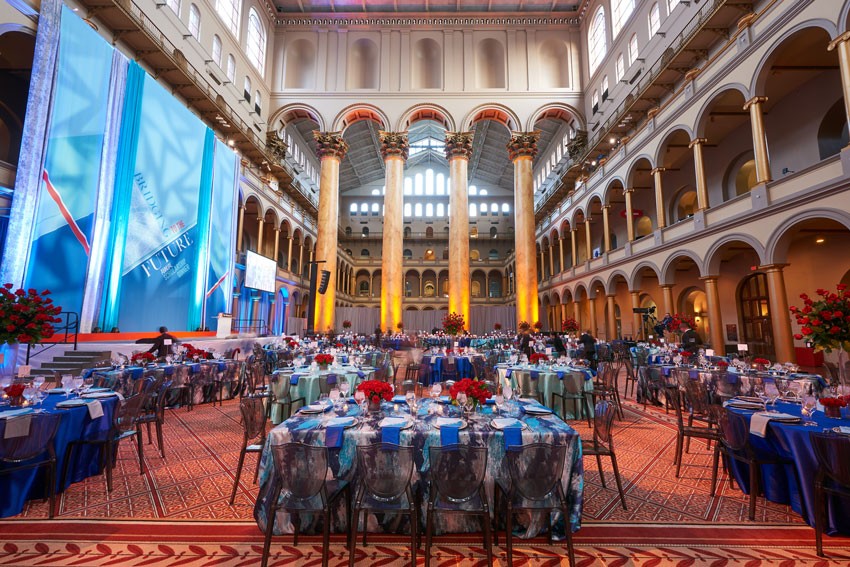 The soaring Great Hall at the National Building Museum was awash in seafoam green and coral, adorned with roses and photos, and irradiated by the smiling faces and spirited conversations of TWC students, alumni, partners, and honored guests. It was an overall splendid start to the celebration.
The lights dimmed as the evening program officially kicked off with Paula Reid, White House correspondent for CBS News and the evening's emcee. Ms. Reid relayed that she herself had been the beneficiary of an internship, one that got her through the door and onto her dream career. Ms. Reid was followed by welcoming remarks from TWC president, Chris Norton.
During his remarks, Mr. Norton noted a theme of service and civility. Mr. Norton, prior to concluding his welcome, announced the establishment of the Margery Magill Scholarship Fund. This fund honors TWC's departed colleague and will award scholarships to students who share Ms. Magill's passions for international relations, food security and women's empowerment.
TWC's president gave way to TWC's chairman of the board of trustees, John Hilton, who thanked and praised this year's sponsors, including CBS, Ford Motor Company and Southwest Airlines, for their roles in making the event a reality.
Lifetime Achievement Award
Former Secretary of Defense, Chuck Hagel, received the first award of the evening, the Lifetime Achievement Award. Ashley Gorbulja, an alumna of TWC's VET Initiative, recounted his service in both the military during Vietnam and in government as a senator and cabinet secretary. This was followed by a video testimonial by former Secretary of State Madeleine Albright, Gallup President Jim Clifton and C-SPAN Political Editor Steve Scully.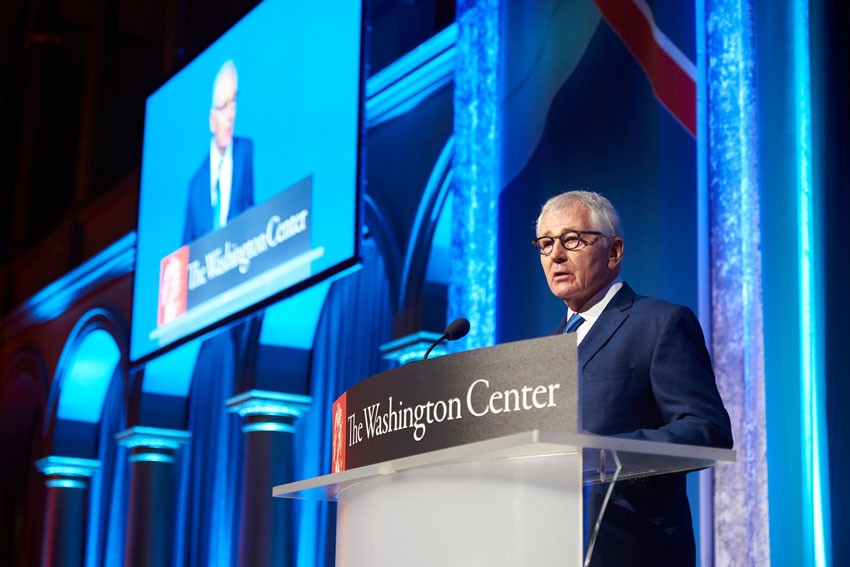 Sec. Hagel began his acceptance by thanking the veterans in attendance. A group of VET Initiative alumni had purchased a table at the dinner and they responded enthusiastically to Sec. Hagel's award and message. He then turned his gratitude toward TWC for the award, which he considered privileged and humbled to receive. Echoes of Mr. Norton's message of service and civility rang through Sec. Hagel's speech. In addition to those notes, he emphasized the value of internships and why it is important for those in attendance to continue building opportunities for the next generation of Americans.
Ahead of the dinner interlude, Ms. Reid brought to the stage Karen Price Ward, a TWC alumna and representative of sponsor Southwest Airlines. An exciting facet of this year's Annual Scholarship Dinner was the presentation of 25 round-trip vouchers by Southwest. The number of winners was intentional as Southwest marked the 25th anniversary of the Cordova & Fernós Internship Program. Winners were selected by random drawing.
Higher Education Impact Award
Dinner concluded and TWC board member Dr. Leo Lambert rose to present the Higher Education Impact Award to Florida International University. FIU sends more students to TWC than all but one other institution. Dr. Lambert praised the university for its substantial gains in research, and for serving Hispanic and first-generation student populations. Dr. Lambert was joined by current FIU and TWC student Christian Lopez to present the award to Dr. John Stack.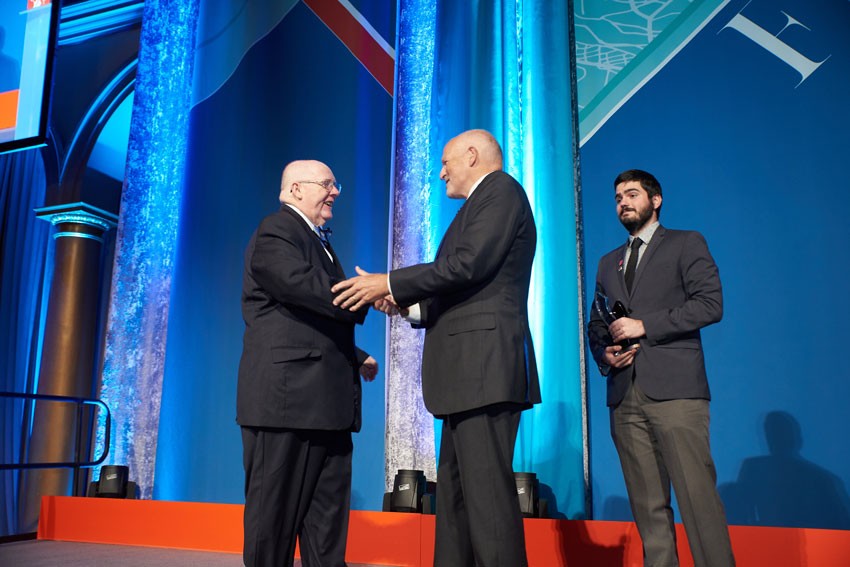 Dr. Stack also revisited the service motif that ran throughout the program. In his acceptance speech he proclaimed service as critical to who FIU was and what they do. He continued by recognizing that FIU's partnership with TWC helps push the university to think about transformational education and leadership.
Partner Impact Award
Yet another current FIU and TWC student, Liandra Gaston-Acevedo, introduced the Partner Impact Award recipient, Florida State Senator Antiere Flores. Sen. Flores was unable to join the celebration in Washington, D.C. She sent an acceptance video in which she praised TWC for going above and beyond to help students make promising futures for themselves. Thanks to the efforts of Sen. Flores and the Florida Legislature, $5 million has been secured to invest in students who travel to TWC and return to improve their Florida communities. Ms. Gaston-Acevedo accepted the award on Sen. Flores' behalf.
TWC's president and chairman came to the podium for a tandem presentation. Together with co-founder Sheila Burke, who they brought onto stage, the leaders unveiled a portrait of former TWC president, Mike Smith. Mr. Norton referred to Mr. Smith as the best friend TWC has ever had. During his career with TWC, which spans the entire 44 years, Mr. Smith secured funding for the current headquarters and the Residential Academic Facility (RAF). To honor his role in the latter, his portrait will hang at the RAF to watch over the cohorts of students who will benefit from his leadership for years to come.
Alumni Impact Award
The final award of the night was the Alumni Impact Award. To introduce a video of the recipients, TWC alumna and member of the board, Dr. Michelle Cooper, was joined on stage by three current TWC students representing Alvernia University, Adelphi University, and Florida State University. This year's six alumni awardees — Emily Berret, Earnestine Dawson, Jaime Lizarraga, Michael Long, Michael Smith, Jemma York — work in leadership in the U.S. House of Representatives. Mr. Long delivered the acceptance.
Mr. Long asserted that, despite each of them coming from various cultures, education experiences, places, and colleges, the six recipients had a similar, life-defining experience when they came to D.C. He also expressed a hope that they would serve as examples of what is possible when a student's values and interests are matched with the right opportunity. In closing, Mr. Long encouraged the interns of TWC, past and present, to lean on their TWC alumni network and to capitalize on the wealth of experience available to them.
Ms. Reid congratulated all of the evening's award honorees and welcomed Mr. Norton back to close the event. In his closing remarks, Mr. Norton stressed the importance of students finding their path and discovering themselves. Once they get that path and learn who they are, said Mr. Norton, almost anything can be done, as TWC and the alumni at the event can attest.
TWC is proud of how, along with its dedicated partners and 60,000 (and growing) alumni, it has contributed to the country and the world. As TWC approaches its milestone anniversaries, the work TWC and its partners do in the next six years will determine its second 50.
You are cordially invited to join us for the 2020 Annual Scholarship Dinner.
About the Author

Follow on Twitter Visit Website More Content by The Washington Center