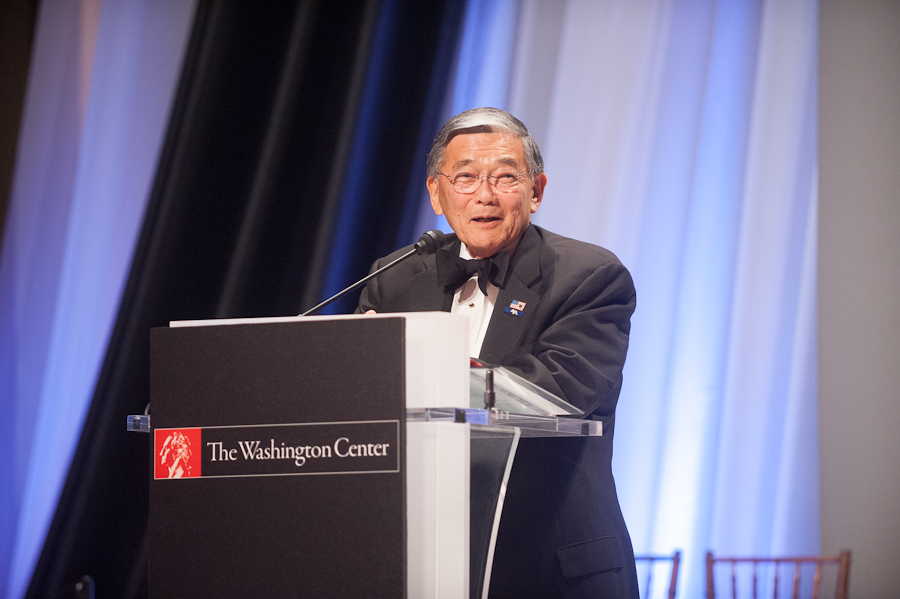 The former Secretary of Transportation was recognized with TWC's Lifetime Achievement Award in 2012.
WASHINGTON, D.C. – The Washington Center for Internships and Academic Seminars (TWC) mourns the passing of former Board member Norman Y. Mineta, one of the country's highest-profile Asian American political leaders. Mr. Mineta was the first Asian American member of Congress and co-founded the Congressional Asian Pacific American Caucus. He also served as mayor of San Jose, U.S. Representative and Cabinet Secretary under two Presidents. The longest-serving Secretary of Transportation, he worked to improve the security of our transportation system and restored confidence in air travel after the terrorist attacks of September 11, 2001. In 2006, he was awarded the Presidential Medal of Freedom, the nation's highest civil honor.
Mr. Mineta's dedication to TWC was equally impressive. He was an ardent advocate of diversity, inclusion and our nation's youth. Mr. Mineta served as a director of the TWC Board from 1995 to 2000, resigning when called to serve first in the Clinton and later the Bush Administration. But, even then, he remained involved, frequently meeting with students.
In 2004, the U.S. Department of Defense established the Norman Y. Mineta Internship Immersion Program in partnership with TWC. The program provided internship opportunities to Asian American and Pacific Islander students from economically disadvantaged backgrounds within the U.S. Department of Defense and related defense agencies. The program covered housing, travel to and from Washington, D.C. and out-of-pocket expenses for all participants.
In 2011, Mr. Mineta personally secured the support of Senator Alan Simpson to launch the Alan K. Simpson-Norman Y. Mineta Leaders Series, an array of public policy and leadership training forums for TWC students. In addition, Mr. Mineta served on TWC's National Advisory Board and co-chaired the annual Scholarship Dinner for several years.
In 2012, TWC recognized Mr. Mineta's demonstrated commitment, leadership, inspiration and mentorship with The Washington Center's Lifetime Achievement Award.
Mr. Mineta is survived by his wife, Deni, his sons and stepsons and 11 grandchildren.
About the Author

Follow on Twitter Visit Website More Content by The Washington Center