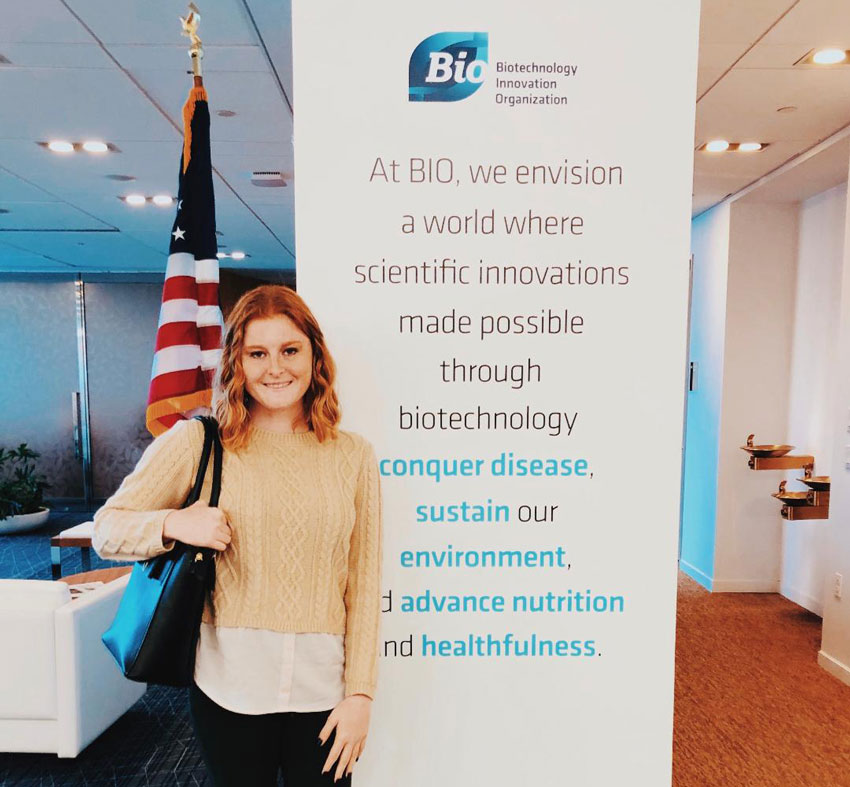 As a policy and advocacy intern in the Nation's Capital, I am always on the move to my next meeting.
When new legislation moves or there are issues to be addressed, you can find me attending an event or doing research in the office to learn more.
My internship is with RetireSafe, a small nonprofit. Our mission is to advocate and educate on behalf of mature Americans on issues relating to Medicare, Social Security, health, financial well-being and safe retirement.
Conferences, meetings, roundtables, panels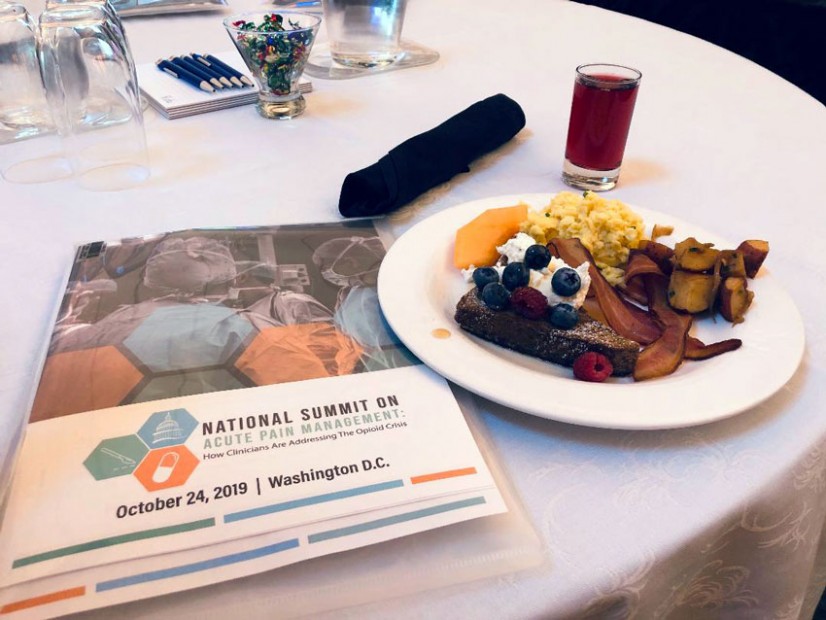 I need to stay on top of current issues and news. This means I attend different events and discussions around the city at least once a week. Some of the events are held at an organization's office at a big roundtable with rows of surrounding chairs while other times, these events are held at museums, hotels or Capitol Hill.
Almost every event I have attended begins with signing in, receiving a name tag, and a folder full of handouts and information. Food and refreshments are usually provided if the meeting or event is held during breakfast or lunch. Once an event starts, I typically find a seat as close to the front as I can so I can take pictures and jot down notes. I often chat with others in attendance when the event is over, before making my way back to the office.
An organization I have been to a lot this semester is PhRMA. They have hosted multiple lunch-and-learn events where all sorts of people are invited to the organization for lunch and a presentation about any updates with legislation or healthcare issues.
If it is an all-day conference, I get to attend breakfast and lunch and have the opportunity to meet with people in between panels and discussions. I recently went to the National Summit on Acute Pain Management at the Ronald Reagan Building and International Trade Center. This all-day event featured multiple panelists discussing the opioid epidemic. They gave us a packet of information and even a little notebook with a pen and highlighter to take notes!
Days in the office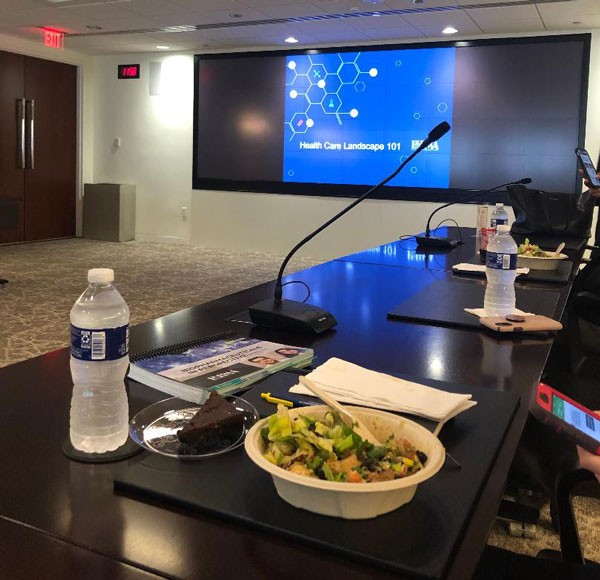 When I am in the office, you can find me sitting at my desk working away on my computer. I do a lot of research and read articles on current issues and tie it to our overall mission. I often help with small projects as directed by my boss. This can be anything from slideshows to data sheets or anything in between. I spend most of my time making PowerPoint slides for my boss to present when he attends conferences and meetings.
One recent project I worked on was a presentation on a drug importation plan proposed by the Trump Administration. I gathered information from the various events I had attended, and sought opinions from people on the Hill on this topic and used it in a PowerPoint. The presentation was then given at our monthly board meeting, which is something I almost always have to do at the meetings.
This weekly routine has given me insight into the work environment of my future profession. No day is ever the same, but each day is filled with new opportunities for learning.

Morganne Blazejak
Managing social media
Our organization uses social media platforms to advocate and educate our audience. One of my tasks is to take over the Twitter page while the other intern takes over Facebook. This includes posting daily and growing our following and engagement. Whenever I attend an event, I post about it to Twitter. Most of the events have a specific hashtag to use since they want to promote their organization as well.
I also post daily about any current news or issue, and sometimes include our stance as an organization on how we feel about those issues. I create polls for people to vote in, which can help our organization determine what issues are most important to people. Lastly, I follow other organizations and use specific hashtags to increase engagement.
This weekly routine has given me insight into the work environment of my future profession. No day is ever the same, but each day is filled with new opportunities for learning. I get to represent our organization on a daily basis. I have had incredible experiences networking and gaining hands-on, real-world experience that can't be learned inside a classroom.
About the Author

More Content by Morganne Blazejak