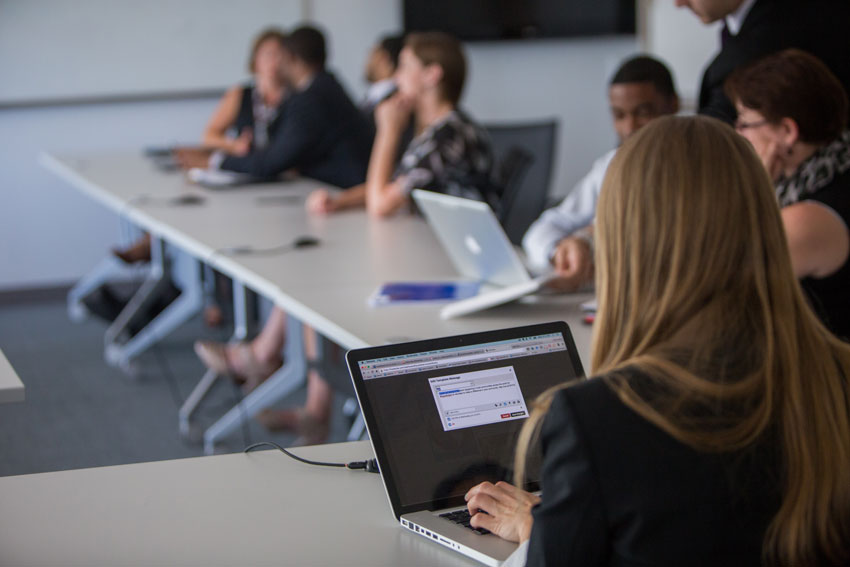 What a typical Monday looks like as a Development and Communications Intern at the National Community Reinvestment Coalition (NCRC).
Switching from the inconsistent schedule of a college student to the more regulated schedule of an intern was a welcome change of pace! At first, it can seem daunting balancing your internship with your coursework, job applications, and graduate school applications, but for me it has been much easier to manage my time and get organized. I feel much more prepared for post-graduate life after this semester. Here is my average Monday as a D.C. Intern!
Morning
7:45 a.m. - I wake up and get dressed in my business casual outfit. At my office, most people will wear slacks and a blouse or a sweater when it is chilly outside. Some of the senior management will wear suits, but as an intern, that is not expected of me! Sometimes I'll eat a quick breakfast of oatmeal or a granola bar, but usually, I'll be out the door by 8:25 a.m. to make sure I get to the metro at a reasonable time.
8:35 a.m. - I arrive at the NoMa-Gallaudet U station and catch the Red Line towards Shady Grove. Sometimes I run into my fellow intern, Sara, on the way to work. I ride the train 5 stops to Metro Center in downtown D.C. and I walk about 10 minutes to my office on 15th Street.
9:00 a.m. - I walk into the National Community Reinvestment Coalition office on the fourth floor. My building is also home to Mapbox and New America, a major think-tank. My office is a block away from LaFayette Park and the White House. When I walk in I say hi to the three other Development and Communications interns: Jacob, Sara, and Aaron. Sara and Aaron are also TWC students.
10 a.m. - On Mondays, we have a communications team huddle. Each person goes around and shares what they worked on this past week and what they will be working on this upcoming week. I have been working on some blogs for the NCRC website as well as copy editing some articles.
Afternoon
12:00 p.m. - At noon all the interns take lunch. Usually, I meal prep and bring lunch, but if I don't, I will go around the corner to the White House Deli and order a sub or a sandwich and a side for less than $10. Food can be very expensive is D.C., so this is a bargain!
3:30 p.m. - On Mondays, the Development Team has its weekly Development Department Meeting. During these meetings, all the interns and the Development Associate, Peter, will present their grant research and discuss any leads. The second half of the meeting will consist of some professional development conversations. This semester we've discussed topics such as non-profit budgeting, some questions to ask during a job interview, how to handle an internal transfer, etc.
This semester has helped me learn how to balance my work and social life and I cannot wait to apply these skills when I return to campus in the spring.

Mythea Mazzola
Evening
5:30 p.m. - I usually get home around this time and make myself dinner. My roommates and I will often hang out and watch the latest show on Netflix or I will go to a friend's apartment and we will make dinner together. Sometimes I'll go to Ebenezer's Coffeehouse by Union Station and have a Honey Lavender Latte and work on my papers or graduate school applications and homework for my courses.
While I expected to learn more about the working world during my semester in D.C., I never expected to gain such time management skills. This semester has helped me learn how to balance my work and social life and I cannot wait to apply these skills when I return to campus in the spring. The best part about being in D.C. is all the experiences and lessons that I never expected. I look forward to seeing how my D.C. experiences will help me progress further personally and professionally!
About the Author

More Content by Mythea Mazzola