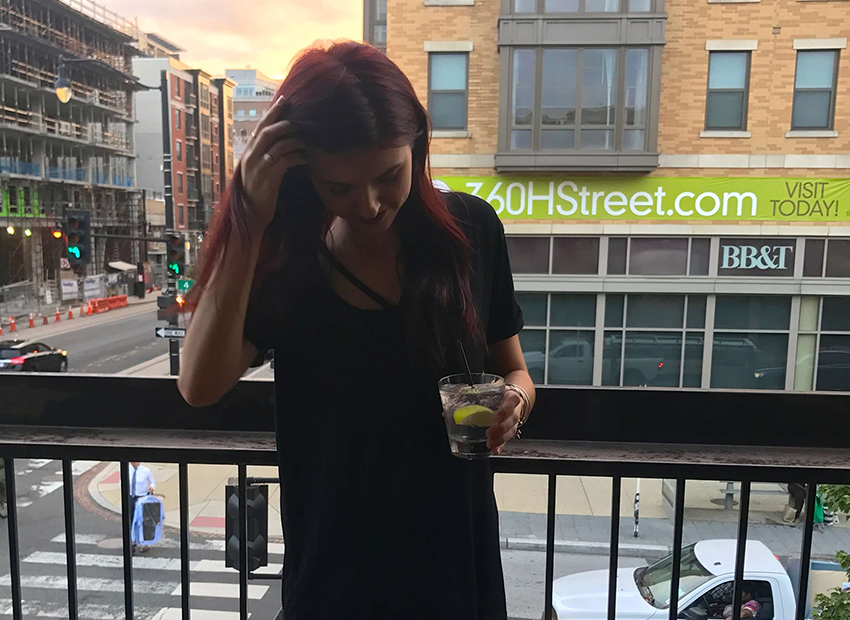 Now, I want to start this post off by saying it's absolutely not essential to be 21 to enjoy all that D.C. has to offer, nor is it essential for anyone to take part in these activities, if it's not your thing! There are plenty of people at TWC, like one of my roommates, who are sophomores or juniors in college and aren't 21 but are still having a great D.C. experience. Plus, I'm definitely the type of person who prefers staying in with some popcorn and Netflix rather than going out to a party anyway. But! I did just turn 21 this week (happy birthday to me!) so I thought it was only fitting to share some places to enjoy my new legal freedom.
Brunch
Brunch is something D.C. takes very seriously. Bottomless brunch in D.C. is practically a sport and, fortunately, there are many great places where you can enjoy endless drinks (and sometimes even food) with your friends. Keep in mind, most restaurants in D.C. only offer their brunch menus on the weekend.
D.C. Reynolds has $10 bottomless mimosas and Bloody Marys on Saturdays.
Vinoteca on U Street has three different bottomless drinks you can choose from for $15.
Cuba Libre (one of my favorites!) will let you get unlimited small plates of Cuban food for $29 plus bottomless drinks for $16.50.
Cava Mezze serves unlimited plates of Mediterranean food and $.25 mimosas.
Bar Charley offers an entree and bottomless drinks for $23.95.
Lavanga is an Italian restaurant that has a $12 bottomless mimosa option.
Zengo serves Latin-fusion food, and for $39 you can get unlimited small plates, coffee, and brunch cocktail.
Happy Hour
Going to happy hour after work is another feature of D.C. lifestyle and can be a fun way to connect with coworkers and even network!
Penn Commons in Chinatown has a lengthy happy hour that lasts from 4pm to 10pm, Monday through Saturday with all draft beers, wine, and certain cocktails being served at $5.
Ambar has $5 cocktails, draft beer, and wine from 4pm to 7pm, Monday to Friday.
Clyde's is well known, and all raw bar items are half off from 3pm to 6pm, Sunday to Thursday, with $5 wine and $6 beer.
Sushi Taro offers half price sushi and drinks at its bar from 5:30pm to 7pm.
Chef Geoff's offers a number of discounted prices on its food from 3pm to 7pm while also offering a $1 off pints.
The Front Page in DuPont is a popular spot, especially on Thursdays when you can get Corona or Miller Lite for $2 and there's a free taco bar from 6pm to 8pm.
El Centro D.F. offers happy hour from 4 to 7pm, Monday through Friday, and serves some of the best $5 margaritas.
Nightlife
And, if you're the type who likes to go out, D.C. boasts a healthy nightlife!
Decades is a club with four levels, all playing music from a different decade!
POV at W Washington Hotel is a very well-known rooftop bar because it offers incredible views of the city.
Madhatter is a fun and popular bar in DuPont Circle known for its pub fare.
The Living Room is a higher end lounge, and plays a variety of music depending on the night of the week.
Board Room is actually a hangout spot that allows you to have a drink and play board games with your friends! Grab a game from their selection, order a drink, and have some fun.
U Street Music Hall is a dance club and live music venue, check out who's playing and get tickets for a fun night!
Marvin is a lounge spot inspired by D.C. artist Marvin Gaye, their first floor offers dining while the rooftop deck is for mingling. On Friday and Saturday nights, there's usually a DJ playing new and old music from R&B to hip hop.
Again, while these things might be appealing to some, it's absolutely not necessary to go out and have a drink in order to have fun! There are so many things to do and see in D.C., (which I wrote already wrote about
About the Author

More Content by Kelsey Richards