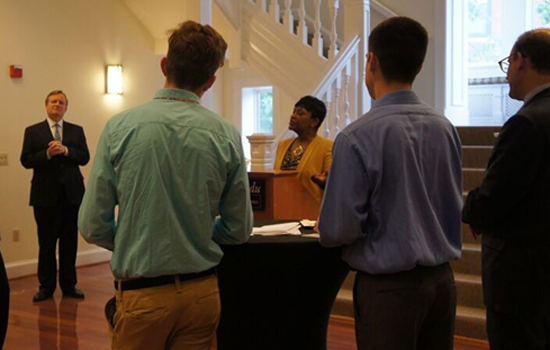 Maryland House of Delegates member Adrienne A. Jones credits organizations like The Washington Center for their help in introducing Black and Latino students to the inner workings of government, thus developing in them a taste for public service.
On June 22, 2017, twenty-two students from Maryland colleges and universities attended a reception hosted by the State Relations Department honoring the work and political career of Delegate Adrienne A. Jones. Delegate Jones has been a member of the Maryland House of Delegates since 1997 and the House Speaker Pro Tempore since 2003. The students, who are enrolled in the summer 2017 internship program, come from schools such as Baltimore City Community College, Towson University, Frostburg State University and University of Maryland Baltimore County.
The President of The Washington Center (TWC), Chris Norton, highlighted The Washington Center's Pete Rawlings Scholarship Program. The scholarship program is named in honor of Jones's one-time colleague in the House of Delegates whose previous work as a teacher and mathematics professor inspired the direction of his political goals. Delegate Jones is Chair of the Education and Economic Development Subcommittee, which appropriates funding for the scholarship program, as senior vice president of the state relations department David Anderson told the group.
Undoubtedly, the Rawlings Program is a fitting tribute to the late delegate. In addition to the over 600 students who have participated in TWC's internship program due to the fund's generous stipend, the Rawlings Program has enabled its recipients to glean the wide array of learning opportunities available in the nation's capital. Among these opportunities are courses ranging from criminology to international business to foreign affairs, as well as participation in The Washington Center's multipart Simpson-Mineta Leaders Series. Furthermore, participants can take part in the Public Policy Dialogues Program, which initiates sit-down chats with members of Congress and their legislative staff assistants.
This commitment to public service is evidenced by Delegate Jones's commitment to her job, mentioning at one point that she "would read the bills and stay late into the night." However, in her ability to detect and utilize the subtle clue-ins necessary to influence her colleagues, she nevertheless resembles a politician, and a skilled one at that. In one of her most searching examples, when pouring over the particulars of a legislative disagreement with fellow delegates, she will never implore them with a stern and isolating "You're wrong," but instead opt for the gentler "Have you ever thought about…," thus ensuring the conversation could continue with a greater chance of legislative success and fewer hurt feelings.
Hailing from a state that has elevated prominent African-American politicos such as Congressman Elijah Cummings and (former Lt. Governor) Michael Steele to the national stage, Jones's own achievement as one of the first two African-Americans (along with Senate Pro Tem Nathaniel J. McFadden) to ascend to the "Pro Tem" level of state government is also impressive. She credits organizations like The Washington Center in large part for their help in introducing Black and Latino students to the inner workings of government, thus developing in them a taste for public service that could one day elevate them to her platform or indeed higher.
In a fitting end to the discussion, a student asked Delegate Jones for a piece of career advice; the lawmaker simply replied, "Your gut tells you what is right."
To learn more about states or commonwealths providing assistance to qualifying students, please visit TWC's State Scholarship opportunities page.
About the Author

Follow on Twitter Visit Website More Content by The Washington Center