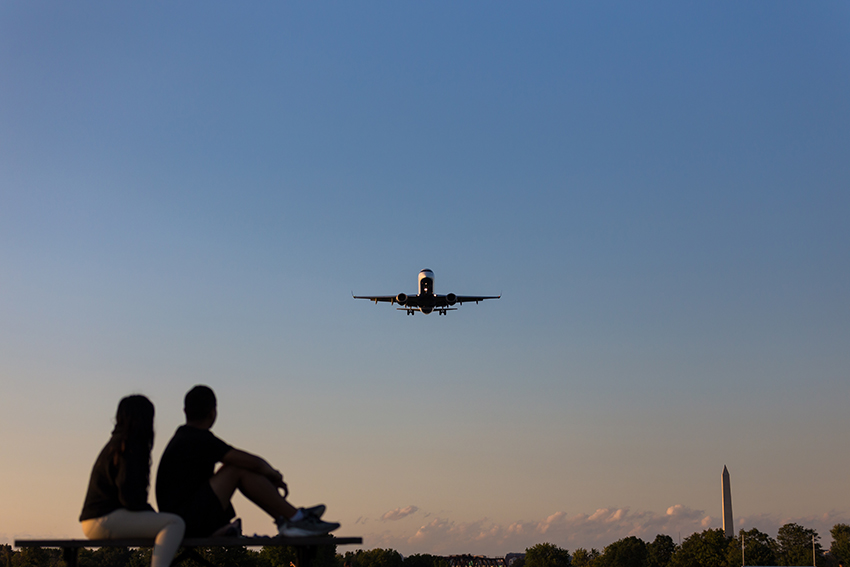 Flying to D.C. for your internship? These tips and tricks will help you get to The Washington Center's Residential and Academic Facility (RAF) from each of D.C.'s airports.
Washington, D.C. is a big transportation hub for the northeast — over a thousand flights pass through the area every day. So, wherever you're coming from, you'll find getting to one of D.C.'s three airports is a breeze. But what happens when you leave the airport? What's the best way to get to the The Washington Center's Residential and Academic Facility (RAF) from each of D.C.'s airports?
This guide outlines some tricks of the trade for traveling from the airport, as well as some tips for each of D.C.'s airports.
Public Transportation by Airport
Ronald Reagan National Airport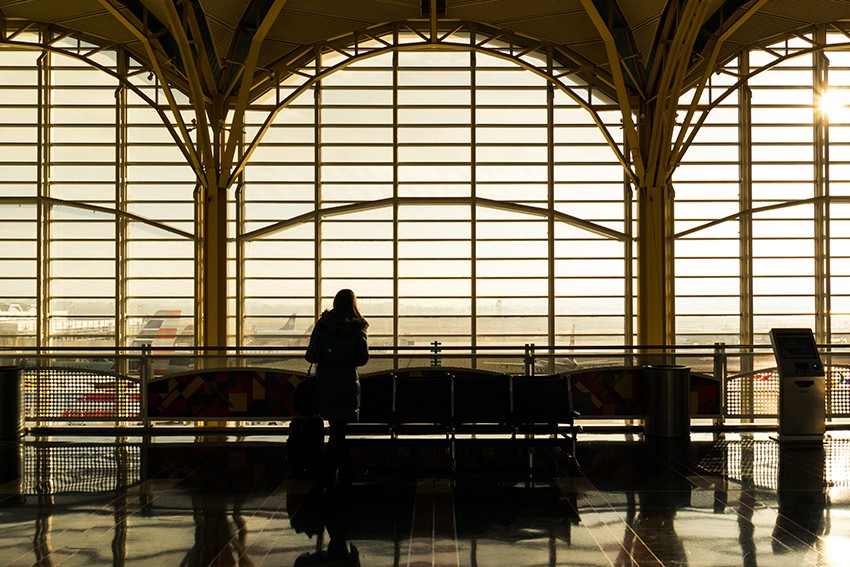 Reagan National Airport (DCA) is the closest airport to downtown D.C. So close, in fact, that you're likely to get a sweeping view of the National Mall as you touch down. As such, DCA tends to have higher fares than the other two airports and only offers domestic flights (plus a few select flights to Canada).
DCA is the only airport directly connected to the Washington, D.C. Metro, which makes getting downtown easy and affordable. DCA has a dedicated stop on the Blue and Yellow lines just a short walk from baggage claim.
To get to the RAF, you'll take a Blue Line train (going towards Largo Town Center) to the Metro Center station. From Metro Center you'll transfer to the Red Line (going towards Silver Spring/Glenmont) and take that to NoMa Gallaudet University station. From there, the RAF is just a short walk away!
Alternatively, you can take the Yellow Line (going towards Fort Totten or Mt. Vernon) to Gallery Place/Chinatown and transfer to the Red Line that way.
Baltimore Washington Thurgood Marshall Airport (BWI)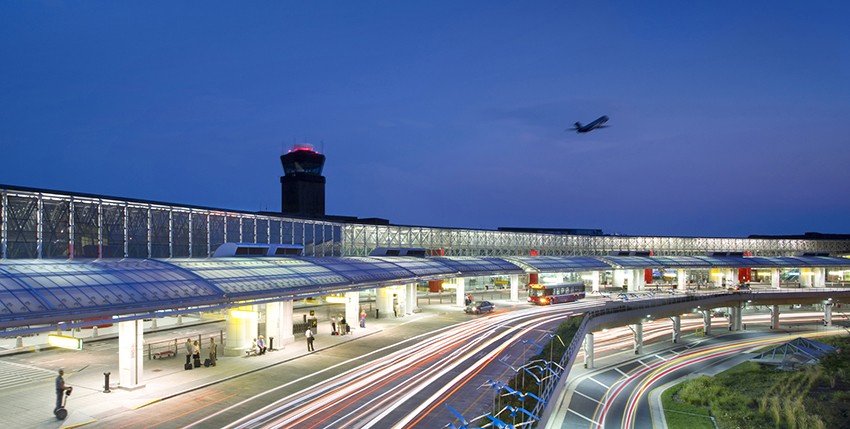 Baltimore-Washington Thurgood Marshall International Airport (a mouthful, if we do say so ourselves!) services both Washington, D.C. and nearby Baltimore, MD. But, if you look at a map, you'll notice that it's much closer to Baltimore than it is to Washington.
Still, lots of Washingtonians choose to fly in and out of BWI (including many TWC staff) because fares tend to be lower and there's a wider variety of flights and airlines available. The trade-off of all these lower fares is that getting from BWI takes a little longer than DCA. Thankfully, even though it's a longer trip, it's not a very difficult one.
The MARC is a commuter rail line that connects the Washington metro area to the Baltimore metro area. There's a MARC train stop near* BWI that will take you directly to Union Station for about $8. From there, it's only about a ten minute walk to the RAF.
MARC tickets can be bought on your phone (via the CharmPass app) or at a ticket kiosk at the station. Trains arrive about every hour during peak periods.
*You will have to take a free shuttle to get from BWI to the train station. The shuttle can be found on the arrivals level just after baggage claim by Southwest Airlines.
Dulles International Airport (IAD)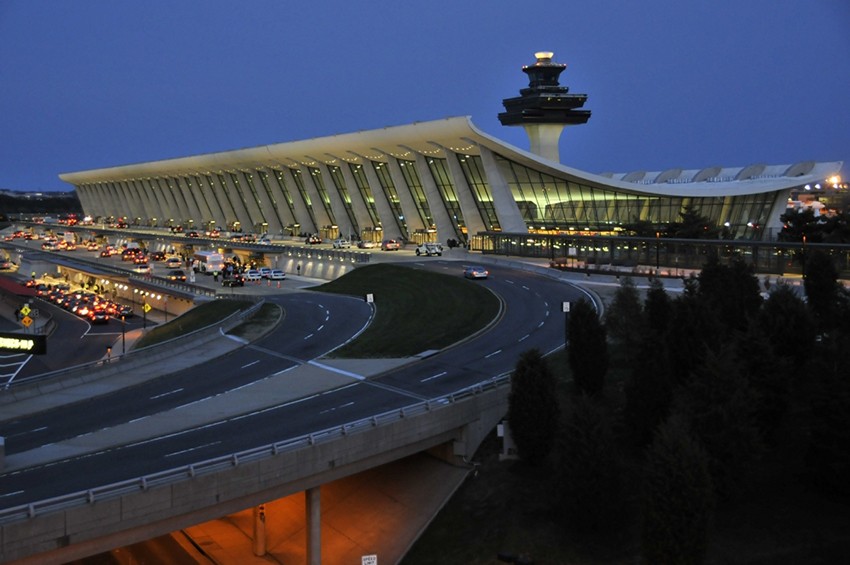 Dulles is the furthest airport from the city center, but it also services most international flights coming to D.C. Many Washingtonians are intimidated by making the trip to Dulles, since it's not directly connected to D.C. by any public transportation. But, getting from Dulles to the RAF on public transportation doesn't have to be so daunting.
Hop on a bus that runs exclusively between Dulles airport to the furthest stop on the Silver Line (Wiehle-Reston East). Take the Silver Line to Metro Center, transfer to the Red Line to go to NoMa-Gallaudet and walk to the RAF from there.
It's not a short journey, so pick up a copy of the Metro Express (The Washington Post's free, truncated daily newspaper) and catch up on what's going in D.C. and around the world.
Ride Sharing/Cab/Car Service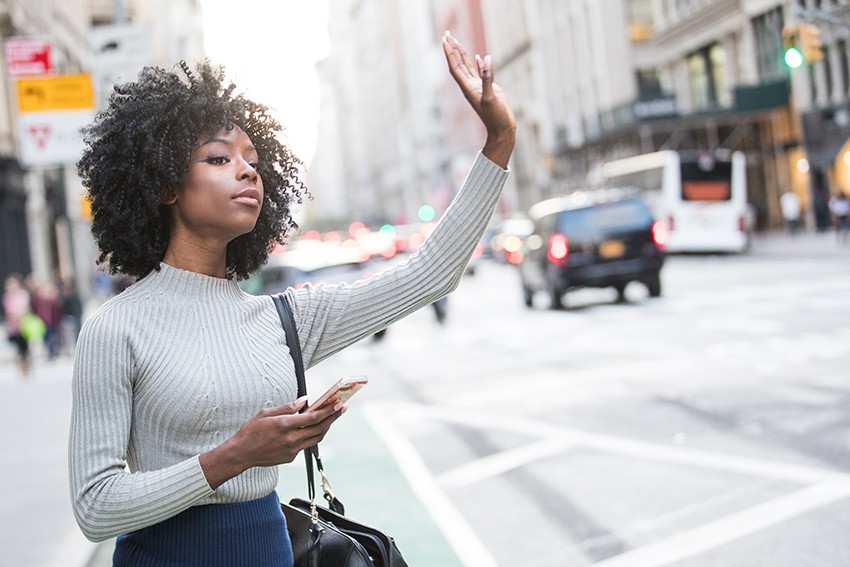 The most direct option from any airport to the RAF is by car. Options can range from $25 to $100 depending on the time of the day and which airport you're coming from. Whether you take an Uber, book a shuttle, or just hail a cab, there are some things you should keep in mind if you plan on getting from place to place by car.
For starters, make sure you have the address of the RAF. Bear in mind that The Washington Center has two addresses: our headquarters and the RAF. Googling "The Washington Center" may give you the address of our headquarters and while our headquarters is nice to look at, there's no housing there. So, make sure you ask to be taken to 1005 3rd Street NE, Washington, D.C. 20002. If you're in a cab and the driver asks for a cross street, the RAF is located on 3rd street NE between L and K.
However you plan to get to the RAF, see about linking up with some fellow TWC students as you make your way from the airport into D.C. Whether it's to split the cost of an Uber fare or just to have some company as you navigate public transportation, it's a great time to start making some new friends. After all, you're all going to the same place!
About the Author

Follow on Twitter Visit Website More Content by The Washington Center