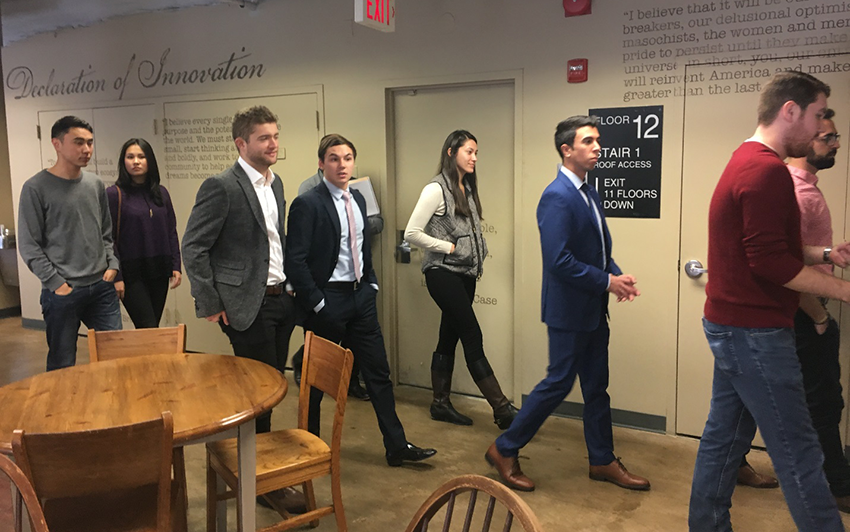 Students find out that D.C. is a place where startups can thrive.
Thanks to Silicon Valley, there is a certain mythology that has formed around the birth of startups. Picturing this isn't too difficult: a young techie – maybe a college drop-out, maybe not – working on a model of a prototype in his garage. Yet that image better reflects the twentieth century than it does the twenty-first. For a more modern incubator of ideas, you only have to visit the open-floor office of 1776 in downtown Washington, D.C., which is where a group of entrepreneurially-minded Global Competencies students from The Washington Center found themselves.
After a guided tour of the incubator's twelfth floor accommodations, the six TWC interns settled into a lunch meeting with three 1776-affiliated entrepreneurs: Tom Basile of InkWorks, Nick Fu of HousePouch and Richard Burg of Kerb Technologies. In their discussion, the three innovators were able to offer unique insights into the risks and rewards of founding a company.
For this group of young movers-and-shakers, one of their primary questions regarded age: How did the small business owners know when the right time was to launch their companies? For Fu, whose e-commerce site sells furniture and assists in home furnishing, youth is an advantage, citing the fact that Mark Zuckerberg and Elon Musk, as young men, "were able to catch what others might have missed." Plus, "even if they fail, they're still young enough to worry about not having everything to lose."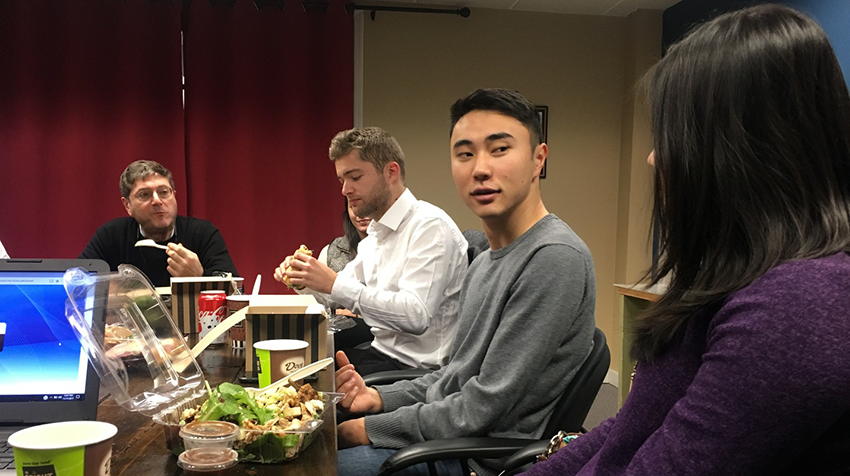 For Richard Burg, co-founder of Kerb Technologies (which captures and distributes street-view imaging), age is an asset. Decades of work mean that you have acquired more savings to pour into a project that others with less capital and more aversion to risk would not contemplate touching. As he put it, "Why save money if you're not willing to spend it on something important?". Furthermore, Burg pointed out that "with age comes a lack of hope-crushing disappointment if things take a turn for the worse."
Not everybody gets to be an entrepreneur in the start-up world, though. The need for hard-working and diligent employees is just as great. The three entrepreneurs laid out what constitutes the ideal job candidate in their eyes. For Tom Basile, whose InkWorks. produces the necessities of the typical workplace—business cards, envelopes and other staple items—the benefits of working for a start-up are obvious. "In a different working environment, you might be constricted to jobs X, Y, and Z. Working for a start-up gives you the opportunity to have your hands on a lot of varying tasks."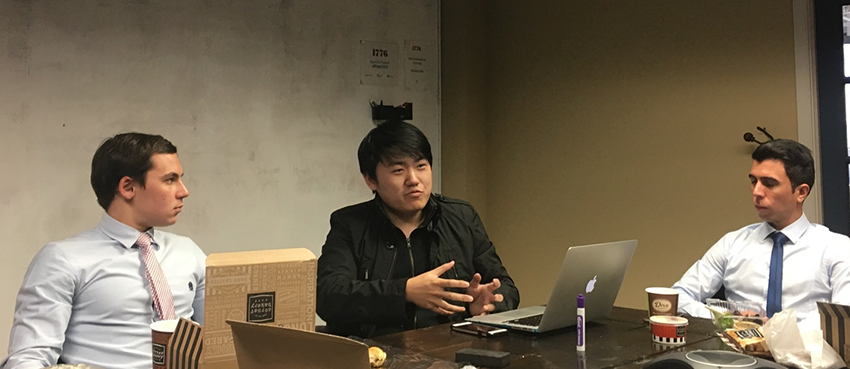 Bemoaning what Fu labelled "the myth of 'free help,'" all three entrepreneurs at the end of the day agreed that far from being the expendable pack mules of the tech industry, young budding talent like those who walk through The Washington Center's doors each semester are indispensable to the mission of start-ups. Aside from grit and perseverance, in the words of Basile, "there is no secret sauce to tell who is going to be a good operator." Hopefully though, the students' afternoon glimpsing the world of 1776 provided them with at least a taste.
And indeed it did. As Zhamilia Klycheva of the American University of Central Asia stated, "I received strong inspiration for my desire to found my own business upon going back home. The life examples of the people of 1776 proved the worthiness and excitement of such a choice. For that I am truly grateful."
About the Author

Follow on Twitter Visit Website More Content by The Washington Center