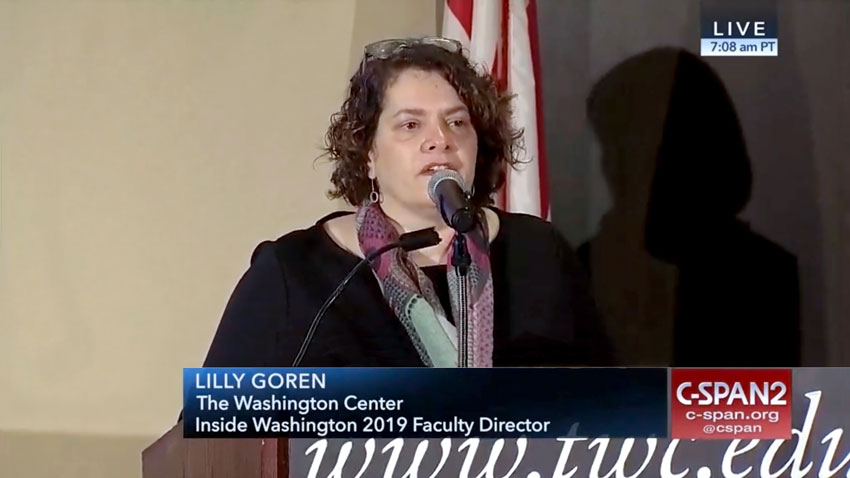 Dr. Lilly Goren of Carroll University will once again serve as Faculty Director for The Washington Center's Inside Washington seminar.
The 2020 edition of Inside Washington sets up a presidential election year. Presidential election cycles typically draw more national attention than off- or midterm-elections, and 2020 is sure to captivate the nation.
TWC is excited to have Dr. Goren reprise her role following a productive 2019 leadership partnership with Seminar Producer Steve Scully, Political Editor, Senior Executive Producer and Host at C-SPAN. Furthermore, Dr. Goren excelled at contextualizing each day's lessons, providing accessible insights and perspective. Her warm rapport with students and faculty alike made her the obvious choice for this distinguished role.
As Faculty Director, Dr. Goren is an integral member of the team selecting the featured political, media and advocacy speakers and experts for Inside Washington. TWC spoke with Dr. Goren prior to Inside Washington 2019 and again in the run-up to Inside Washington 2020.
What is it about presidential election year politics that has you excited?
Politics becomes even more high profile anytime the nation finds itself in a presidential election year. We're already witnessing this with well-known candidates running in a complex Democratic primary season and vying to be their party's nominee. Simultaneously, the White House incumbent has a couple of challengers on the Republican side, although they don't seem to be getting a lot of traction at the moment. And, of course, all of this is happening with an impeachment backdrop.
This makes for a fascinating, very intense kickoff to this year's presidential election season. When we convene in D.C., we will be about a month from the Iowa caucus and New Hampshire primary. We'll get to have foundational discussions on primary season as well as the entire presidential contest as it unfolds through the conventions this summer and, ultimately, the general election in the fall. It will unquestionably be an interesting time to be in the heart of national politics and explore this uniquely American dynamic.
How do you connect your passion for politics with students just beginning to participate in elections?
American politics should be about hearing the voices of the people and what they hope that the government and their elected officials will accomplish while in office. I also study American politics in particular because of my love for this country. My passion for politics extends back as far as I can remember. Starting in my youth, my dad and I would drive around to see the results on election night. We would head over to individual precinct offices to see who was winning and check the vote tallies. This is obviously well before the internet!
Of course, technology today allows for much more immediate access to election results and we tend to know the outcomes of races more quickly. We're all experiencing and reacting collectively now. Yet there remains this fundamental excitement and engagement with elections and outcomes on Election Day that transcends the age divide or our technological innovation and media experiences. The opportunity to work with students, along with individuals in Washington, D.C. involved in all aspects of politics and its consumption, is an amazing and unique experience for everyone who takes part in the seminar.
The opportunity to work with students, along with individuals in Washington, D.C. involved in all aspects of politics and its consumption, is an amazing and unique experience for everyone who takes part in the seminar.

Dr. Lilly Goren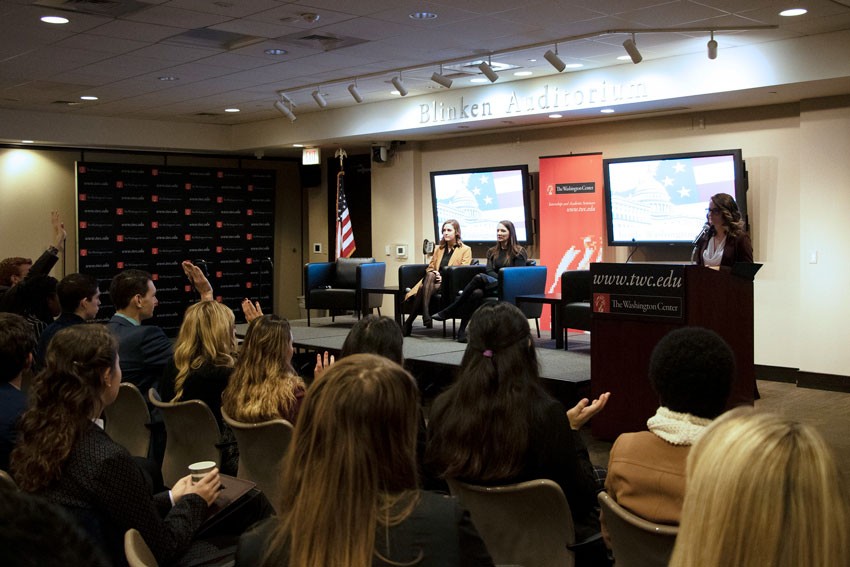 What can students expect from Inside Washington 2020?
Last year's Inside Washington seminar experience was amazing. I'm really looking forward to returning and working with some of the same faculty, along with some new folks, and a new batch of students. There are incredible opportunities all around Washington, D.C. that the students and faculty will get to experience. There are opportunities to visit Capitol Hill and meet with members of Congress and Senators, executive branch agencies, embassies, people in the private sector, truly spectacular, memorable encounters. Plus, this year the government will be open as last year it was shut down for pretty much the entirety of the seminar, which should provide even more opportunities to experience everything D.C.
Additionally, the Inside Washington 2020 seminar features a host of experts from the political, media and advocacy worlds. Students will hear directly from powerful players across Washington, prominent leaders from Capitol Hill, the executive branch, think tanks and academic venues. We have great speakers who will relate not only their own expertise and experiences, but also polling and campaign insights. I expect students to come away from this seminar with a lot of knowledge and insight into what is going on with regards to the primaries and the caucuses and general election.
---
Lilly Goren, Ph.D. is a professor of political science and global studies, and chair of the Department of History, Political Science and Religious Studies at Carroll University in Waukesha, Wisconsin. She is currently serving as an elected member of the American Political Science Association's Executive Council, and was a Fulbright Fellow at the University of Bonn in the spring of 2017. She also hosts the New Books in Political Science podcast on the New Books Network. In addition to leading her classes and professional service, she has authored several books and scholarly articles on the intersection of politics and popular culture.
Inside Washington 2020 is a two week seminar — aided by political, media and advocacy experts — that provides students the rare experience of reflecting on, examining and projecting national politics as the U.S. prepares to embark upon a presidential election in 2020 that begins with caucuses and primaries, through the National Conventions, Election Day, and culminating in Inauguration in 2021. Learn more about Inside Washington 2020 here.
Main image via C-SPAN
About the Author

Follow on Twitter Visit Website More Content by The Washington Center