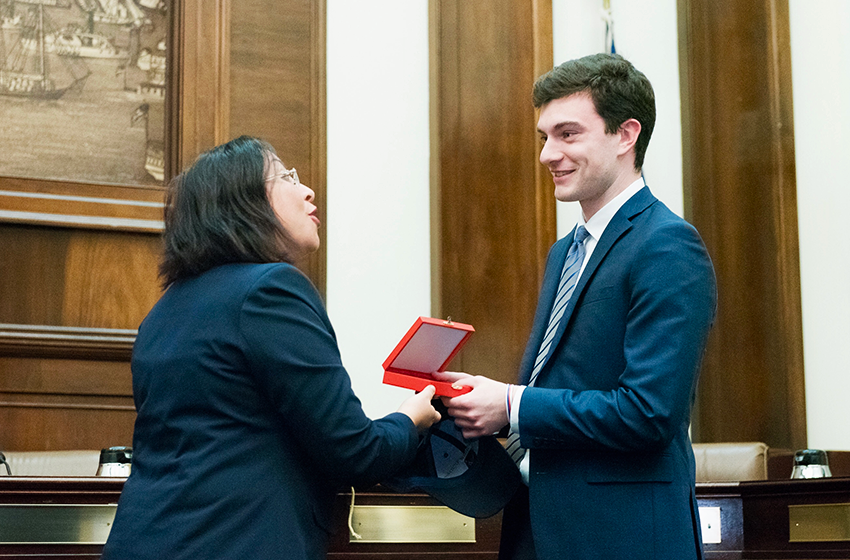 If you're like me, the end of the college basketball tournament is one of the most emotional parts of the year. To continue the fun, I've created my own bracket highlighting the best experiences I've had in D.C. thus far. Only one moment can come out on top—who's going to win?
The first round was filled was several interesting upsets. The most notable of the three was probably "Cherry Blossoms" losing out to the "National Mall." Although the Cherry Blossom Festival was an incredible experience, there really is no better feeling than wasting a day on the National Mall. As the weather warms up and food trucks line the streets, I can just lay on the grass and spectate the world. It also certainly never hurts to have the Capitol, Washington Monument, and White House all within a ten-minute walk for my viewing pleasure.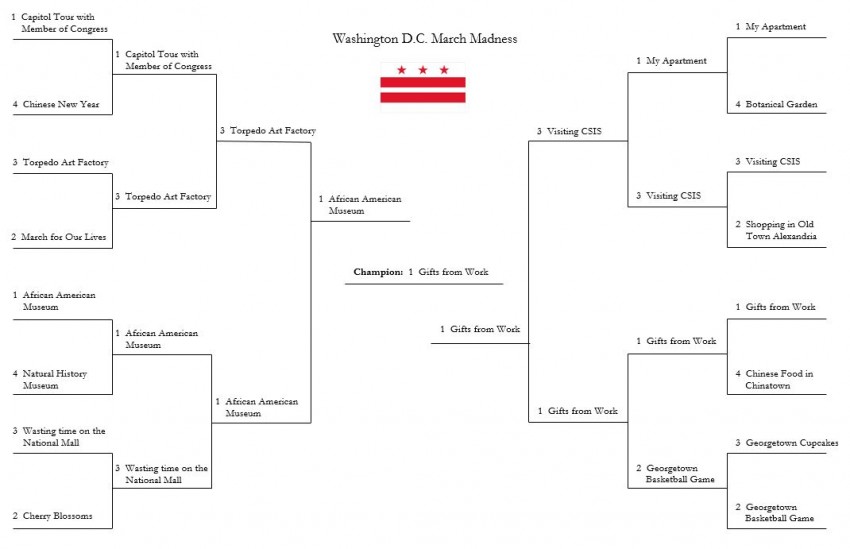 In the second round, I have the "Torpedo Art Factory" beating out the "Capitol Tour with Member of Congress" and "Visiting CSIS" beating out "My Apartment." To me, the Torpedo Art Factory in nearby Alexandria, VA. is one of the coolest landmarks to visit around D.C. With more than 80 individual artists all operating under one roof, the factory contains a unique assortment of art pieces in a variety of different mediums. As for personal Capitol tour, the experience was wonderful because it gave me access to areas of the Capitol not typically open for the public. That being said, the experience was more informational than it was exciting, and thus it upset by the more enjoyable experience in the "Torpedo Art Factory".
As for the loss of "My Apartment" to "Visiting CSIS," I don't really think it was a fair fight. Although the housing at TWC is in a wonderful location and provides all the services necessary for young professionals, the trip I took to CSIS is one of the most memorable experiences I've had in D.C. thus far. For those that don't know, CSIS is one of the foremost think-tanks in D.C. and helps to construct American foreign policy. Being able to sit on a lecture at CSIS with a delegation from the Tunisian National Defense Institute is surely something I'll never forget.
In the end, "Gifts from Work" took first over the "African American History Museum." Unlike a singular museum or event, the gifts symbolize something greater about my overall experience in D.C. These gifts, however small, act as reminder of the value of this program as a whole, and give me a feeling of professional purpose regardless of any single title or position.
Without The Washington Center, I never would've had access to such an unbelievable experience during my internship in D.C., and the small gifts I receive at the office only work to reiterate that fact.
About the Author

More Content by Matthew Lawson