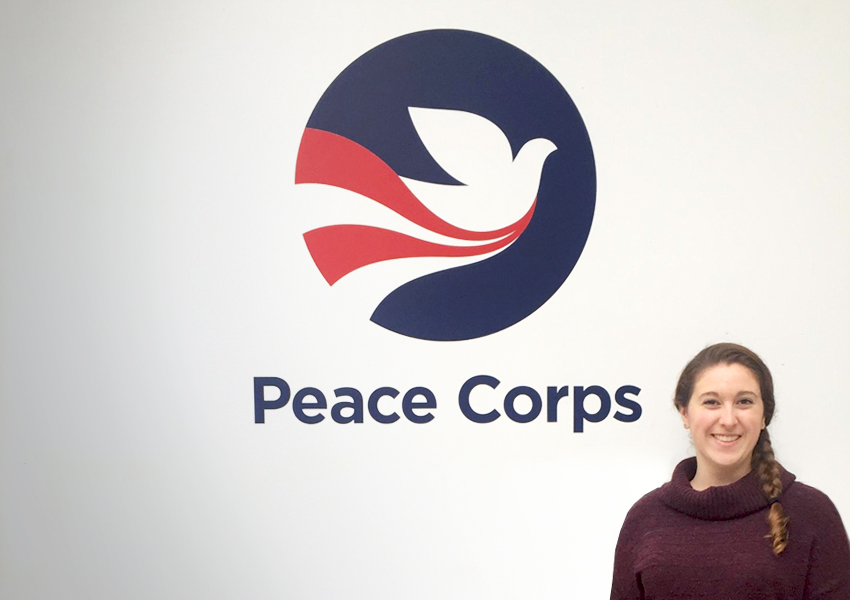 How A Colorado State Student's Search for An Internationally-Focused Internship Led Her to D.C.
Before coming for her internship in D.C., Morgan, a Colorado State University student and one of the first interns from the Fort Collins school, admits to experiencing every emotion in the book. "I didn't know what I would be walking into, but I believed it might change my life. Being this far away from my family was scary, but it was also exciting because I got to intern at the Peace Corps."
When did you participate in the TWC internship program and where did you intern?
I interned at the Peace Corps headquarters in Fall 2018, in the office of staging and pre-departure. Peace Corps volunteers come to Washington, D.C. for an orientation that covers aspects of their volunteer service before being sent around the world. I performed logistics and administrative support for that office at the national office.
What prompted you to start looking for an internship?
Because I'm an international studies and political science double major, I knew that I wanted to go into something internationally-focused. I started looking into and speaking with people within the field and asked about the paths they took. The similarity among everyone I spoke to was they had all done internships during their college careers. I started looking during my junior year because I hoped to get my foot in the door and get some experience in doing something that is internationally focused before graduation, as they had done.
Why did you choose this program over other internship programs?
My major was a big factor in where I was looking to do my internship. All of the programs I was initially looking into were based in Colorado; the ones through my school are almost all in Colorado. I feel it is really hard to do an internship that is internationally focused from an office in a state so far from the nation's capital, the place where a lot of international organizations have headquarters. The liaison on my campus came and talked to one of my classes about this new program for CSU with TWC and I started looking into it.
With TWC, you get a D.C. internship experience that includes living with a bunch of other interns, like you. That really drew me to the program.

Morgan Scheinin
What has been the most impactful experience or memorable encounter during your time in Washington, D.C.?
Picking only one is one of the hardest things I'll ever have to do! One of the most memorable, it isn't one experience, it's the friendships and relationships I've built up being here and the network I've created, as well. My roommates and I talk about our days when we get home from our internships. That's been really cool because I see parts of their internships and see if maybe I do or maybe I don't want to work in that field or in the type of organization they are in. I feel like I've gotten to intern at a few different places, as opposed to only the one internship that I'm actually doing. I also feel like I've met a lot of alumni from my university who are here in D.C. I've interviewed them and talked with them about how they got from Colorado to D.C. Many of them work in the field that I'm interested in and networking with them has been really beneficial. I absolutely want to move to D.C. now and follow in their path.
Describe briefly what it has been like to intern at your organization. How has it affected your professional development?
At the Peace Corps, my team basically organizes one day orientations for 50 or so volunteers before they leave for assignments in different countries for the next two years. My days consist of organizing materials needed for the orientation, checking my email and calendar for schedules, running meetings to train people who manage the assignment, and working on financial and logistical projects. My team is small and I've been able to sit and see what each person does on a daily basis. If they asked me to take on a bigger role or join full time, I feel like I could do that right away at this point thanks to how much I've experienced. Also, one of the special things about interning with the Peace Corps is that the TWC interns all eat together down in the office cafeteria. We talk about our days, relax with one another and learn about what the other teams in the organization are doing.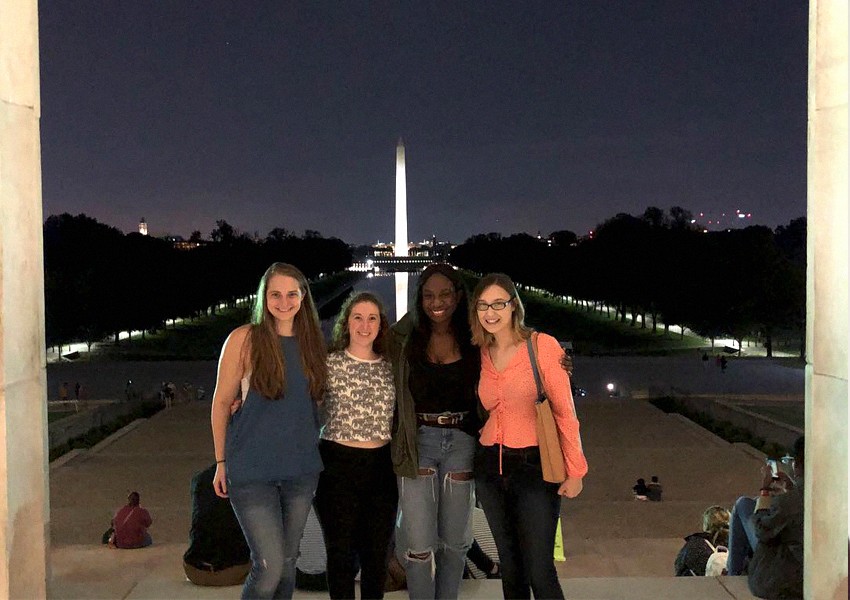 How would you describe TWC to someone else?
I would describe TWC as a unique, immersive internship in Washington, D.C. that you're able to get college credit for. The D.C. and college credit combination were the biggest draws for me. You intern Monday-Thursday and then on Fridays you have a LEAD class for professional development to develop soft skills that you then use at work immediately. Plus, you talk with other interns in the program and learn what their internships are like. Reflecting on what everyone likes or doesn't like about their internships and how to navigate the job market has helped me prepare and plan for my future career.
When you encountered a challenge or struggle, how have you dealt with it? What resources did you rely on?
One specific challenge I had at my internship site is on a data visualization project that required using Tableau, a data visualization software. I didn't even know what Tableau was before this. There was one person on my team who had a very basic understanding of it, but didn't really know much about it. If I didn't know how to go about something, I would use my resources and ask people who had worked with it. If they didn't know, I would just use Google. I basically had to teach myself how to use this software, but I have been able to learn it well enough to hold a training on it for the other members of my team and teach them how to use it.
What is the single greatest benefit TWC provides to students such as yourself?
I have learned so many different things during my internship. I think the single greatest benefit is the opportunity to intern in D.C. I could not have received the same type of experience from an internship in Colorado or done the same type of things that I do here. It has opened my eyes to what a job in a federal government-based organization would be like and seeing how Washington, D.C. really operates. It is great experience to be able to have on my resume. Additionally, the nation's capital is the headquarters of so many international organizations and I have networked with people from those other organizations this semester. I have gotten to network with them, hear what they do on a daily basis and see if that is something I would potentially be interested in. That's been a cool benefit, too.
About the Author

Follow on Twitter Visit Website More Content by The Washington Center