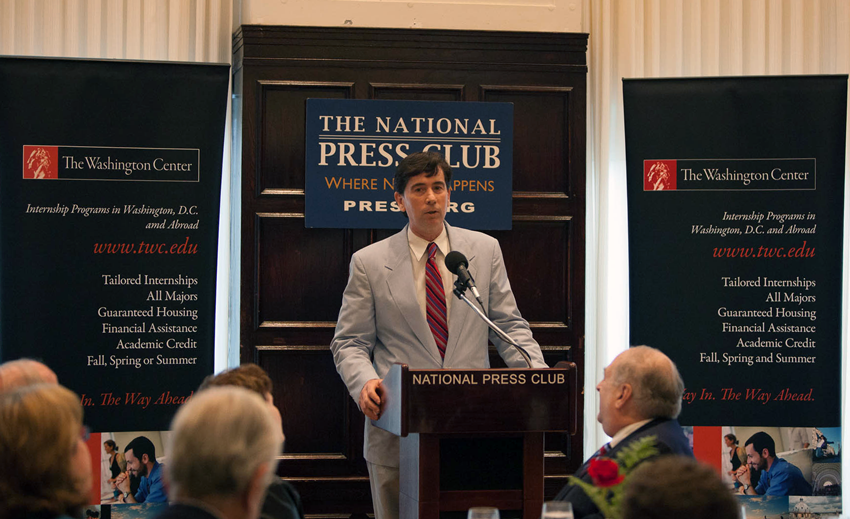 The role of campus liaison is rewarding, though it requires a time commitment.
If Monmouth University's Joseph Patten squeezes it into teaching, writing, coaching debate on campus and at a local high school, and has taken on that role at two different campuses, it obviously is worth it to see student lives transformed. He has seen experience impact not only his students' futures, but also his own as Dr. Patten was a congressional intern with The Washington Center himself.
Why did Monmouth University decide to work with The Washington Center? How did the partnership begin?
I came here in 2002 from Buena Vista University in Iowa and there was already a relationship between Monmouth University and The Washington Center (TWC) going back almost to TWC's founding. At the time I arrived, around one or two students were going every few years. It was kind of sporadic. I'm an alum of TWC myself and it was something I was eager to build up and have more students come. I don't want to make it sound like I'm trying to take credit for its growth since then, the university really values experiential education and wants to help students succeed. Monmouth recognizes that TWC has a terrific reputation and a track record of helping students.
It's important for partnerships such as this — universities partnering up with other great institutions — to try to work together to benefit the students.

Dr. Joseph Patten, Monmouth University campus liaison
How has the partnership between Monmouth and TWC evolved?
It's important for partnerships such as this — universities partnering up with other great institutions — to try to work together to benefit the students. Over the last 10 years, I'd say Monmouth has sent about 150 students. We are anywhere between 12 and 18 students a year now, I think we sent 18 students last year. We have students across Fall, Spring and Summer terms. The lionshare go in Spring semester because many students use their final semester to look for employment in D.C. In those cases they just have to come back for graduation and then start work. I think this year we had two in Summer, three in Fall and about nine in Spring.
Part of the growth is attributable to intentional advising. One of the things I do when I meet with students is try and find out a student's motivation for participating in TWC, what Monmouth calls the Washington semester. Frequently, it is because they are looking for a position in D.C. And if that's the case, I recommend doing it for their final semester. Others are looking to have a powerful, impactful experience but maybe are looking to go on to law school or graduate school after graduating. In those cases, doing it in their junior year or fall semester of senior year both work fine.
It's been interesting and rewarding to see so many of our students get positions in D.C. through their internships.

Dr. Joseph Patten, Monmouth University campus liaison
What is the greatest benefit of TWC to Monmouth? In what way (if any) does TWC serve as a D.C. extension of your campus?
I think one of the greatest things is interning in the nation's capital. If a student loves government or public policy or international relations, then D.C. is the place to do it. That's where the action is. It's been interesting and rewarding to see so many of our students get positions in D.C. through their internships. They then turn around to help other Monmouth students secure placements in their offices or agencies. Monmouth alumni mentoring current students is a really exciting type of experience for everyone. I think TWC does a good job of creating an experience different from being in college in the sense that there are adult responsibilities, yet they are still students. It's a nice transitional experience between college and career.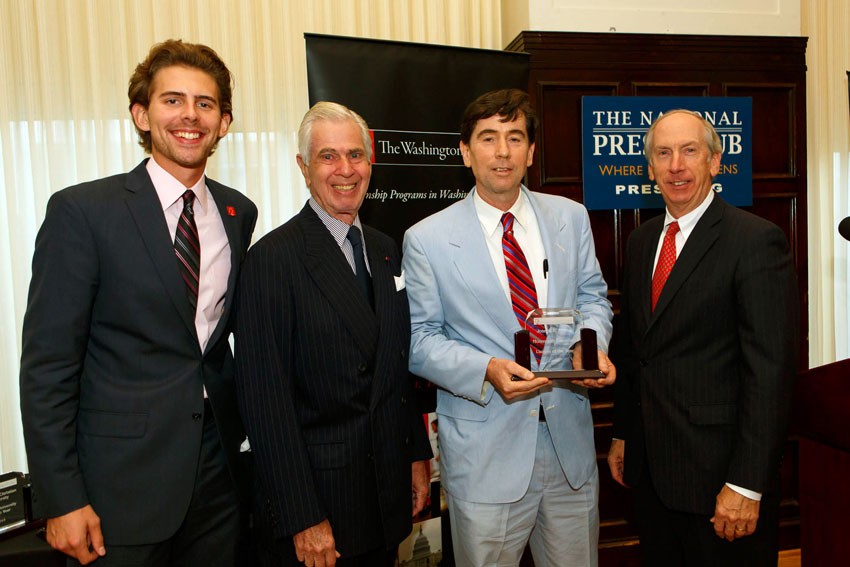 Are there any students who stand out in your mind as having a particularly impactful experience with TWC? Can you share their story?
There are so many success stories, it's hard to pick just one. There are individual students who have gone on to secure positions at the State Department and other federal agencies across D.C. One student wound up getting a position with the State Department and worked on foreign policy in India. Another student went on after her internship program to become a lawyer and then went back to her office in Congress as an attorney for the House Committee on Transportation and Infrastructure. She's now working as a lobbyist for the railroad industry. Monmouth has success stories every year, including last year when one student got a full-time position with the Federal Trade Commission and another got a job in Congress. Each year there's another new success story, that's just one of the great things about the program.
You are a TWC alumnus yourself. Does your own experience play a role in encouraging students to do the Academic Internship Program? How so?
Absolutely. I interned on Capitol Hill through TWC and it had a powerful impact on me. That's why I choose to work and advocate for it. I think my experience is valuable because I can see it through a student's eyes. I still am able to remember so many things from doing it as a student myself. It helps me advise students who are participating in it because I have a sense of what the experience is like from the student perspective.
Is there a specific highlight from your time as a liaison you could share?
One of the things that I really enjoy is I bring around 25 first year students down every Spring to meet with the Monmouth students who are currently doing the Washington semester. We all go out to eat and talk. That experience for our first year students, who are excited to meet with seniors interning across D.C., enables them to talk about it and see the excitement of the experience. That is one of the reasons, I believe, that we've had a consistent flow of 12-18 students a year. Those visits bring it to students' attention as first year students. It helps get them excited to do it in a couple of years and prompts them to begin planning for it.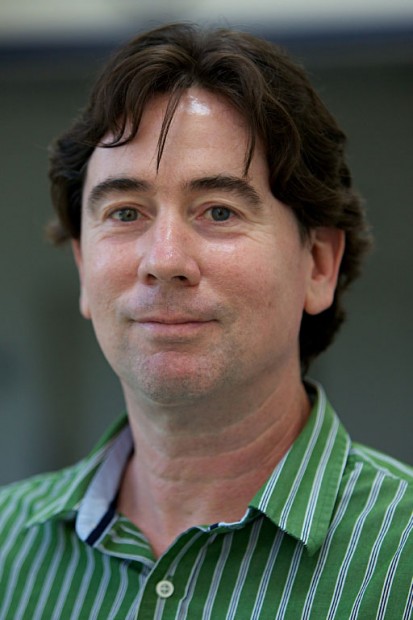 What are some specifics about the program or life in D.C. that you make sure to mention to students?
First, I try to know the student's goals and what are the student's dreams for the future. Knowing that information, I point to how the experience in D.C. can help make their goals or dreams happen. If the student is interested in law school, maybe an internship in an attorney's office, or maybe get into the Department of Justice, the U.S. Attorney. If a student wants to work for a year before going on to graduate school, we look at how to use the entire semester to look for a position. Getting a job is a job of its own. It's about spending your semester to look for that professional position so you can transition from college to work.
You have been a liaison on two different campuses. What rewards from being a liaison would you identify? Why should someone become a TWC liaison?
The experiences you get to share with students and the honor of being involved in so many success stories, just to be able to play a small role in that, is the true reward. Naturally, the students succeed themselves, but being a liaison in this program you are able to show or highlight to them the potential this experience could have in their lives. That's a very big impact you can have. You get to see how the program changes the lives of students. There's a gratitude in feeling that we're making a difference in students' lives, which is why we're here, why we get up in the morning.
The Washington Center helps colleges and universities deliver on their promise to prepare students for life by providing career guidance in the context of a real world experience. We partner with more than 500 colleges and universities around the globe to help students explore and discern their career paths. Learn more about how The Washington Center can serve as the bridge between your institution and your students' careers.
About the Author

Follow on Twitter Visit Website More Content by The Washington Center