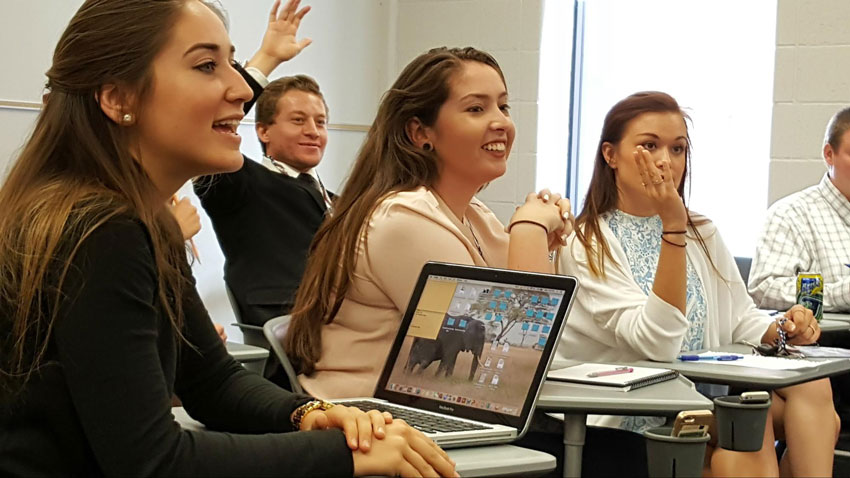 Leading her students in a once-in-a-lifetime learning opportunity at the 2016 Republican National Convention was a fantastic experience for Indiana University of Pennsylvania professor Michele Papakie.
Here's what Dr. Papakie, professor of journalism and public relations, had to say about her convention experience as a faculty leader and what students who attend the 2020 Republican National Convention (RNC) in Charlotte may expect.
What aspects of politics and presidential campaigns are you most excited for students to experience relating to the Republican National Convention?
A presidential election year is always a historical event. It's exciting to participate in something that big, something that will end up in history books someday. It will be particularly interesting this year as the president has been particularly interesting this term. In addition to the usual duties of the office, the president is currently dealing with the national pandemic and this will also be the first time, I believe, a president running for re-election has been impeached. I feel that adds a really fascinating layer to this historic moment.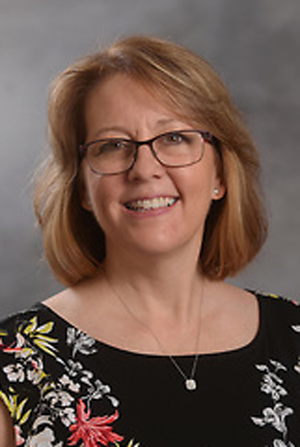 You were a faculty leader in 2016. What was it like for you and your students to participate in the convention?
It was fantastic. I had never spent any time in Cleveland before the 2016 RNC and it was just a beautiful city. It was fun to see students who don't get the opportunity to travel much get to go and have that new experience. We have a lot of first generation college students at Indiana University of Pennsylvania (IUP) and that was the first time many of them, for example, had to navigate public transportation. It was fulfilling to watch as they learned life skills in addition to the whole convention excitement.
Specific to the National Conventions Seminar, it was exciting to participate in briefings with such high level leaders and respected experts in their fields. We would meet after those incredible learning experiences to step back, digest and talk through things. Even for me as faculty leader, it was a bit overwhelming, but that reflection was so important for learning. I loved that part of it. The convention itself, being in the venue with thousands and thousands of people, is electric. I can't think of any other way to say it. Everyone was so enthusiastic. It was a magical, cool thing to experience.
Outside of the venue, I'm a public relations and journalism professor, so everything connected to it was a learning experience. Walking down the streets of Cleveland and seeing advocacy groups doing demonstrations and the power of our democracy, how people have the right to do those things, I thought it was important for students to understand. That's not common in every country and it's something we should revere.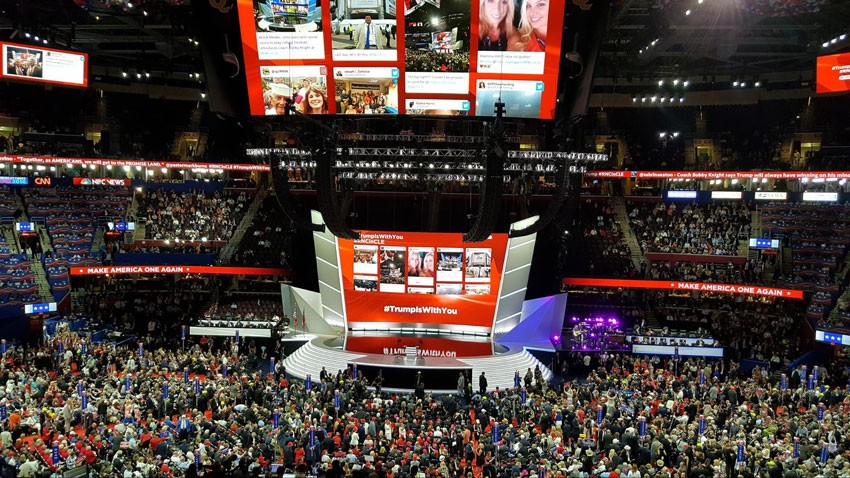 What lessons or opportunities did you see your students particularly gaining from being there and experiencing the convention firsthand? Were there any student placements that helped a student or students decide on their professional career(s)?
The entire two weeks are filled with real learning experiences. Hearing from those leaders and experts — from the Secret Service, state party delegations, the host city — learning about everything, all of the costs it takes to prepare the city all adds to it. Students don't realize how much it takes to put on an event like a national party convention. In my public relations classes we study event planning. This is the epitome of event planning and students get a chance to see and hear all about it.
I had one student, Justin, who already had political aspirations before he went to Cleveland. He really maximized his participation. He got selfies with any politician he could get within two feet of and just really worked rooms and did such a great job making connections. It was amazing to watch him grow from an IUP student through the convention program and he went on to run for office. There was another student, Maggie, who ended up in politics too. All of the students who participated learned from the experience and those opportunities.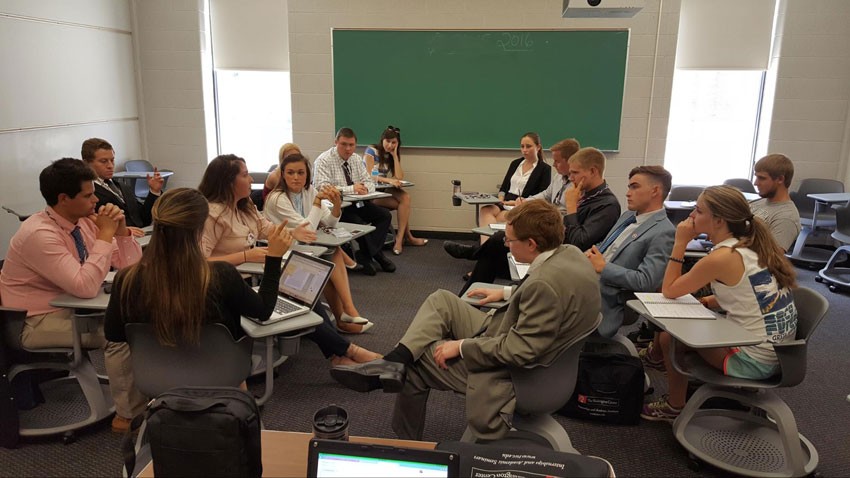 How did the work placements impact students' experiences and what were some key takeaways they got from their assignments?
If a student's placement was a gofer, that meant they had an important role. If they did it extremely well and were punctual, hustled and had a good attitude, that made a difference. People notice effort. We say that in the classroom all the time, but I think it hit home with the students who had that assignment. Initially, they came and complained they didn't have a great placement, but by the end they were so excited because, when they hustled, they were picked to do something else or asked to step up to help more.
As a journalism professor, watching students who aspire to become journalists walk down the street and see major news networks set up as if they're in the studio was pretty fascinating too. They saw all the famous anchors they see on TV just walking down the street, totally accessible. They were a little bit starstruck but they got to work with them in their field experiences. The stories I heard from them were just fantastic. They got an inside look at how everything is put on, covered and executed. I think the placements opened eyes to a lot of other professions students may not have thought about or even knew existed before the convention. It made such an impact that they pursued careers based on their experience.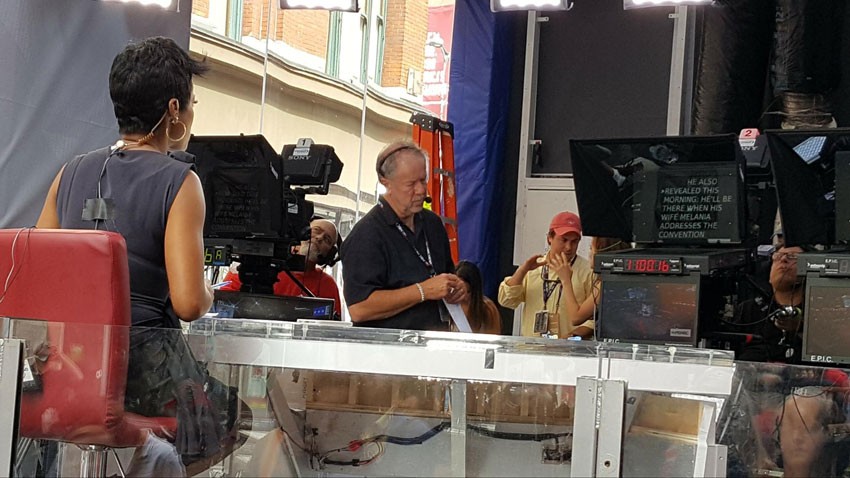 Is there a specific event or activity connected to the convention in Charlotte that you look forward to seeing and sharing with your students?
Throughout the convention week there are these pop-up venues, pop-up events, like the Washington Post would have a panel in a local bar or an issue group would have a meeting you could stop by. Those things were so cool and interesting because they covered just about any issue or subject area. To just walk down the street and go to these things, hear in-depth analysis of what was happening around you was very meaningful. Those make for interesting additions to the main show.
And then there's all of the networking that is happening. The students who attend get the opportunity to rub elbows with professionals in the field, people who are really successful and doing the jobs students aspire to do. There's just no substitute for students getting to work alongside them, ask them questions and socialize with them at events. And they're learning and growing throughout the whole experience.
The students who attend get the opportunity to rub elbows with professionals in the field, people who are really successful and doing the jobs students aspire to do. There's just no substitute for students getting to work alongside them, ask them questions and socialize with them at events.

Dr. Michele Papakie, Indiana University of Pennsylvania
What can students expect from the National Conventions Seminar that should cause them to consider this opportunity?
I think it was really life changing for the students who participated in 2016. I was really proud to be a faculty member there and to help students grow from their experiences. Aside from the field work experience that translates into nice bullet lines for a resume, the life lessons they will learn are innumerable. There are ample lessons in networking, time management. The students actually work and it's life-changing.
I would encourage students to go, even if they don't have a strong interest in politics. If they have an interest in journalism or public relations, advocacy, anything really. The experience helps in being an informed citizen. It's so important today to be an informed citizen and to be able to be on social media and pick out fake news or pick out illogical arguments. When you're immersed in such a phenomenal program like the TWC National Convention Seminar you come away with a more mature look at what it means to be an informed citizen of this country.
About the Author

Follow on Twitter Visit Website More Content by The Washington Center