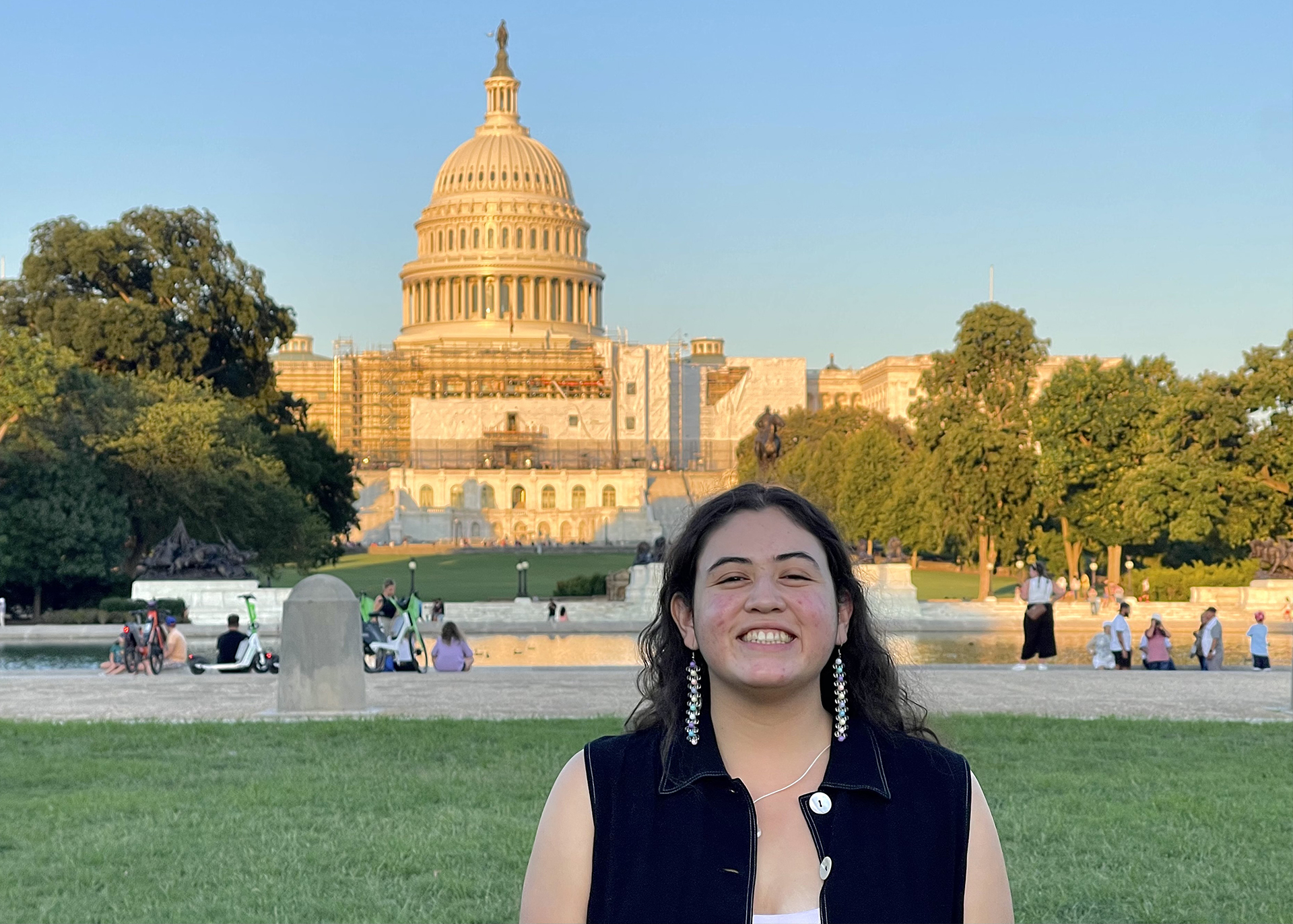 Northern Arizona University student Dayana Guzman interned at Jubilee Housing as a Resident Services Coordinator. Through her experience, not only did she provide support to residents, she gained valuable insights, fueling her career goals and future aspirations in social work.
Where did you intern and what were some of your responsibilities there?
I interned for Jubilee Housing as a Resident Services Coordinator. At Jubilee Housing, I worked alongside the other staff to host events for the residents, attended to the residents' needs, and gathered community resources for our clients. This included hosting senior workshops and check-ins, working on a resource guide, and engaging with residents.
Tell us about a project you worked on during your internship that was your favorite, the most challenging, or the most exciting.
The most challenging project I had to take on was translating a bereavement resource packet from English to Spanish. Although I am a Native Spanish speaker, speaking as a professional in Spanish was something I was never introduced to. It pushed me out of my comfort zone, but I enjoyed it. My favorite project was being able to host the senior workshops and shadow senior check-ins. It gave me the opportunity to build rapport with the residents and have fun with them.
How have you expanded your professional network during your time with TWC?
During my time with TWC, I have been able to talk to people with a diverse set of backgrounds and qualifications. For example, I have had the opportunity to talk with the other coordinators and realized that they are working as case managers without having a Bachelor's degree. I never imagined that as a possibility. Not only that, but I have been able to connect with a Teen Center Tutoring Coordinator, Director of Reentry Services, and a Policy Director for an arthritis foundation. Never did I think that I would be talking to people in different realms of the nonprofit world. I know that I could message these people at any time with a question and they would be more than happy to answer. That is something I never had accessible to me.
How has this experience impacted your career goals?
Being a part of TWC has given me the resources and practice I need to mobilize myself professionally. As someone who suffers from imposter syndrome, or feeling like I do not belong in these spaces, it is difficult for me to fully engage with pitching myself to others. The career readiness program and my internship have really pushed me to speak up, step out of my comfort zone, and take the steps to build my professional skills. The next step in my career goal is to get my Master's degree in Social Work and I know that I can use what I have learned during my time with TWC to get myself where I want to go.
The career readiness program and my internship have really pushed me to speak up, step out of my comfort zone, and take the steps to build my professional skills.

Dayana Guzman, Resident Services Coordinator intern at Jubilee Housing
What advice do you have for students considering an internship with TWC?
My advice to anyone who wants to do an internship with TWC is to learn time-management skills and practice self-care. Trying to balance an internship, classwork, and the career readiness program can be overwhelming. Because of that, finding a way to organize yourself and your responsibilities will be a great help. Also, burnout is real. Take a moment to practice self-care in a way that is most beneficial for you. Another piece of advice I would give is to have fun! Explore the city and take it all in.
To my first-generation folks, I would advise you to take up space. Do not feel afraid to make your presence known, to put yourself out there, and to let your voice be heard. I also want to remind you that you belong. Imposter syndrome is the worst, but do not let it win. You are already breaking barriers by pursuing a degree and advancing yourself. Remember, for many of our families, this experience is unimaginable. You have a lot to be proud of.
How did the support of the TWC Housing Scholarship expand your opportunity via TWC and career exploration?
In all honesty, I am in Washington D.C. because of the TWC Housing Scholarship. Without it, I would not have had the funds to take advantage of such a great opportunity. This scholarship allowed me to come to a city and part of the country that I have never been to. Now, I have built connections with several professionals from a different region and have gained experience in my desired field.
Let The Washington Center Help
Internships are one of the best ways to learn more about your industry, get hands-on experience under your belt and build a well-rounded skill set. As part of our Academic Internship Program, we partner with hundreds of internship sites, and will work closely with you to find the internship that best aligns with your career goals and interests. Learn more about the Academic Internship Program.
Learn more about the Academic Internship Program.
About the Author

Follow on Twitter Visit Website More Content by The Washington Center