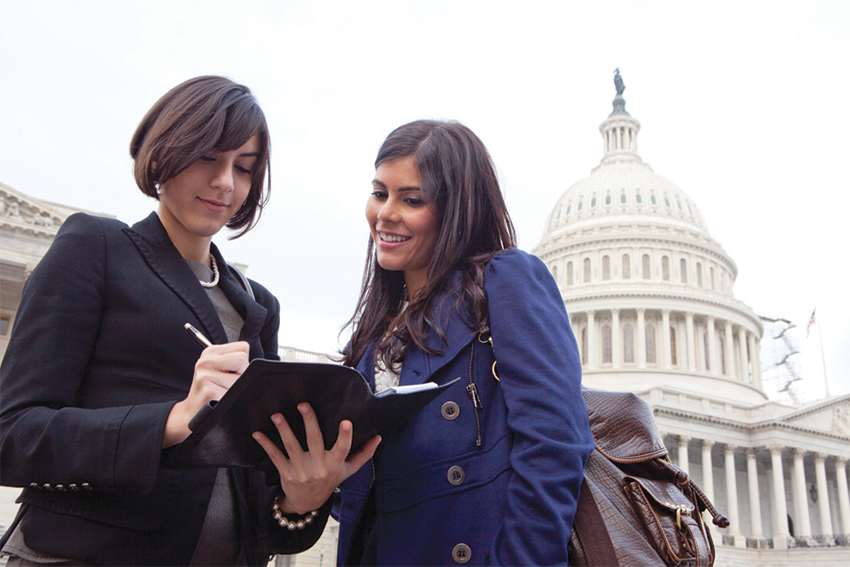 Students from 18 colleges and universities will discuss solutions to national policy issues.
WASHINGTON, D.C. – Eighteen colleges and universities will be sending students to the Inside Washington 2014 Academic Seminar in Washington, D.C., as part of a two-week program hosted by The Washington Center for Internships and Academic Seminars in partnership with the Bipartisan Policy Center. Students and faculty will study and discuss bipartisan policy, media and politics, in the city where history is made. Held from January 5–18, 2014, the academic seminar will provide a new forum for students to understand, debate and strategize bipartisan solutions for lawmakers in today's political climate.
"On the heels of one of the most talked about and criticized Congressional sessions, we recognize an opportunity to engage students and strengthen their faith in the political process," said Mike Smith, president of The Washington Center. "During the academic seminar, students will hear from prominent political leaders and work in groups to identify bipartisan compromises to the nation's most pressing policy dilemmas. Even though the complex issues such as immigration, environmental policies and the budget won't be solved in a week, we hope the academic seminar provides inspiration for our next generation of leaders to stay informed, make their voice heard and most importantly, help each one of them find common ground."
The academic seminar provides firsthand experience and perspective into party ideology through a combination of lectures from prominent guest speakers, panel discussions, site visits and small group dialogues. Students will hear directly from journalists, former members of Congress, think tanks and leaders of special interest groups. Speakers will include:
Howard Dean, Former Governor of Vermont
Tom Daschle, Former Senate Majority Leader
Michael Steele, Former Chairman, RNC; Former Lt. Governor, Maryland
Pete Williams, Justice Correspondent, NBC News
Candy Crowley, Chief Political Correspondent, CNN Anchor
In addition, students will also visit historic sites in D.C. and participate in guest lectures and special exhibits.
About The Bipartisan Policy Center
Founded in 2007 by former Senate Majority Leaders Howard Baker, Tom Daschle, Bob Dole and George Mitchell, the Bipartisan Policy Center (BPC) is a non-profit organization that drives principled solutions through rigorous analysis, reasoned negotiation and respectful dialogue. With projects in multiple issue areas, BPC combines politically balanced policymaking with strong, proactive advocacy and outreach. For more information, please visit www.bipartisanpolicy.org.
About the Author

Follow on Twitter Visit Website More Content by The Washington Center