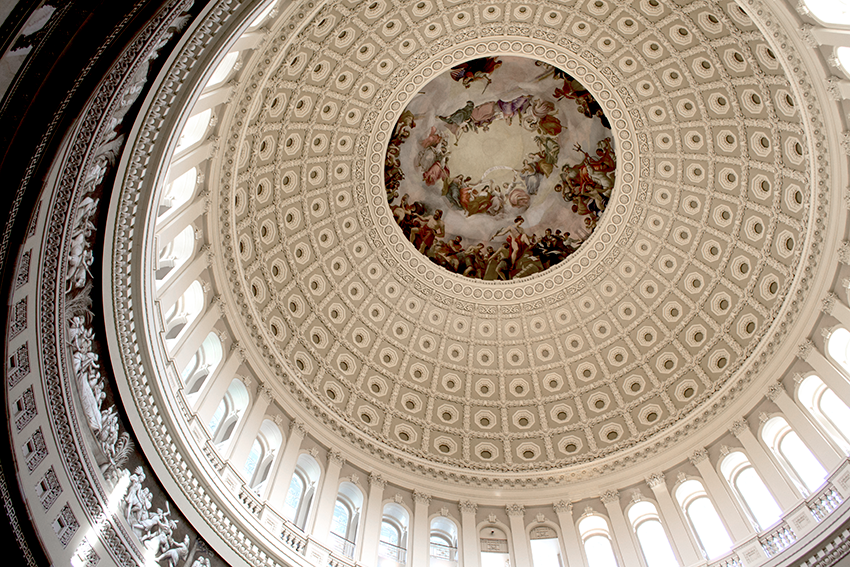 Capitol Hill is like a city within a city, distinct within the surrounding D.C. metropolitan area and unique in its culture, behaviors and lifestyle. It's marked by early mornings, late nights, unpredictable schedules and perpetual networking over coffee and happy hour drinks.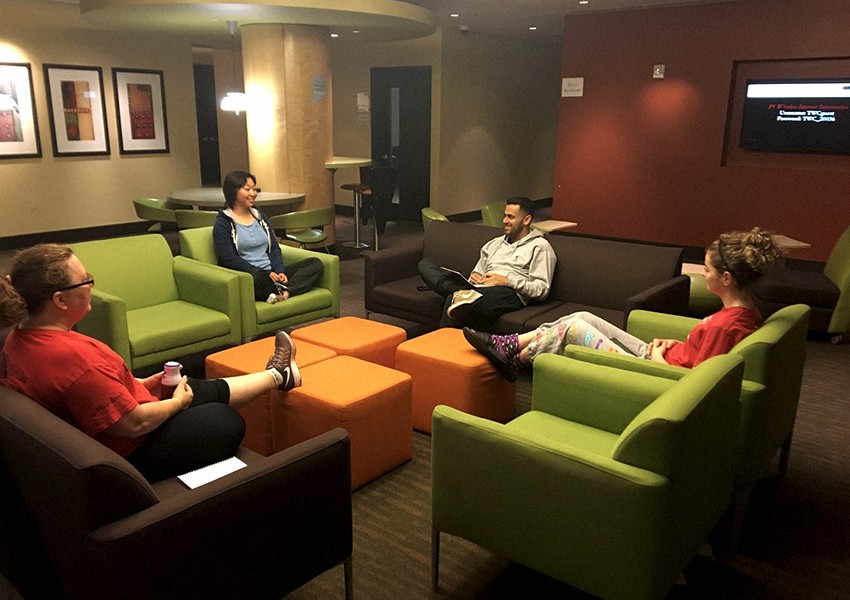 Each day feels like both a marathon and a sprint. Here's an example of what you could experience in just a week interning on the Hill.
Monday
The new week begins for me at 5:30 a.m. After ignoring my first few alarms, I finally get up, shower and throw on jeans and a T-shirt before heading down to the bottom floor of TWC's Residential and Academic Facility (RAF). Each Monday, a group of TWC interns and alumni mentors gather at 6:00 a.m. to talk about our past week's goals, discuss various leadership and personal development topics, and set new goals for the coming week. After about 30 minutes, we close out, and I head back to my room to cook breakfast, pack my lunch and get dressed for the day.
I head out towards the Hart Senate Office Building around 7:30 a.m., where I meet every week with one of my staff assistants to spend time reading the Bible and praying for each other, our office and our country. As a Christian, moments like this are a highlight of my week and put me in the right mindset to serve my office's constituents in the best way possible.
Most workdays are a combination of memos, letters, phone calls and briefings. Today, I create a memo describing the history of the Israel-Gaza Strip conflict, focusing on trade and border issues between the two locations and detailing recent developments. I also draft a letter to constituents addressing the issue of robocalls.
After completing these projects, sorting through constituent mail and grabbing lunch with a fellow TWC intern, I head over to Union Pub to grab a drink with Walker Gallman, a lobbyist I met at a networking event a few weeks ago. We talk about his time on the Hill and his current job, with sports talk thrown into the mix. He offers me great career advice, which is so valuable as I decide what's next after I graduate in May. Walker, who works at Heritage Action for America, offers to give me a quick tour of The Heritage Foundation, which I heartily accept before heading home, cooking dinner and spending about an hour studying for my TWC evening class.
Tuesday
Once again, 5:30 a.m. comes all too soon. After getting ready, cooking a breakfast of over-easy eggs, toast and hashbrowns, I head off to a 7:00 a.m. physical therapy appointment to help heal a shoulder injury I received during U.S. Marine Corps Officer Candidate School this past summer.
I typically arrive at the office around 8:15 a.m. because I like to be early and get a head start on the day. I sit down, look through emails and get to work cataloguing constituent calls, letters and faxes from the night before so that our office's legislative correspondents can respond on behalf of the Senator.
The morning is rather slow since I completed most of my assigned projects the day before, but things quickly ramp up around lunchtime as Senator McConnell announces that he is invoking the nuclear option to cut debate on presidential nominees from 30 hours to two hours. Upon hearing this, our legislative aide frantically emails us to start researching a handful of nominees to see if there was anything controversial in their background and report back to her every hour with our research so she could develop voting recommendations for Senator Scott.
After about two hours, things began to calm down again, leaving me just enough time to review a couple resumes with one of my staffers and submit a discussion post for my TWC evening class. After work, I head back to the RAF and have a quick meal before heading to my 3-hour evening class where we discussed the rise of fourth-generation warfare and counter-terrorism. Finally free from class at 9:00 p.m., I head back upstairs and crash for the night.
Wednesday
After waking up and completing my usual morning routine, I spend about 30 minutes reading through Scripture, listening to Christian worship music and talking to God. I leave a little earlier for work to meet a friend who interns for Senator Tim Kaine's office before going to the office. Having processed the mail earlier in the week, I now take all the letters from people requesting the Senator's help on resolving personal issues they've encountered with various agencies and businesses and send these to our office's casework coordinator.
Around 10 a.m., we begin preparing for our Senator's weekly constituent meet-and-greet, which naturally includes making and serving sweet tea. This week, it's my turn to make the tea, which arguably is the greatest honor an intern in a South Carolina office can have. As odd as it sounds, I take pride in my tea-making abilities and am still trying to arrange a taste-test competition between the office interns.
After an hour-long meet-and-greet where constituents get their photo taken with Senator Scott, we reset the office and return to work, which for me now means taking a group of 14 middle schoolers and one chaperone on a tour of the Capitol building. As a history buff, I thoroughly enjoy the chance to share the history of the building and its significance with constituents and other tourists, though the sheer amount of tourists we encounter in the Capitol during Spring Break season can be somewhat overwhelming...not to mention the cloud of Axe body spray that tends to follow large groups of middle schoolers around.
After the tour ends, I meet with our office's press team to review my resumes, get advice on the inner workings of the communications team and talk about shared interests like photography and speechwriting. We also have the chance to meet the Secretary of Transportation, Elaine Chao, shortly before her meeting with Senator Scott. After work, two other interns and I head off to a Washington Wizards game. While I'm not a huge basketball fan anymore, it's hard to say no to $10 tickets, and it ends up being a fairly good game and an awesome time.
Thursday
Once again I had physical therapy this morning before work. In addition to the routine duties of answering phone calls, I am asked to create a summary of the Federal Reserve's 86-page report on the Dodd-Frank Act Stress Tests. As someone who knows absolutely nothing about banking or finance, I am initially surprised by the tasking and unsure of where to start. However, I enjoy a challenge and the chance to learn, and quickly begin diving into the project, conducting research and talking with knowledgeable staffers whenever I had questions about the report's content.
As a history buff, I thoroughly enjoy the chance to share the history of the [Capitol] building and its significance with constituents and other tourists.

Tyler Hoover, Spring 2019 intern at Senator Tim Scott's Office (R-SC).
After a few hours of work on the project, I take a break to go visit Captain Mark Burns of the US Navy Office of Legislative Affairs. Captain Burns and I met a month ago at a Senate Armed Services Committee reception and he invited me to swing by his office to chat. After talking about our shared military and aviation interests, I have the chance to hear about his Navy career and transition into his current role, as well as ways that I can still work alongside the military as a congressional staffer since my shoulder injury will most likely prevent me from military service.
After work, I take the Metro over to Rosslyn, VA where I met with a couple guys from my small group at McLean Bible Church. Since moving to D.C., I've been attending McLean every week and wanted to get more plugged into their community; this was a great chance to hear about why they chose to attend McLean and how they established themselves in D.C. After we finish our meal at District Taco, I head back to the RAF where I spend a few hours reviewing job openings on the Hill and at a few contracting firms and think tanks.
Friday
As a TWC intern, I don't have to work at my internship on Fridays. Instead, I typically have my LEAD Colloquium class, which allows me to "sleep in" until about 8:00 a.m. Today, however, we don't have LEAD, so I take two other TWC interns on a tour of the Pentagon led by my uncle, who has spent the past 20 years working there for the Department of the Army.
After the tour, I headed back towards the RAF to cook lunch, stopping to get a fingerprint card completed for one of my job applications as a FEMA Corps Team Leader. After a quick lunch, I head down to the U.S. Senate, where I meet with a Military Legislative Aide named Rick Trimble. Rick used to be the military legislative aide for Senator Scott's office, and my office manager put me in touch with him due to my interest in military-related policy. I talk with him about his experience in the U.S. Army and now on the Hill, and he asks for my resume so that he can reach out to some contacts about possible job openings.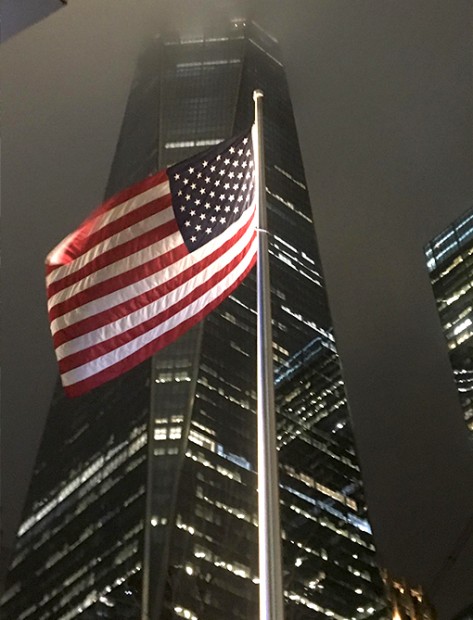 Finally, I wrap up the week by packing a bag and hopping on a MegaBus with two fellow interns for my first-ever weekend trip to New York City. After a few hours, we arrive in the city, swing by the 9/11 Memorial and head to our Airbnb in Jersey City, determined to take advantage of the weekend's respite before starting a new work week.
While it may not be fully accurate to claim that there's "never a dull moment" on the Hill, they are few and far between when working in the center of the U.S. government. Each day is filled with new challenges, experiences and meetings. One day you may be fielding constituent phone calls, and the next you may get to meet the Ambassador of Germany. It's up to you to make the most of the opportunities in front of you. If you put in the effort and strive to take advantage of each day, it will reward you in return, and you'll have the most unique and memorable internship in D.C.
About the Author

More Content by Tyler Hoover