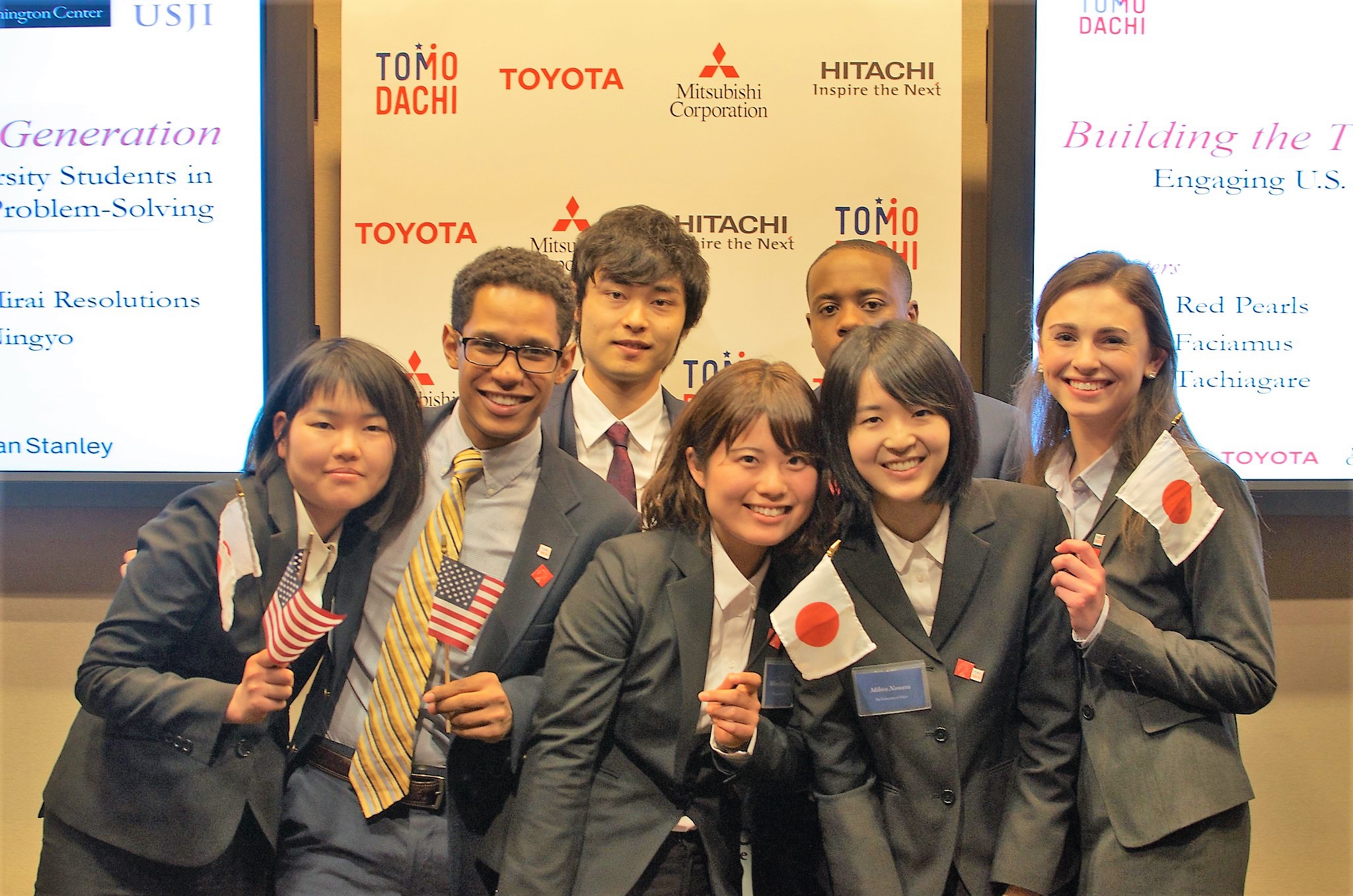 U.S and Japanese students presented their final projects – the culmination of learning acquired while participating in the Building the TOMODACHI Generation program – to an audience of students and thought leaders.
Five groups of U.S and Japanese students presented their final projects on Friday, Feb. 26 to an audience of students and thought leaders – the culmination of learning acquired in this year's "Building the TOMODACHI Generation" program.
Each presentation addressed continuing social challenges faced by regions of Japan that sustained massive devastation as a result of the 2011 Tōhoku earthquake and tsunami. Projects were designed to engage partners in corporate, government and nonprofit sectors who provide support for innovative solutions that meet regional challenges.
The projects were judged by a panel of international experts, who selected two teams - Ningyo and Tachiagare - as winners. Four Japanese students and three U.S. students from each of these teams will meet in Japan this summer to present their projects in the communities for which they were designed.
Ningyo's proposal seeks to restore the market for Hoya, a regional seafood delicacy. The industry was virtually wiped out by the tsunami and was a source of not only economic development but also cultural pride. Ningyo would give Tōhoku University students majoring in fish biology and ecology the chance to develop and deliver a curriculum to teach the children of Onagawa Junior High School about the industry and help them farm the Hoya.
Tachiagare's project provides an innovative strategy for recreating a sense of community among people who have been separated from their community of origin and are still living in temporary housing in the city of Kesennuma. Tachiagare proposes putting up large projection screens on the high sea wall to show movies, sporting events or local videos to restore a sense of community. Large community events will be held concurrently with these screenings, engaging local food vendors, musicians, artists and others to unite the people of the community.
Project judges included Katsuichi Uchida, president of the U.S.-Japan Research Institute, Mari Kuraishi, co-founder of GlobalGiving and Gerardo Funes, consultant in the Trade and Integration Sector at the Inter-American Development Bank.
The Building the TOMODACHI Generation program brings 20 university students from top Japanese universities to Washington, D.C., for a cross-cultural study opportunity that builds critical leadership skills. Japanese students and their U.S. counterparts also learn to develop cross-sector partnerships and use civil society as a tool to address social challenges that occur after a crisis or natural disaster. The two week program is generously supported by the TOMODACHI Fund for Exchanges donors, Toyota Motor Corporation, Mitsubishi Corporation, Hitachi, Ltd. and Morgan Stanley.
To view photos from TOMODACHI, click here.
About the Author

Follow on Twitter Visit Website More Content by The Washington Center