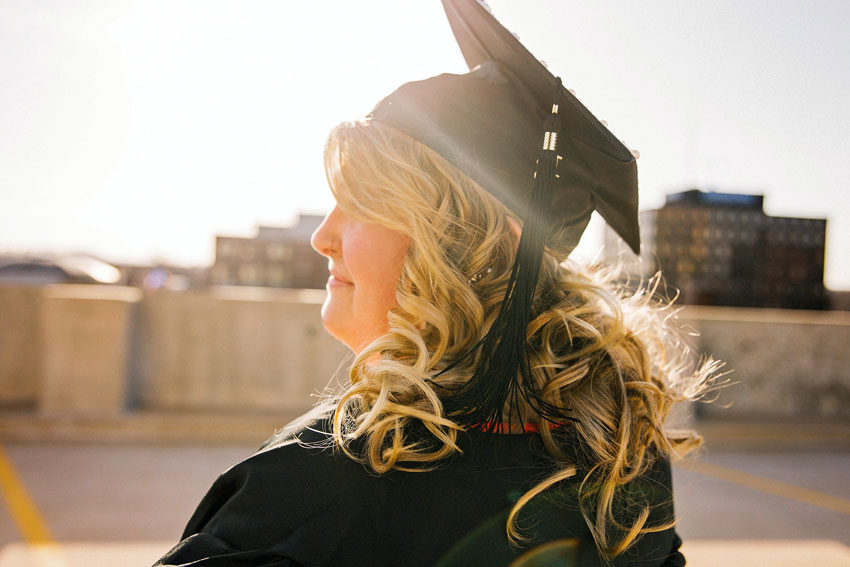 Landing a new position during a pandemic isn't ideal, but it's possible. We've outlined three ways to navigate a tough job market.
It's no secret: The COVID-19 pandemic has wreaked havoc on the U.S. job market. The unemployment rate has skyrocketed, reaching the highest numbers since The Great Depression. Millions of people have lost their jobs, and though the job market is starting to recover, only about half of those unemployed due to the pandemic have found a new job.

Simply put, this is not the easiest time to search for a new job or internship, and it likely won't get much better any time soon. This unprecedented pandemic has created some new job search barriers, including a shifting job market, increased competition for roles and a lack of in-person networking opportunities.
Don't lose hope, though. Hard does not mean impossible. Many companies are still hiring — some more than ever before! And because we want you to start off your career on a positive note, we've provided three strategies that will make you better equipped to successfully navigate this tough job market.
How to Navigate a Job Search in a Tough Job Market
1. Network, Network, Network
Whether you like it or not, who you know really does matter. It's estimated that professional or personal connections are responsible for filling 80% of jobs. And this was before the pandemic. With fiercer-than-ever job competition, this is even more important.
Networking can be pretty intimidating, but it's truly not that bad. When you break it down, networking is forming meaningful relationships with other human beings. And at a time when so many of us feel isolated at home, connecting with more people can be a good thing for our overall social wellness. Here are two main ways you can get started with networking.
Search on LinkedIn for people who work in jobs you'd like to have or companies you'd like to work at. Send them a message and ask if they'd be willing to chat.
Touch base with people you already know — parents, extended family, professors, former internship supervisors and colleagues or friends who may have graduated a few years before you.
No matter who you're speaking to, ask them more about their career path, their advice on certain industries and if they have any recommendations of other people you could speak with. Express what your interests are and the type of job you'd like to have.
The thing about networking is, it almost never yields immediate results. Resist the temptation to believe that every conversation will end with an offer. They most likely won't. But the truth is, you never know who someone knows or what priceless insights they have. For example, they may even be aware of an internship opening at a friend's company and might be willing to refer you.
2. Embrace Our New Virtual Reality
We thought we were living in a digital world before, but COVID-19 sure has exacerbated that. Since March, we've been thrown into a virtual existence.
Pre-pandemic, you could take advantage of career fairs in your area. Being able to bounce from table to table was a helpful way to learn about new companies and gain exposure to their workforce. With restrictions on in-person gatherings, these types of fairs aren't an option anymore.
But, as with almost every other type of experience, career fairs have gone virtual, too. Amazon, for example, recently hosted a virtual career fair in an effort to find employees for 33,000 jobs. You can find these virtual career fairs through a simple internet search, your college's career center or by keeping up with the social media channels of companies you admire. Sure, they're different, but they're still a great way to stimulate your job search.
If you decide to attend a virtual career fair — or if you land a Zoom interview — make sure you set yourself up for virtual success by doing the following:
Download any required software.
Test all the technology beforehand. Do your camera, speakers, and microphone work? If you plan on using headphones, do the test with and without them.
Make sure the lighting is good and you have nothing distracting behind you.
Video chat with a friend or family member and practice.
Dress the exact same way you would if you were interviewing in-person. Yes, you should change out of your sweatpants and brush your hair.
Inform everyone you live with that you have an interview so they don't accidentally interrupt you.
This all, of course, is in addition to the preparation you'd do for an in-person interview.
3. Be Flexible and Broaden Your Horizons
Those who navigate trying times most successfully are people who adjust quickly. You may have to change your original career plans, at least for now, and that's okay. Here are a few ways you can broaden your search:
Consider Applying For Remote Roles
So many different companies are open to hiring remotely now, meaning you can live anywhere in the country (and maybe even outside of it). Even if you think you'd prefer working in an office, this isn't necessarily the time to be picky about that.
Be Open to Relocating
Not all organizations want a distributed workforce. Some may be hiring remotely for now since in-person isn't safe, but they may want everyone to live near the office for when things return to "normal." Remember: Just because you move somewhere doesn't mean you need to live there forever. You may end up liking it, though.
Learn How You Can Leverage Your Transferable Skills
Since the job market has shifted, your desired industry may be very limited on job opportunities. For instance, let's say you got your degree in hospitality, which has been hit pretty hard by the pandemic. You can — and still should — try to get a job in the area you love. But, your search should also include jobs you qualify for in other industries. Hospitality skills transfer very well to customer service, a role that can be found at almost any company.
How The Washington Center Can Help
We partner with more than 400+ internship sites around the country, working closely with our students to find one that aligns with their career goals and interests.

We've designed all of our programs in an effort to set you up not only for a successful career, but for a smooth transition from college to the "real world." For example, some of our programs, like the Academic Internship Program, include career readiness tools and workshops you can take advantage of, like one-on-one advising, networking events and other professional development sessions.
Internships are one of the best ways to learn more about your industry, get hands-on experience under your belt and build a well-rounded skill set. Plus, they're a fantastic way to expand your network. You never know — your internship may end up hiring you full-time. Or, when it comes time to look for your first post-grad job, your internship supervisor could be a great person to reconnect with.

More good news: Many of our offerings now have remote work options, meaning you can take advantage of even more opportunities and you'll add a whole new set of "working from home" skills to your resume.
A great way to figure out which TWC program is the best fit for you? Take our quiz!
About the Author

Follow on Twitter Visit Website More Content by The Washington Center