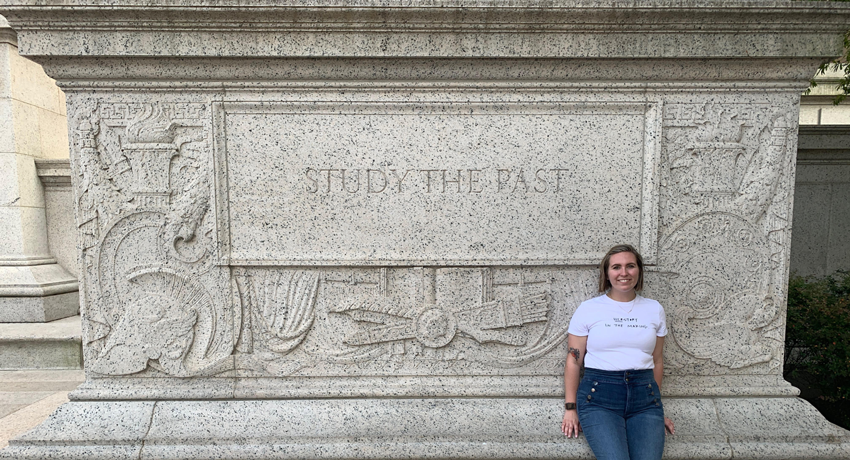 History major Josi Lieb had some initial reservations about her internship at the Lincoln Archives Digital Project, but it turned into an experience she wouldn't trade for the world.
Something you should know about me is that, other than history, I am passionate about the Cincinnati Reds. This year, after years of begging, my dad got us OPENING DAY TICKETS!!!! It was a historic opening day anniversary for the Redlegs, marking their 150 years as a professional baseball team. Anyways, about halfway through the fourth inning my phone was vibrating with a call from a D.C. number.
Heeding the advice of my TWC pre-arrival advisor about D.C. calls, I ran to the quietest place in the stadium to answer the call. In case you are wondering, the "quietest place" at Great American Ballpark was still extremely loud. But through the excited cheers of the game, I was able to feel the passion behind what would become my internship supervisor's voice in the words "Lincoln," "transcribing," and "hands on with historic documents."
That day was both a win for the Cincinnati Reds and for me! I found out I would be working was The National Archives. I was beyond excited to be working for a passionate history nerd, and in the same place where 'National Treasure' staged its historic heist. Before I left, my dad made me promise not to be too inspired by Nicolas Cage and only admire our founding documents.
For the Lincoln Archives, I am digitizing and transcribing documents about spies and guides from the Provost Marshal Office. I am going to take a few seconds to be harshly honest about my experience. At first, I hated it. Hated it. I didn't feel like spending eight hours scanning every day was exciting or beneficial. It doesn't matter what field you are in, scanning documents all day is boring. My supervisor felt my pain and understood that I was dying to be able to spend more time with each document. I wanted to know what they said and where they fit into the Civil War story that I knew. But, for the digitization process, scanning is a huge part and it just has to get done.
Once I was able to start the transcription process, I was having a complete blast! Being able to touch historic documents is ridiculous. I can't believe that I am able to be as up close and personal with these documents as I am. Being in their presence is an actual honor. These documents have taught me so much more about the Civil War than my high school history books ever could.
I can't believe that I am able to be as up close and personal with these documents as I am. Being in their presence is an actual honor.

Josi Lieb
They have also given me sympathy for my teachers. Some of the handwriting of these officers was horrible! I'm lucky to have a boss who didn't mind me asking for help every other word. It did get easier. Either the handwriting got better or my ability to read mid-nineteenth century script did.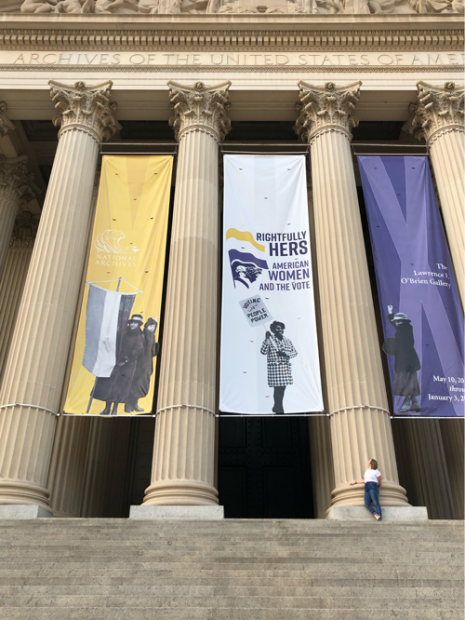 There are a few documents that I absolutely loved. One of them was an officer telling his superior that all of his men either got arrested or captured, didn't have accurate information, or ran off. The women mentioned in the letter, however, got the job done and didn't get arrested (imagine that). Another document started with "I am honored to inform you," and then proceeded to discuss all of the ways he completely failed his mission. Reading that document made me chuckle. It was funny to me that he was honored to inform his boss that he knew he was about to get fired. Finally, the document that I am currently transcribing is talking about how a high ranked officer was embezzling funds. Oops.
Now that I am a couple weeks away from being reunited with my dog, dad and fellow ONU Polar Bears, I know that I wouldn't trade this experience for the world (yeah, even the scanning part). The transcription process brought out my God-given gift of being completely passionate about American History. It reminded me that I want to spend the rest of my life in contact with historic documents and sharing the stories that rest on their pages.
This was a huge stepping stone on my path to my future career. Going into my junior year of college, I will keep this experience in my heart as I pour into my academics and prepare for graduate school. One day, I'll look up at my Ph.D. in history hanging on the wall and smile as I remember all of the wonderful experiences and opportunities that put it there.
Now, if you'll excuse me, I'm gonna steal the Declaration of Independence.
About the Author

More Content by Josi Lieb