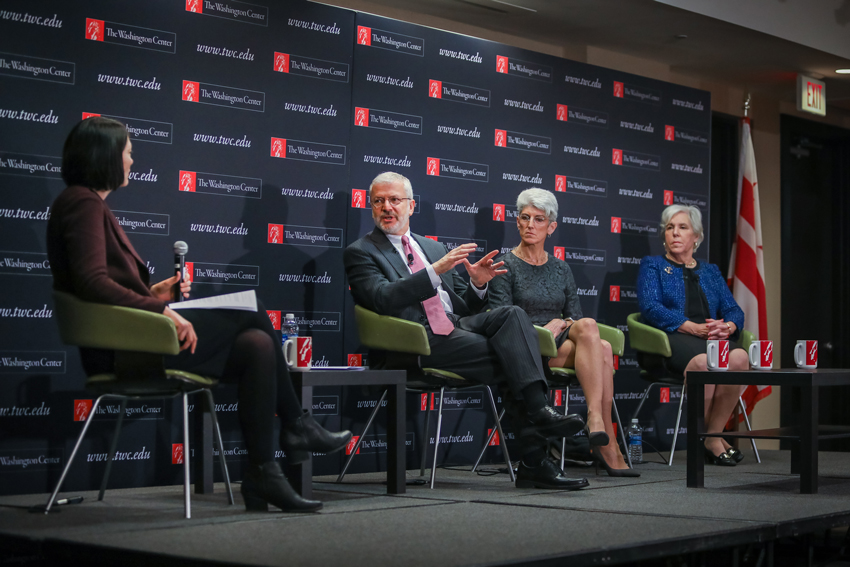 The Washington Center hosted the final installment of the Simpson-Mineta Leaders Series of the fall 2016 semester on Friday, Nov.18.
The Washington Center hosted the final installment of the Simpson-Mineta Leaders Series of the fall 2016 semester on Friday, Nov.18. CSPAN will later air coverage of the lecture series.
Friday's SMLS dug deep into the state of the post-election White House transition, breaking down what has so far been a chaotic scene at as President-Elect Donald Trump prepares to take power in less than 10 weeks. Friday's panel provided key insights into the challenges the transition team will face and mapped out the steps that Trump's team must take to ensure a smooth transition.
Panelists included:
Martha Kumar, Director, White House Transition Project

Lisa Brown, former Agency Review Co-Director, Obama - Biden Transition Project

Joshua Bolten, former White House Chief of Staff, George W. Bush administration
Senior POLITICO Reporter Nancy Cook moderated an introductory discussion, then turned things over to students, who engaged with panelists in a Q & A session.
Some of the highlights:
Paige Niler (Institutions: Emerson College; Internship: The Sierra Club) What are the chances of several positions remaining unfilled on inauguration day? Will this dysfunction trickle down throughout the federal government?
Brown: There will most certainly be vacancies, but a government can still function without every single post filled. No matter how organized you are there will be some spots open on January 20. During the Obama transition, we had what was considered a very organized transition, but there were still positions that remained unfilled for quite some time.
Bolten: It becomes incrementally harder for the president to manage the government if there are vacancies, so it should be a priority to fill those as quickly as possible. While there are 4,000 presidentially appointed positions that are very important, you have to remember that there are still 4 million full time government employees whose job it is to keep things running.
Kumar: Knowing that everyone can't get confirmed right away, you have to consider your priorities. You focus on positions throughout the government that are key to what you want to accomplish first. For example, the Reagan and Obama administrations made it a priority to first appoint people who could help navigate the tough economic climates that either president inherited at the outset of their terms.
Ashley Sherman (Institution: Texas Christian University; Internship: The American Conservative union) The Constitution was written so that the executive branch wasn't an ultra powerful branch. With people being so concerned about the potential instability caused by a Trump presidency, is this a sign that the White House has grown too powerful?
Kumar: The president is the only nationally elected official we have. One of the things that has happened over time is the nationalization of problems, meaning the president takes the lead on major issues while Congress represents the concerns of their own constituents. If you were to ask presidents if they had too much power, they would say they don't have enough.
Megan Romero (Institution: University of Central Florida; Internship: Center for Naval Analyses) What impact did 9/11 have on presidential transitions?
Bolten: It had an enormous impact. President Bush was very concerned about the threat of another 9/11 type of event happening during the transition and he made it a top priority to reform the way we handle the change of power. The transition between Bush and Obama was the first time in modern history that the homeland was perceived to be under threat during a change of power.
About the Author

Follow on Twitter Visit Website More Content by The Washington Center