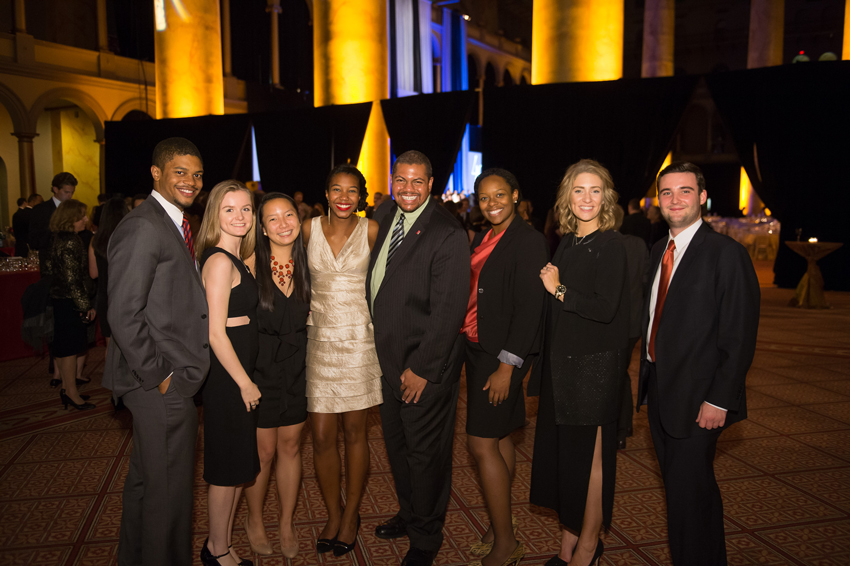 The Washington Center commemorated 40 years of transformational higher education at this year's annual Gala: 40 & Forward.
The Washington Center commemorated 40 years of transformational higher education at this year's annual Gala: 40 & Forward.
This year's Gala raised nearly $500,000 for student scholarships that will be offered for hundreds of students throughout the 2015-2016 academic year. Serving as master of ceremonies was Teresa Rodriguez, host of Aqui y Ahora on Univision.
"It's such a pleasure and an honor to be a part of this event and support future generations, while also celebrating the achievements of previous generations," she said.
The audience – which included more than 50 TWC alumni and representatives of more than 30 colleges – also heard from several distinguished leaders whom TWC honored for their commitments to leadership, professional achievement, civic engagement and lifetime achievment.
U.S. Sen. Bill Nelson (D-FL) spoke about the importance of internships to his own remarkable political career as he accepted the Pillar Award for Professional Achievement.
"I had the unusual and extraordinary experience of seeing the earth from space. There was one thing on my mind when I looked down and saw our home from thousands of miles above the earth: You can't see the divisions that define our existence. Political divisions, ethnic divisions – they're not there. That's what drives me to support the things that bring people together and push each other to be the best at what we do."
Before each award was announced, TWC President Mike Smith recognized each decade of TWC history by recognizing the alumni from each decade. The following honorees from each decade were recognized:
Hon. Dennis Cardoza '79
Nancy Jacobson '82
Hassan Tetteh '93
Kristin Soltis Anderson '05
U.S Sen. Roy Blunt (R-MO) received the TWC Pillar Award for Leadership in recognition of his two decades of work on behalf of his state's families in Congress. Megan Goosey, a student at Drury University where Sen. Blunt once taught as a professor, presented the award.
"Today before I came here, I asked my staff of 50 people if they ever had an internship in college. Every one of them said yes. It doesn't need much more explanation than that – if you want to find a career and know for sure if it's something you want to be a part of it, internships are the only way," he said. "Institutions like The Washington Center provide that bridge of opportunity for so many like Megan to follow their dreams."
Juan Verde, president of the Advanced Leadership Foundation accepted the Pilar Award for Civic Engagement. Verde moved the crowd by sharing his personal story. As a young immigrant to the U.S, Verde relied on his passion for education and the support of many to rise as a thought leader in education.
"Like many, I came here with no possessions, but big dreams. I was fortunate to have a great internship in Washington that helped fuel my passion. Now, I am lucky enough to say that I can be here and be a part of watching generations after me find the same passion I did."
The Hon. John Dingell, who is the longest serving U.S Representative in the history of Congress, received TWC's lifetime achievement award. Although Dingell was unable to attend, former U.S Secretary of Commerce and Secretary of Transportation Norman Mineta accepted on his behalf.
As a parting gift, Karen Price Ward '92 vouchers of Southwest Airlines presented two random attendees at each table with a voucher good for any of Southwest's 94 domestic destinations and 6 international destinations. Southwest is the official airline of TWC.
To view photos from Gala 2015, please visit the Flickr gallery.
About the Author

Follow on Twitter Visit Website More Content by The Washington Center