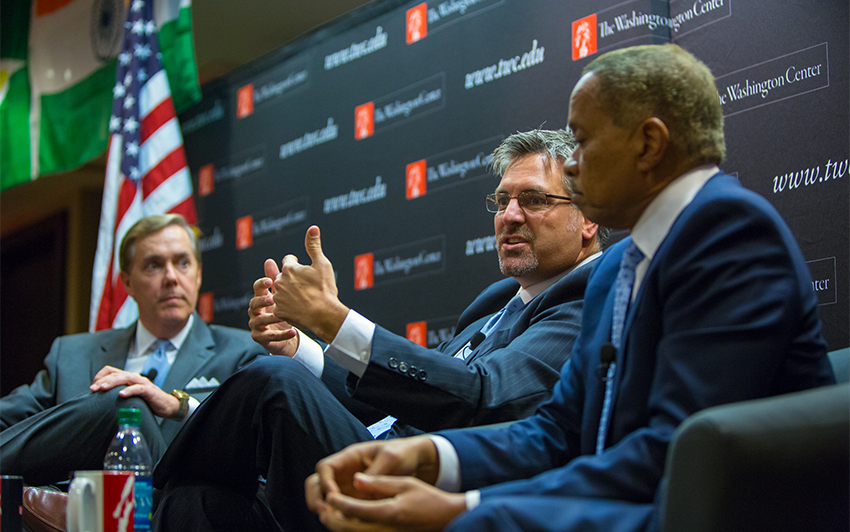 The final installment of the fall 2014 Simpson Mineta Leaders Series on Nov.17 featured voices not typically heard in Washington's political fray: Those from the middle, not the fringes
Juan Williams, a political analyst for Fox News, and Stephen Hayes, a senior writer at The Weekly Standard engaged in a dialogue about the state of Congress and Barack Obama's presidency on the eve of the Republicans' takeover of the house and senate in January. Steve Scully, senior political editor for C-SPAN, moderated the discussion. Hayes and Williams come from different sides of the spectrum; Hayes a conservative and Williams more liberal, despite working for the right-leaning Fox News.
One of the biggest stories of the 2014 midterm elections was voter turnout – or lack thereof. Americans voted at their lowest level since 1942. Most disappointing, Williams says, is how few young voters – who were so prominent in Obama's presidential elections – made their way to the polls in 2014. "Only 13 percent of young people turned out to vote this year, the biggest drop of any demographic group between 2012 and 2014. You should be celebrated if you did vote," he said.
To gauge apathy among the young voters in The Washington Center's Blinken Auditorium, Scully randomly selected students and asked where they think Washington has gone wrong. MacKenzie Mahoney, a student at the University of Massachusetts – Lowell and an intern at the National Defense University, spoke of her disapproval of a broken Congress.
"It's not in the best place right now - the dichotomy between Republicans and Democrats is preventing us from doing what we can do," she said. "People need to realize that no matter where you are on the political spectrum, there's always going to be someone that disagrees with you."
On the other hand, Leah Schwarting, a student at Florida Southern College and an intern at Talk Radio News Service, said the media's focus on voter apathy could backfire.
"It's discouraging to hear people say that because turnout was low, somehow my vote isn't significant," Schwarting said. "I feel like my vote is being trivialized."
After the discussion, students in the Advocacy Service and Arts program took part in the first Campus Change Fair, at which they presented action plans designed to address pressing public issues such as health care and education.
About the Author

Follow on Twitter Visit Website More Content by The Washington Center