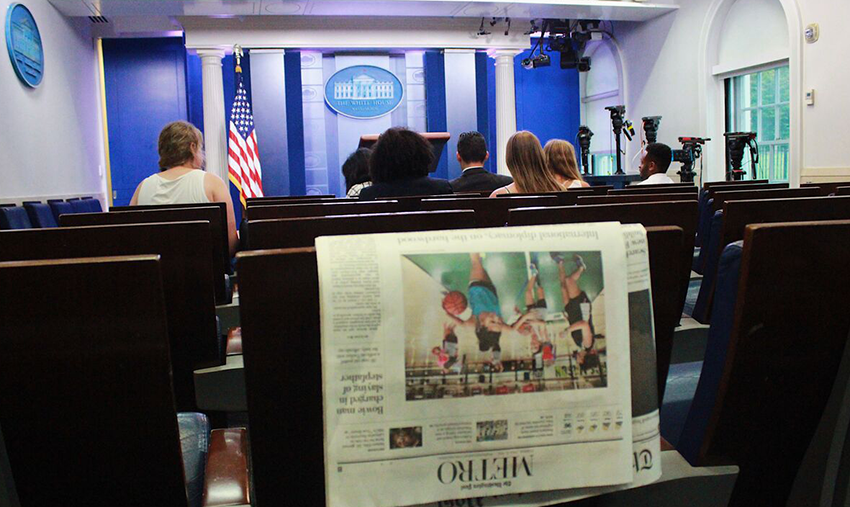 For ordinary viewers, Meet the Press is merely the title of America's longest-running news series. For TWC's students, it describes their opportunity to interact with some of the most storied names in American journalism.
Thanks in great measure to C-SPAN's Steve Scully and his course "Mass Media and American Politics: From Campaigns to Governing," these students were not only able to learn firsthand about media and communications from one of Washington's ablest practitioners, but take part in unforgettable happenings available exclusively in the nation's capital.
Like any experienced teacher, Scully had a rigorous syllabus prepared which included a number of required texts, assigned papers and vigorous class discussions. But how many other teachers can possibly say that they can arrange for their students to meet the very subjects of their books, papers and discussions? Indeed, many of the students ended their D.C. summer with once-in-a-lifetime experiences. In the first instance, John Dickinson spoke with the students about his book Whistlestop, a collection of presidential campaign anecdotes and among the students' mandatory reading. According to Scully, their conversation "was a free-flowing 75 minute Q & A that really gave 'texture and depth' to his work...It was a 'win-win' because in this case, John was thrilled to talk about his book…and the students benefited from his keen insights and amazing stories. When the class ended, John stayed to answer some one-on-one questions, take selfies. The students, to a person, were thrilled to have the experience."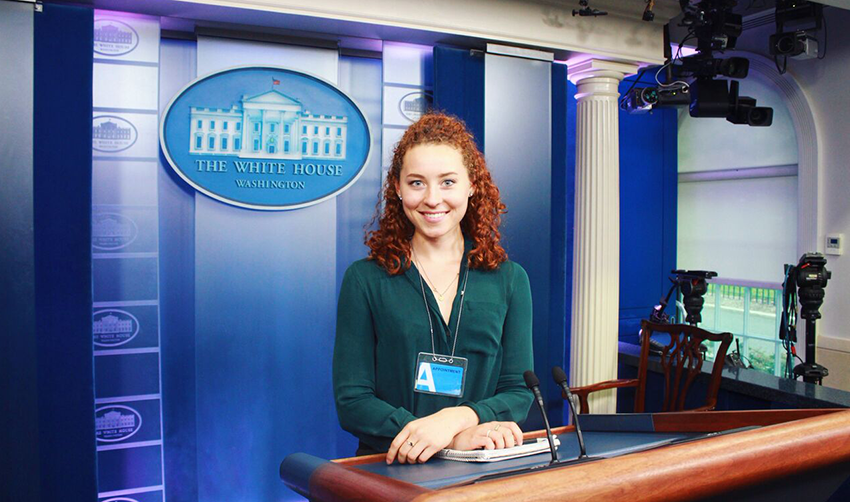 Continuing to pair the written word with the lived experience, Scully's students had a similar meeting with Brian Fallon, the press secretary for Hillary Clinton's 2016 presidential campaign. This was in conjunction with their reading of Shattered: Inside Hillary Clinton's Failed Campaign, a title leaving many open questions which the students were quick to seek answers to from one of the campaign's most central figures. According to Scully, "[Fallon] stayed nearly two hours, giving the students his honest, inside account of why Clinton lost, lessons learned, and key insights from his campaign experience."
For some students, the highlight of the term was their tour and subsequent class inside the famed Brady Press Briefing Room in the West Wing that is used by the White House Press Corps. After all, as Scully put it, "One aspect of my course is to better understand the relationship between the press and the presidency. So, if you are going to teach that, why not go to the epicenter of that relationship." At the White House students spoke with Deputy Press Secretary Lindsey Walters about her experience in the press before coming to the Trump Administration. They were then joined by two of the most famous names in the business – CBS's Major Garrett and CNN's Jim Acosta -- to discuss the nature of the free press in 2017.
Several students came away from the class with not only generous words for Scully and fond memories of their experiences around Washington, but also with nuggets of wisdom for any student interns also interested in media and communications coming after them.
How many other teachers can possibly say that they can arrange for their students to meet the very subjects of their books, papers and discussions? After taking Steve Scully's course, many of the students ended their D.C. summer with once-in-a-lifetime experiences.
Kyle Abbott, a student at the University of Cincinnati, had several favorite moments, among them the ability "to go to the C-SPAN building to take an inside look at how a news outlet delivers the day's top stories to its viewers." He also lauded Scully himself, saying, "Steve has a wealth of information and first hand experience, and is quite a pleasure to listen to. [He] has done more than teach a course, he has shaped young adults into informed professionals and influenced those who will lead the political media industry in the time to come." As for advice for future TWC participants, he recommended "taking every networking experience given to them. Being successful in the media and political industry is quite dependent on who you know. Had I not networked like I did during my time in Washington, D.C., I would not have had half of the experiences I did."
Victoria Bolger, an Elon University student, pointed to two favorite "only in D.C." moments. "It was an amazing experience to talk with Brian Fallon, Hillary Clinton's press secretary," she said. "[Fallon] discussed details from the election night, which was cool to hear first hand...We [also] got to go into the White House and the Brady Briefing Room." Her guidance to students interested in media and communications hammered home Abbott's same theme: "I would say make sure you keep in contact with the people you meet. It's one thing to introduce yourself, but it's another to follow up and keep that connection going while building your network."
With the skills and experience Abbott, Bolger and their fellow classmates learned in only a matter of months, it will not be long before they themselves are the press whom future students will have the opportunity to meet.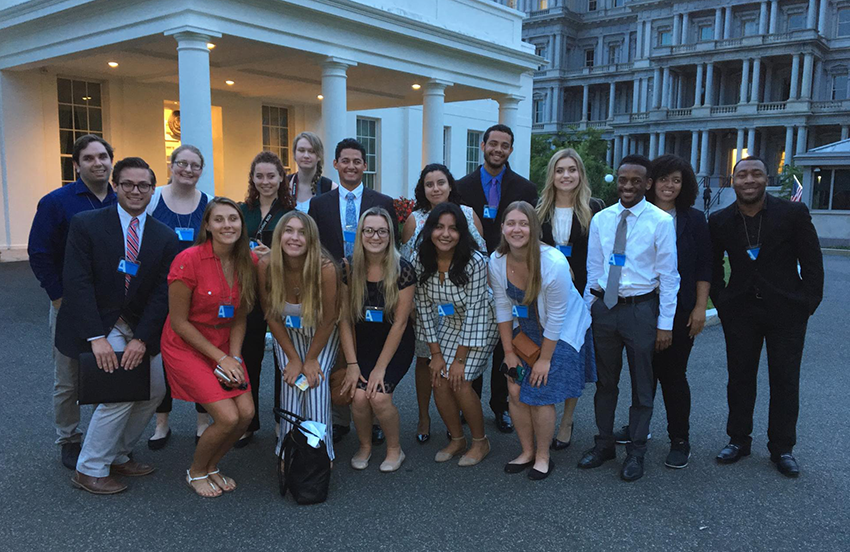 About the Author

Follow on Twitter Visit Website More Content by The Washington Center