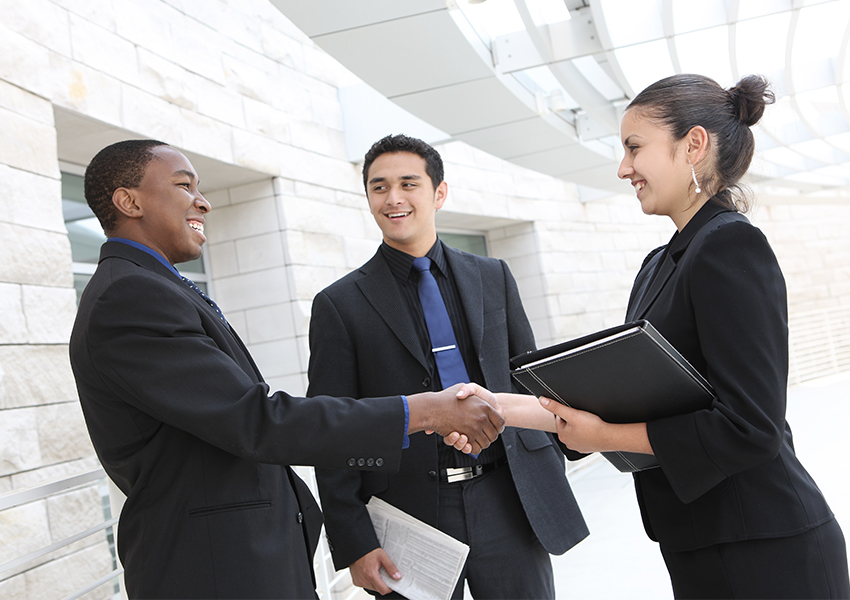 Washington, D.C. is a networker's paradise. Opportunities to meet or get together with other professionals are everywhere. On any given day, there are special events, lunches, happy hours, etc. to choose from, each focused on placing people into proximity for the sole purpose of meeting and learning from one another.
To nurture your flourishing career, there's no other aspect of professional development that provides as much value to your post-college career than networking and no place better to network than D.C. Here's why.
D.C. thrives on networking
Washington, D.C. is built upon relationships developed by networking. Those handshakes, business card exchanges and small talk with strangers about who you are and what you do that are the foundation to constructing your professional network. People want to network with (and have in their network) good, reliable contacts. Those who are in it for the mutual benefit, not for self-promotion. The truly valuable connections will lead to a second meeting where people have a more thorough talk over a coffee, cocktail or lunch.
D.C. networking is an investment
Though it is only one avenue of career development to examine, networking is one of the best undertakings a young professional can make and there's no better city to do that than Washington, D.C.
Deliberately making professional connections could very well be the step that leads to a first job, but certainly will be important for that third or fourth stop on the trajectory of a chosen career.
Any time invested in getting to know a person here could prove integral. Whether it is to get a job or to do it well, a network is essential to your success.
D.C.'s most prominent industry shapes everyone's networking
Not everyone in D.C. is involved in politics. Though it is undeniably the most prominent industry in the nation's capital, a great many of the professionals in town are not working in that realm. Politics does, however, drive a consistent tide of new people and ideas into D.C. following each election cycle. As a result, D.C. is a renewing, often youthful city. Each iteration infuses the city with a zeal to connect and learn. Another bonus is there's always a fall back topic that everyone here can discuss. Even if their job is absent any political responsibilities, someone in their family, friend or network is immersed in it and they have an opinion to share about it.
D.C. has got your networking covered, wherever you belong
D.C. is awash with think tanks, nonprofits, associations, clubs, colleges, meetups, coworking, volunteering - any niche you can imagine is available and open for exploration. There's even a networking group focused solely on networking! Each entity has its own networking event schedule. Also, organizers of these networking events are well-connected and usually open for volunteers to work the event, which they fold into their networks for introductions.
D.C. appreciates authentic networking
There tend to be some misconceptions as to what networking is all about. The act of networking may appear transactional, but it is not to be diminished or done selfishly here. Remove the notion from your mind of a disingenuous, cutthroat schmoozer looking to use others to their advantage. That person may be around - the type that is always looking over your shoulder for a bigger fish or looks for how you can help them without helping you - but they are discovered and dismissed. D.C. functions due to its networks. Thus, it is important that connections in an individual's network be trustworthy because it reflects back on that person and their reputation.
The saying "it's not what you know, but who you know" breathes D.C. air.
Through all the turnover D.C. experiences, the pursuit of connecting and helping remains constant. As long as new people arrive periodically, that desire will reverberate.
It is up to you to capitalize on this unique opportunity and extraordinary city. Be collaborative, even when you are just starting out. You have growth potential. Go out of your way to make connections, be trustworthy and helpful and your network will pay it back, over and over.
About the Author

Follow on Twitter Visit Website More Content by The Washington Center