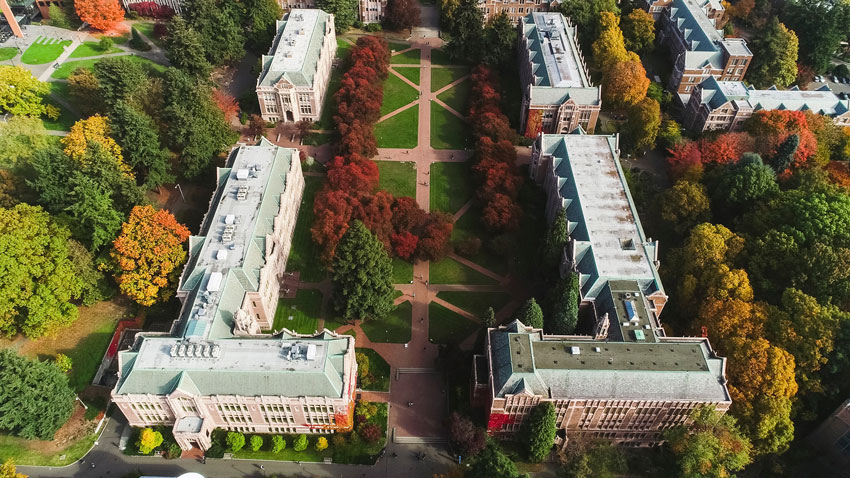 A virtual internship through The Washington Center provided vital career experience and immense personal and professional growth.
Hannah Jacobson, a political science student from the University of Washington, spent this past summer interning at the Turkish Heritage Organization through TWC. She sat down with us to talk about her experience and what makes a virtual internship challenging but rewarding. Responses have been edited for length and clarity.
What were some of your responsibilities at your internship?
During my time at the Turkish Heritage Organization, I had a multitude of responsibilities ranging from assisting with data management to creating social media content, writing articles and completing more substantial research projects.
I really enjoyed having a dynamic role within my internship -- it helped me feel like the work I was doing was relevant to my career goals.
Can you share tips on how to prepare before starting a virtual internship?
Making a space in your home that is exclusively for working is one of the most important things you can do. I promise you, it will do wonders for your sanity as working from home has a tendency to muddle the lines between your work and personal life. Having this separation helps restore this balance, making it easier to stay motivated and productive.
Also, it is never too early to communicate with your supervisor. Let them know if there's something going on in your life that may cause disruptions to your internship or make you unavailable during certain times. Being open at the beginning will help you avoid misunderstandings concerning your commitment to your internship and give you a road map for how to address problems as they arise.
What surprised you the most about doing a virtual internship?
I was most surprised by the opportunities within a virtual internship. With everyone at home, transportation and geographic separation have become nonfactors. People are more willing to have discussions and collaborate on projects with fewer logistics to consider.
For me, this meant that I was able to meet and work with an incredibly diverse group of people. Had this been under normal circumstances, I never would have gotten to work with some of these great people.
The most transformative thing I learned during my time with TWC is to see the possibilities within the chaos.

Hannah Jacobson
Now that you've gone through the experience, why is it important for college students to participate in internships (even if they're virtual ones)?
Now more than ever, it is important for college students to be participating in internships. These experiences help develop crucial professional social skills and provide insight into one's chosen career path. Within the current global context, a virtual internship program is just as valuable, if not more so, than an in-person internship.
In a virtual environment, it is an extra effort to collaborate and communicate ideas effectively while expressing your personality and building social bonds. From practicing this, you become more equipped to navigate communication challenges and avoid misunderstandings at a much faster rate than you would have with an in-person internship program.
With a virtual internship program you are still gaining vital career experience. You develop a better understanding about what you value from your career and work environment. The pandemic has permanently changed the way we will work, and a virtual internship is an opportunity to embrace these changes and use them to propel you forward.
How have you built a professional network for future career opportunities? Share your best networking tip.
While it may sound cheesy, the best networking tip I could give is to be yourself. If you are confident about your interests and who you are, opportunities will appear if you make the effort.
As you talk to your coworkers or supervisor they may know of an organization or person related to your career path. This may be an opportunity for an introduction or simply a new direction to explore. If you find someone you would like to talk to, do not hesitate to write an email even if you have no previous connection to them. The professionals in your field are people first, and authenticity goes a long way.
What advice do you have for other students considering an internship with TWC?
Participating in an internship program, particularly a virtual one, is not easy. Your internship experience will be exactly what you make of it. If you approach this internship opportunity with an open mind and a willingness to embrace its challenges, your time with TWC will be a period of immense personal and professional growth.
The most transformative thing I learned during my time with TWC is to see the possibilities within the chaos. The heaviness of everything going on in the world can be overwhelming. However, TWC can offer a new perspective and show you that there are opportunities to move forward if you are willing to see them.
About the Author

Follow on Twitter Visit Website More Content by The Washington Center