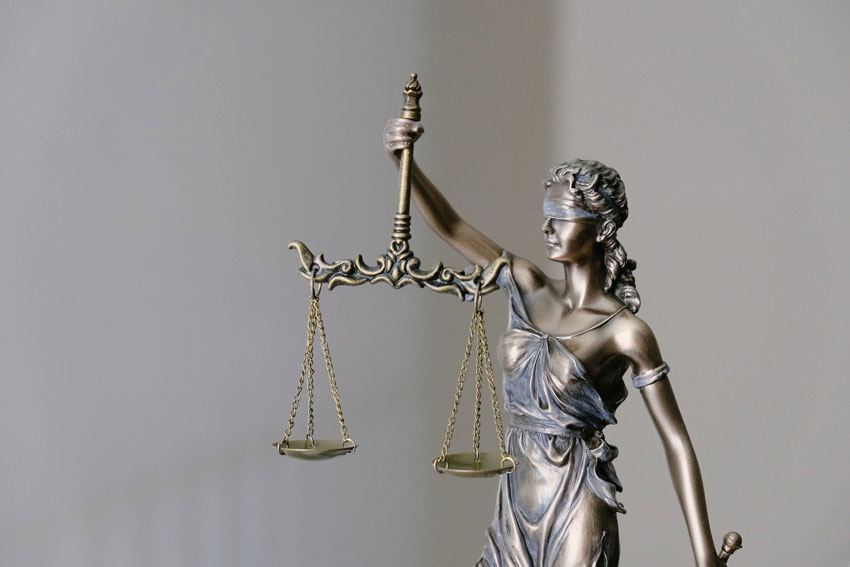 If you're looking for careers in criminal justice, you're not limited to becoming a police officer. Here are some other, lesser-known options.
When you tell people you're studying criminal justice or you're interested in the field, chances are, they're going to assume you want to become a police officer or a crime scene investigator — you know, someone right off the set of "CSI."
Those are certainly both valid career paths for criminal justice majors (both outlined below), but there are so many more options out there, especially in the worlds of advocacy, research and policy.
6 Careers in Criminal Justice For Recent Grads
Whether you're a criminal justice major or want to break into the field (no pun intended), here are some careers in criminal justice you can pursue — some traditional and others perhaps a little lesser known.
1. Law Enforcement Officer/Agent
Law enforcement — particularly local law enforcement — is one of the more well-known fields within criminal justice, and it refers to front-line criminal defense workers, like police officers.
Police officers respond to emergency calls, patrol specific areas for crime and make arrests. There are also opportunities to engage with the community by hosting neighborhood barbeques or volunteering.
Additionally, there are a number of other jobs within law enforcement. You could become a conservation officer (or fish and game warden), corrections officer, K9 officer or even a park ranger.
Pros and cons: Jobs within law enforcement can be high pressure, though rewarding. Unfortunately, the pay isn't always the highest. Glassdoor reports the average base pay for police officers in the U.S. is a little under $50,000, and for rookie police officers, this will likely be lower, depending on where you work.
How to get started: If you want to become a police officer, you don't always need a four-year degree, though it's welcomed. Requirements ultimately vary by city, but typically you have to pass a background check, psychological evaluation and a licensing exam.
If you're looking for a rewarding career in criminal justice, you're not just limited to jobs within law enforcement. Hear directly from professionals in the field and learn more about criminal justice careers in advocacy, policy, research and the private sector.
2. Counselor or Advocate
There are plenty of opportunities for criminal justice majors to become a counselor or advocate. Some of these options include:
Youth correctional counselor
Substance abuse counselor
Victim advocate
Probation or parole officer
A victim advocate, for instance, provides counseling to victims of crime and helps them develop exit strategies. They may hold support groups or serve as a case manager. A parole officer typically works with people who've been recently released from prison. Their job is to help them successfully reenter society.
Pros and cons: Although these can be difficult jobs and emotionally challenging, they can also be extremely rewarding.
How to get started: In many instances, you'll need a four-year degree in criminal justice, sociology or psychology. You can find these types of jobs at prisons, mental health centers, probation agencies, treatment centers, nonprofit and government agencies or private practices.
There are plenty of internship opportunities in this sector of criminal justice, too. Florida State University student Hunter Johnson spent a semester with the National Legal Aid & Defender Association (NLADA), a nonprofit that advocates for equal justice for all Americans.
3. Criminal Law
As a criminal justice major, you also have the opportunity to enter into the field of criminal law. Sure, you can go to law school after graduation and become a criminal law attorney, but you could also become a paralegal, court reporter, court administrator or bailiff.
As a paralegal, you'll assist attorneys by filing legal documents, joining them to court, editing briefs and conducting research.
If you want to work as a court reporter, administrator or bailiff, you'll likely be employed by the government and spend time in the courtroom. A bailiff, for instance, is responsible for maintaining order in the courtroom. A court administrator keeps records, tracks trial dates and manages the overall operations of a courthouse.
Pros and cons: Although working in criminal law can be high pressure, you have the opportunity to help other people. Plus, you can work in the legal world without going through law school.
How to get started: Although these jobs don't always require a four-year degree, a bachelor's in criminal justice can help. Many of these jobs require training, though if you'd like to become a court reporter you'll likely need a certification. Specific qualifications ultimately vary by state.
If you think you may be interested in going to law school, it's always worth taking on an internship to help you make that big decision. That's what Thomas Delany did. A student of Stockton University, he interned with a small law firm in D.C. which reinforced his decision to pursue law post graduation.
4. Homeland Security Professional
The U.S. Department of Homeland Security (DHS), based in Washington, D.C., is responsible for the country's security. It was established in response to 9/11, and jobs within homeland security run the gamut — from cybersecurity, aviation security, border security, port security and maritime security.
Although some homeland security jobs are available outside the U.S. government, the DHS employs more 230,000 employees. In fact, it's the third largest department in the U.S. government.
Within DHS, you'll find 22 components (or divisions). These include FEMA, U.S. Customs and Border Patrol, Transportation and Security Administration (TSA) and Federal Air Marshals.
Pros and cons: There can be a number of upsides when it comes to working for the U.S. government, including good benefits, good pay and good job security. Additionally, these jobs are located across the country — not just D.C. On the other hand, depending on your department, you may face long hours or weekend, evening or holiday shifts.
How to get started: The DHS offers a number of internship, fellowship and training opportunities for college students and recent graduates. For example, Nicole Garcia, a student at Florida State, got an internship at the Department of Homeland Security through The Washington Center. Through this experience, she attended an event at the FBI Headquarters, assisted with a human-trafficking awareness campaign and she even traveled to Texas with her department.
5. Investigator
Forensics and investigation is another classic career path for criminal justice majors. However, you don't just have to work as a crime scene investigator. There are a ton of other options, including:
Computer forensics investigator
Arson and fire investigator
Fraud investigator
U.S. Postal inspector
Private investigator
Each of these positions will look different, but ultimately they require incredible problem-solving skills. An arson and fire investigator, for instance, will respond to fires and collect evidence to determine if a crime was committed. A U.S. Postal inspector, on the other hand, focuses on preventing everything from the transfer of illegal narcotics to mail fraud.
Pros and cons: Some investigator jobs can be emotionally, mentally and physically taxing. However, like the other jobs on this list, they can be highly rewarding.
How to get started: For these jobs, you typically need a four-year degree. If you're interested in working as a crime scene investigator or forensic analyst, a degree in the natural sciences (think: biology) is ideal but not required.
You can also find internships to help you enter this field. For instance, Nicholas Midei, a criminal justice major at Waynesburg University, interned for the U.S. Marshals Service as a data analyst in the Information Operations Division of the Criminal Intelligence branch.
6. Policy Analyst
If you're not as interested in working on the frontlines, there are plenty of opportunities for criminal justice graduates to work a bit more behind the scenes as a policy analyst.
A policy analyst researches and studies existing policies and data to ensure criminal justice and public safety programs are effective, recommend strategies and offer support.
These types of positions require strong analytical and critical-thinking skills as well as knowledge around state and federal criminal justice policy.
Pros and cons: Working as a policy analyst can be super rewarding. Chances are, you'll learn something new each day, and you'll feel as though you're contributing to an important mission.
How to get started: Because policy analysts typically work for the government, one of the best ways to dip your toes into this field is to intern at a governor's office or state agency. Some policy analysts will get a master's degree or even law degree, but that's not always necessary.
Want to explore more exciting (and unexpected) career options within criminal justice? Watch our "Careers in Criminal Justice: Beyond Law Enforcement" webinar on-demand. You'll hear directly from professionals in the field about criminal justice careers in advocacy, policy, research and the private sector.
This article has been updated for accuracy.
About the Author

Follow on Twitter Visit Website More Content by The Washington Center